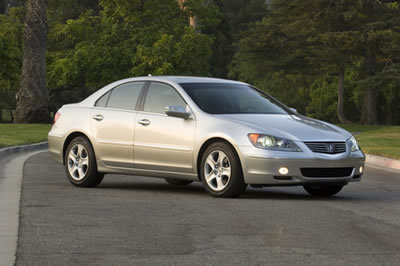 Acura RL - Top Drawer Amenities, Quiet Grace
By Jim Bray
May 22, 2008
Who'd have thought a state-of-the-art luxury sedan could be schizophrenic?
Acura's 2008 RL is a lovely car, comfortable and powerful and with just about any gadget you could imagine in a motor vehicle short of an automatic pilot. But the only time it really comes to life is when you shift it into manual mode and grab hold of the paddle shifters - at which time it becomes much more compelling.
I daresay it would be a very easy car to live with, but after my second kick at the RL I felt the same way about it as I did when the current generation was brand new: very nice, but not particularly exciting.
Of course, there are many people who don't care a whit what I think, much as I hate to think about such a prospect, and many undoubtedly don't care about excitement when driving. And for them, the RL may be just what the doctor ordered.
The RL, which starts at $46,280 U.S./$63,900 Canadian, seems to have a different focus than the TL and TSX, both of which have sporting pretentions. The RL seems aimed more at those seeking a luxurious ride with plenty of high tech stuff to coddle you and keep you safe. And as such, it does a fine job.
The heart of the RL is its 3.5 liter, 24 valve VTEC V6 engine which puts out a decent 290 horses. It's a fine power plant, powerful, efficient and clean, and it sings a nice tune if you press it.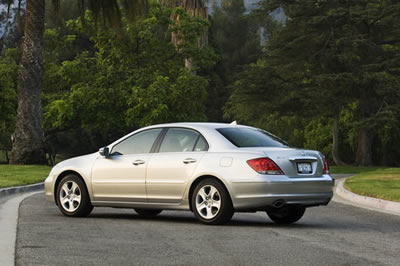 The power gets to all four wheels, thanks to Acura's SH-AWD (Super Handling All Wheel Drive) technology, via a five speed automatic transmission that seems programmed to minimize engine rpms, undoubtedly for fuel savings. This is where I believe most of my angst about the RL comes from: the transmission seems determined to take the fun out of the experience, reluctant to downshift unless you floor the gas pedal, and going back up through the gears as quickly as it can afterward.  
Four of us piled into the RL on a sunny Sunday afternoon and took off for a country drive during which the car performed admirably. But nearly every time we came upon a hill or a nice sweeping curve, I found myself firing up the paddles to not only drag a bit of fun to the driving experience but to increase the engine's revs more into the performance range so it would climb and/or turn better.
And when I did that it seemed like a different car.
RL is slung via four wheel independent suspension, double-wishbone up front with a multi-link butt and stabilizer bars front and rear. The car handles very nicely, a little softer than it is sporty, but that's fine for its niche.  
The SH-AWD system directs up to 40 per cent of the engine's torque to the either or both of the rear wheels. According to Acura, electronic sensors monitor the speed and tightness of the turn and tweak the torque to the outside cornering rear wheel, sending up to 100% of the rear wheels' torque there to ensure stable cornering.
You can watch it in action via a readout on the digital display below the speedometer and tachometer but, even better, you can notice it's working by the fact that you don't fly into the ditch when things get slippery or when you're doing some spirited cornering.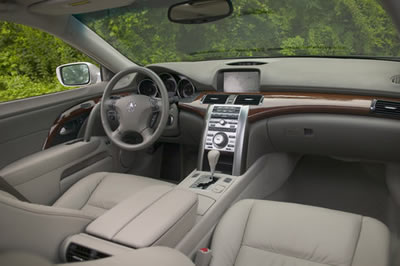 Brakes are discs all around with the usual ABS, brake force distribution, etc. to ensure your stops are true and short. Brake pedal feel is very good. Electronic nannies include an advanced 4-channel Vehicle Stability Assist (VSA) system with Traction Control that detects and corrects understeer and oversteer automatically.  
Some people I met during my time with the RL thought it a tad bland looking, but I think it's lovely, in an understated and "not in your face" way. And the leather and wood-trimmed interior is a really nice place to be. The seats of my test unit were all leather, of course, extremely comfortable and the ones up front were power adjusted, heated and cooled.
The sunroof is of a reasonable size and has one touch open/close capability. And the dual zone, dual mode automatic climate control works very well.
An attractive and straightforward instrument panel faces the driver, with analog main gauges and a digital readout below the big speedo and tacho meters. The center stack is full of buttons to operate the navigation screen (with backup camera display), audio system and HVAC, even to the point of using a cursor control knob to make your way through the choices. I'd much rather see a touch screen interface, but the LCD screen's location at the top of the center stack would make for a very long reach.
The audio system with 6 disc changer isn't quite up to the standards I've heard with some of Acura's ELS systems, specifically in the TL and RDX, but it's still darn good - and it played all my discs, from CD's to DVD-Audio and dts surround sound. It's easy to use, and there are duplicate controls on the steering wheel.
RL's also feature "smart" keyless entry and ignition, but it wasn't as smart as it thought it was. When you approach the driver's door and reach for the handle, the driver's door unlocks - but the other three don't and you have to unlock them manually from the inside. This was quite annoying to the other people standing in the rain waiting to get in..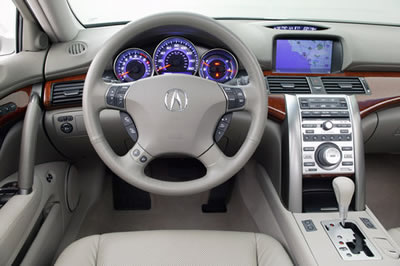 Acura says their HandsFreeLink Bluetooth telephone interface makes receiving and transferring calls easy, without having to remove your hands from the steering wheel. "Just press a button, say the word and - providing your programmed mobile phone is located inside the cabin - calling numbers will be displayed, your phone will respond to voice activation and you will hear the caller's voice over the RL's audio system."
That's how it's supposed to work. It took me a trip through the owner's manual to figure out how to pair my phone to the car, and even then it never worked, though it would give me the handy "ping" noise when I fired up or turned off the RL that told me the phone and the car were "as one".   
If you can get it to work, Acura says it operates in English or French, and will integrate up to six different compatible phones, like the old party lines of old, but hands free and mobile.
Another slight fly in the ointment (and this is really nitpicky) was the difficulty I had hooking the driver's side seat belt into the receptor, which seems to be mounted in a really low place that makes it hard to get at. Or maybe my ass is just too darn big..
The RL has one touch up/down windows all around, handy manually-operated sunshades on the rear side windows and a power operated shade for the rear window the driver can control.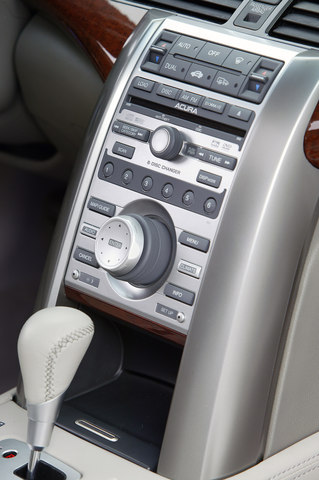 And get this: available on the RL is Adaptive Cruise Control (ACC), which lets you program the interval between you and the car in front of you. Fire up the ACC and choose an interval (from "safe following" to "I live to tailgate") and the car will keep its speed constant (just like with regular cruise control) and then, if necessary, apply moderate braking automatically to keep your selected distance. If you change lanes to pass the slowpoke who caused the RL to slow itself down, it'll speed up to the preprogrammed speed again.
It works well, and is quite nifty.
Not only that, but Acura's Collision Mitigation Braking System uses a radar transmitter behind the front grille to calculate the distance and closing speed of vehicles directly ahead of you. If you're approaching too quickly, the system warns you via audio and visual alerts and, if that doesn't wake you from your slumber, the car will start tightening the driver's seat belt and begin braking for you. If you're still blissfully unaware, and the car decides that a collision is imminent, it applies the brakes harder mitigate the accident.
Many of the drivers in my neck of the woods could use such a system, because they seem to have turned off their brains permanently..
The trunk is plenty big, but the floor isn't flat and the rear seat doesn't fold down for extra long hauling, though there is a pass through.
Safety-related stuff includes six airbags (dual-stage, dual-threshold front airbags, front side airbags with a passenger-side Occupant Position Detection System that prevents them from firing up if a small or improperly positioned passenger is detected, and side curtain airbags with rollover sensors). And of course there are the usual belts and latches.
The RL is a fine car, and if you keep it in manual mode it displays a very different personality than when it's driven strictly as an automatic, shrugging off its fairly bland default personality and becoming much more sporty.
It's an interesting blend of technology and luxury.
Copyright 2008 Jim Bray