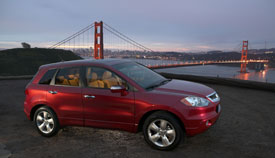 Acura's New RDX SUV a Driving Treat
By Jim Bray (some photos by the author, some courtesy of Acura)
San Francisco, CA – Acura's new "entry premium" SUV, the RDX, not only introduces the company's first turbocharger and intercooler to the western hemisphere, it also ups the occupant enjoyment ante via a comfortable cabin featuring a newly designed surround sound audio system that's a joy for the ears.
Acura introduced the new RDX to North American media-types in a manner befitting a luxury vehicle, with a deluxe tour of the San Francisco area that let the writers put the vehicle through its paces on a selection of bloody marvelous California roads that gave us the perfect opportunity to check out the RDX's driving feel and comfort quotient.
And check them out we did. This is a very nice vehicle, indeed, and I expect Acura will sell truckloads of them.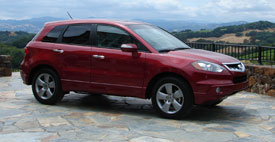 Smaller than the Acura MDX, closer in size to Honda's CRV, the RDX is a five seat luxury beast that also features the company's first SUV application of the SH-AWD all wheel drive technology found on the flagship sedan RL.
It's a smart all wheel drive system, specially adapted for the RDX, that not only directs driving energy between the front and rear wheels, but which will also shift it to the outside rear wheel to help in cornering. This doesn't appear to be meant for serious off road performance, but rather to enhance the vehicle's stability in curves and when driving conditions get dicey due to the weather.
I didn't get to try the RDX in bad weather, but the SH-AWD sure seemed to work as advertised during our spirited driving session on those wonderful twisty highways. Even when the turns got particularly tight the RDX was stable and composed, never feeling like it wanted to flip out, let alone flip over.
Four BANG-er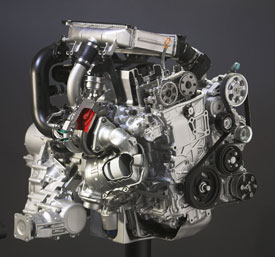 RDX gets its power from a new, 2.3 liter DOHC i-VTEC inline four to which Acura has attached a variable flow turbocharger (with intercooler) designed to provide quick response at low rpm (supposedly eliminating turbo lag) and strong power at high rpm's, toeing that fine line between low end grunt and the generation of high end "whee!" Turbo lag is almost non-existent and the engine winds up nicely, though it still sounds and acts like a four – except that now it wheezes slightly, thanks to the turbocharger, sounding kind of like me when I'm forced to climb a few flights of stairs.
Well, to be fair, it doesn't really sound like a wheeze of exertion; more like a "whee!ze."
Horsepower is rated at 240 at 6000 rpm and there are 260 lb-ft. of torque at 4500 rpm. This is definitely good grunt, and the engine is quick to respond and happy to perform. Acura says it also gets an estimated 19 mpg city and 24 mpg (U.S. ratings) on the highway while meeting CARB LEV II ULEV and EPA Tier-2 Bin-5 emissions standards.
Still, I was left pining for a six in much the same way I wish for a six in Acura's terrific TSX sedan – more a case of always lusting after that extra bit of muscle rather than actually needing it, since both the TSX and RDX perform very well right out of the box.
On the other hand, I'd also be very happy to see Acura drop this turbo four into the TSX, assuming it would fit, and see the size of smile a 240/260 horse/torque TSX would put on one's face.
Ah, to dream….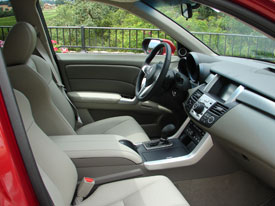 Controlling that new engine is a 5-speed automatic transmission with Sequential SportShift Paddle Shifters. I grew to really love the paddle shifters while tooling through the twisties; they're far more immediate (and fun!) than using a conventional "pretend manual" shifter is and they let you keep your hands on the steering wheel where they belong.
Shifts are quick and smooth, very satisfying – though I'd love to try a real manual tranny with a clutch and paddle shifters. I doubt Acura would sell as many manual RDX's as they surely will of this far more than adequate automatic version, though.
Coming home from our serpentine side road session we stuck pretty well to freeway, which was a nice test for the transmission's automatic mode. It worked as expected, downshifting smoothly and efficiently when you want to pass or change lanes,
The RDX is slung via an independent MacPherson strut front suspension and an independent multi-link rear. It's nicely balanced between performance and plushness, offering very good road feel without rattling your kidneys out from some lower anatomical orifice. Not surprisingly, it tends toward a luxury feel but – hey! – it's a luxury vehicle.
Steering is torque-sensing, variable power-assist rack-and-pinion and its feel is also very good.
Thanks to the balanced packaging of the power and torque, paddle shifters, suspension and steering feel, I never lost confidence in the RDX' ability to track twisties "acura-tely" and the vehicle never let me down even when I entered a few of those twisties faster than I should have.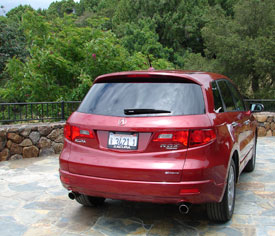 Here are a few more technical specs:
18 x 7-1/2 aluminum-alloy wheels wearing P235/55R18 99V M+S high-performance all-season tires
4-wheel anti-lock braking system (ABS) with Electronic Brake Distribution (EBD) and brake assist
Vehicle Stability Assist (VSA) with traction control
1,500-pound tow rating
Xenon High-Intensity Discharge (HID) low-beam headlights
Cabin Cruiser….
The interior is a lovely place to spend time, especially in the driver's seat though even the 60/40 split-folding rear seat would probably be okay for a reasonable amount of time. The cabin features perforated leather-trimmed seats, a leather-wrapped 3-spoke steering wheel with fingertip controls for audio, cruise, voice recognition and the like, backlit LED gauges, a power moonroof with tilt, auto-open/close, auto-reverse and key-off operation, dual-zone automatic climate control with air filtration, and a huge, locking center front console featuring dual-level storage. Both front seats are heated.
Besides being comfortable, the driver's seat offers 8-way power adjustment and power-adjustable lumbar support. The manual tilt and telescoping steering wheel can be placed easily into a perfect driving position.
Alas, with the RL and now the RDX, Acura seems to be falling into the "cursor control knob thingy" trap that's becoming the bane of drivers. To be fair, the Acura controller is pretty good, but I wish manufacturers would just make their vehicles simpler rather than piling on so many arcane features that drivers are forced to mess with knobs, screens and gewgaws when they should be driving.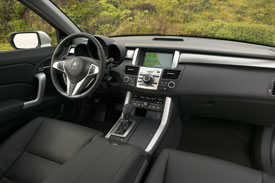 On the other hand, Acura has a way to free drivers from fiddling with controls via its voice recognition system, but it's going to take a couple more generations before such techno tricks become really sophisticated and useful. It isn't that the voice recognition doesn't work, but the computer behind it is just as stupid as computers are wont to be. So, if you don't phrase things correctly or clearly enough it pulls out its electronic hair.
Then you pull out yours and go back to the knob….
This isn't just an Acura thing; other brands are also playing with voice systems and I haven't fallen in love with any of them yet.
Audio Disc-cussion….
The optional audio equipment is a full 5.1 channel DVD-A surround system that builds on the one Acura introduced in its TL a couple of years ago.
Designed and tuned in consultation with Grammy-winning producer/engineer Elliot Scheiner, the 410 watt, 10 speaker, AM/FM/6 disc CD/DVD-A system plays everything but SACD discs (it also comes with an MP3/auxiliary input jack) and features surround speakers mounted high in the rear to optimize the potential for "eargasm."
The first evening of our trip was dedicated to the audio experience, with Panasonic representatives and Scheiner himself on hand to show off the ELS system proudly via a quartet of RDXes Acura had lifted up to a fourth floor terrace via cranes for the occasion.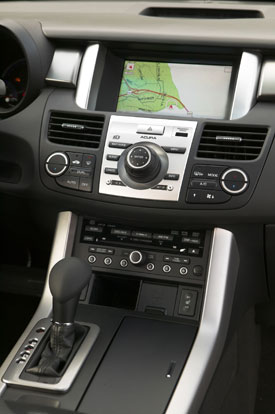 These people don't do things half way, do they?
Scheiner says his ELS system accomplishes its sonic assignment thanks to the clarity offered by new, lighter wide range speakers and a new digital amplifier with higher output than the TL's system. Whatever the cause, the effect is very musical.
We were treated to a variety of 5.1 audio sources, some of which I'm already familiar with through my audio reviews, and I loved the sound. Run flat, as such systems should be, the bass is tight and not boomy, with clean and clear mids and a high end that's never shrill unless the source material is (Okay, I didn't like all of the music they supplied).
The 5.1 channels fill the cabin beautifully, with excellent staging for the people up front, though it does tend to be a tad "rear centric" for those in the back seat unless you tweak the balance frontward a tad. But Acura admits the audio is set up first and foremost for those up front, which makes sense since that's undoubtedly where the lion's share of occupants will be.
I loved the fact that the system plays DVD-Audio discs in their native format, unlike some other luxury brands I've driven that can strip out some of the audio channels, creating an almost karaoke-like experience.
It's too bad the DVD-A format has never really caught on with consumers, because (depending on the source recording, of course) it's marvelous. Scheiner told me he thinks it takes the availability of an audio format in cars to "drive" their acceptance, citing the growth of cassettes, CD's and 8-track tapes as examples: once people can take their tunes with them they have incentive to embrace the new formats.
Hopefully this'll happen with DVD-A, though the exploding popularity of MP3 players (and the trend of new vehicles to interface with them, and even to offer built in hard drive audio systems of their own) may spoil that as consumers opt for convenience over audiophile quality.
Scheiner commended Acura for its dedication to providing outstanding audio, saying they've led the way in the field and that, thanks to them, it's now possible to hear audio the way it was meant to be heard.
And he isn't just blowing smoke. The surround audio system, which comes with the "Technology Package," is excellent, one of the best (if not the best) I've heard in a vehicle. Indeed, I've played with home systems that couldn't put out the quality of sound this ELS system does.
The Technology Package also gets you such interesting toys, er, tools as Acura's navigation system with voice recognition, a rearview camera that can be really handy when you're backing up, AcuraLink Satellite Communication System with real-time traffic info, XM Satellite Radio with a three month subscription (to get you hooked), a Bluetooth HandsFreeLink wireless telephone interface, Multi-Information Display (MID) with steering wheel controls, a GPS-linked, solar-sensing, dual-zone, automatic climate control system and a tire pressure monitoring system with readout.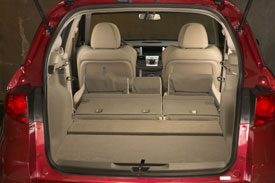 Crunch time….
Acura also touts the RDX's safety equipment, which includes driver's and front passenger's dual-stage, dual-threshold front and side airbags (with front passenger position and height sensors), side curtain airbags for outboard passengers front and rear (with a rollover sensor included), active front head restraints (for people with active front heads), 3-point adjustable-height front seat belts with pretensioners and load limiters and 3-point seat belts for all three rear seating positions.
Acura says the RDX also takes pedestrians into account in its safety engineering, including a hood that's designed to deform if it makes contact with a person, energy-absorbing fender mounts, deformable windshield wiper pivots and crushable hinges in the hood.
I was dying for a chance to see how this would work in the real world, but for some reason Acura failed to provide us with any test pedestrians, the one oversight in an otherwise first class demonstration. Heck, there must have been some people they could have hired. This was, after all, San Francisco….
Available in August, 2006, the RDX is assembled in Honda of America Manufacturing's facility in Marysville, Ohio, where the TL is also produced; the company says the RDX' gestation marked the first time an American engineer headed a Japanese development team in creating a new Acura.
Pricing is expected to be between $32,000 and $38,000 U.S.
Acura says it's aiming the RDX at young, upwardly mobile professionals who work and play hard. This typically urban customer is looking for a vehicle he or she (though Acura anticipates more he's than she's) can take on adventurous weekend trips to the mountains or other pleasurable destinations.
According to Acura's research, the RDX buyer is looking for "an emotional and stylish vehicle that offers a higher driving position and more cargo flexibility than a sedan – but with the style, handling and performance of a great sports sedan."
Kind of like a TSX for weekend warriors.
Works for me.