Acura MDX Goes Up Market
By Jim Bray
Acura's new MDX is bigger, more plush and more technologically advanced than its predecessor. It's also a comfortable and rewarding vehicle to drive.
The company says the 2007 MDX competes in the "Mid Premium" Sport Utility Vehicle segment, a niche they expect will grow by some 16 per cent over the next half decade.
There are reasons for SUVs' popularity, including hauling space, a higher view of the traffic around you and, perhaps, a more robust package in case you get slammed into by someone in a Yugo. Such vehicles are getting increasingly efficient, too, which will hopefully help lead those busybodies who think they know what you should be driving to find something else to protest.
I understand Wal-Mart's a pretty popular target these days….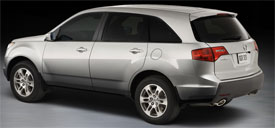 Anyway, the original MDX was a darn nice vehicle. I drove the 2001 model and liked it, saying that, in a world filled with "cute" utes, and "brute" utes, Acura may have created a new category called "beaut" utes.
According to Acura, the original MDX appealed mostly to luxury customers. This time, they wanted/needed to up the ante, so they crammed in performance and handling capabilities designed to boost its appeal for performance enthusiasts as well. Did they succeed?
I don't think so. Don't get me wrong. I loved the MDX; I loved driving it, I loved just sitting in it (except for the third row, which is suitable only for kids or Hobbits) and I loved playing with its abundant toys. But I didn't find it particularly sporty, in the same way the current RL isn't particularly sporty. Lovely, but not pulse quickening.
Don't let that spoil it for you! It's still rewarding to drive, handles well, and has some of the nicest front seats to have cradled my buttocks since the likes of the Audi A8L and BMW 750 Li. You can drive all day without any whining from your posterior.
And the power plant is more than adequate. Acura's 3.7 litre V6 develops 300 horsepower @ 6000 rpm and 275 lbs.-ft. of torque @ 5000 revs. The engine also features VTEC variable valve timing, a dual-stage intake manifold, and an electronic Drive-by-Wire Throttle System.
Step on that drive-by-wire throttle and the MDX moves forward purposefully, but it's so smooth and efficient it doesn't feel as if you're streaking ahead (other than the scenery whizzing by your peripheral vision) – and that's why it doesn't feel too sporty.

In fact, "smooth" is really the byword for the MDX. Not only is the engine like a huge slab of silk (though one with a lovely growl when you push it), but the five speed automatic transmission (with sport mode) is one of the smoothest I've experienced. Even when you shift manually, the change is nearly imperceptible.
The manual shifting mode feels quite good, too, though I only used it during periods of particularly twisty bits; most of the time auto mode worked just fine.
MDX's bodacious bod, which is much more aggressive-looking than its predecessor, is supported by a MacPherson strut front suspension and multi-link rear suspension. And it features Acura's Super Handling All Wheel Drive (SH-AWD), a technology shared by little brother RDX and the big RL sedan.
SH-AWD varies the torque distribution between front and rear axles, but also between the left and right rear wheels, causing the outside rear wheel to spin faster so the vehicle "rotates" around the corner more efficiently. It operates seamlessly and automatically and you can watch it in action on a small on-dash display, as long as you don't mind driving off the curve that's causing the system to activate (since your eyes'll be off the road and on the display).
It works well, though Newton's First Law of Motion still applies: this is a fairly big vehicle.
The new version is longer, wider and lower than the original MDX, with a longer wheelbase, and it looks more athletic. Yet Acura has managed to keep the its weight the same as last year's through the use of high strength steel, aluminium and magnesium.
Towing capability is rated at 5,000 pounds (2,268 kg.), and the MDX includes trailer pre-wiring, a high-capacity radiator with twin cooling fans, ATF cooler and Trailer Stability Assist.

Inside, Acura's reinvention of the MDX includes a driver-focused cockpit that's oozing technology, including an awesome ELS DVD-Audio-capable 5.1 channel surround sound system.
The front seats include 10 way power adjustment for the driver (8 way for the front passenger), two position memory settings for the driver, electronically tilting/telescoping steering column and a Multi-Information Display (MID) that allows access to such electronic functions as the SH-AWD light show.
"4+3 seating" handles four passengers beautifully in the rear two rows – and the middle row seats recline. They also move forward quite easily to create an entry way into "the cheap seats".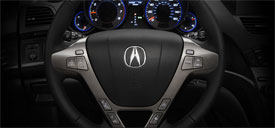 I rode in the nosebleed section for a bit, then begged for mercy. But it would be fine back there for the ankle biters – and if they start to whine you can play a DVD on the roof-mounted screen with its nifty, docking remote control. Wireless headphones and A/V inputs (to facilitate a game console) are also included.
Tri-Zone automatic climate control gives the rear section its own controls and the ELS Premium Sound System features multi-format performance (CD/DVD-Audio/SACD stereo, MP3, WMA) and a 6-disc in-dash changer. It also handles XM Satellite Radio and throws in an auxiliary jack for personal audio devices.
My tester had an XM demo activated and I enjoyed it a lot. I was even surprised at how well it performed in some parking garages and under some bridges.
Other convenience features include the HomeLink garage door opener thingy, a maintenance minder feature and very configurable cargo space. My tester also included the "Elite Package" with its power tailgate – a wonderful feature that no SUV or minivan should be without. There's even a neat "glove compartment-compatible" on the passenger side of the center console, nicely out of the way down near the floor.
Instead of opting for a fully-featured cursor control-like thingy such as used by BMW and Audi with their iDrive and MMI, respectively, Acura kind of splits the difference. There's a cursor control knob, but its functionality is limited, while the center stack is dotted with buttons to control this, that and many other things.
But I liked it once I figured out the geography; all is well planned and well laid out and easy to use. I had a bit of trouble reading some of the labels without my reading glasses, but once I used a particular button a couple of times it became intuitive.
The Acura MDX starts at $39,995 U.S./$52,300 Canadian. The "Sport and Entertainment Package" version starts at $47,795 U.S. and the "Elite" package (in Canadian trim) starts at $61,900 loonies.