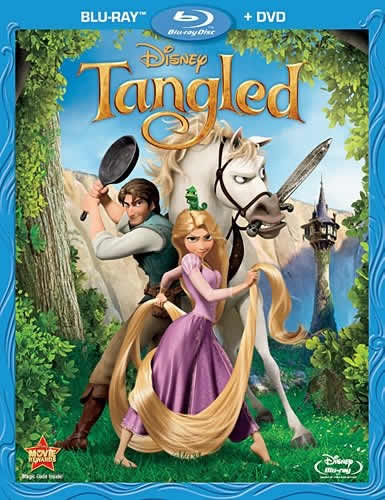 Tangled on Blu-ray
Here's a chance to really let your hair down in the home theater!

Disney's "Tangled" is a loose adaptation of the Rapunzel tale, a movie that uses CG to create a film with the feel of traditional animation and which also features a new score by the great Alan Menken.

Disney sent us the two disc Blu-ray/DVD combo pack (there's also a four disc Blu-ray Combo Pack that includes a 3D Blu-ray and a digital copy in the package).

"Tangled" is Disney's 50th full length animated feature, and that doesn't include the growing abundance of Pixar titles in the studio's library. That's a darn fine legacy even if not all 50 of them are true masterpieces; enough of them are that the studio has no reason to doubt its place in the history of cinema.

And "Tangled" is a worthy entry, not quite a "The Little Mermaid," "Beauty and the Beast," or "The Lion King," but a diverting toon nonetheless.

Disney also has a great track record for releasing Blu-rays - and DVD's - of high audio and video quality, which is kind of ironic considering how the studio fought the video revolution tooth and nail when it began back in the 1970's. It's to the point now where we expect nothing less than top quality from the folks at Walt Disney Studios and they - quality of the actual film notwithstanding - rarely disappoint.

They don't disappoint here, either.

The Disney studio has embraced computer graphics for a couple of decades now to enhance its traditional animation (not to mention its pioneering use in Tron), so it seems as if this move to "total CG" is merely the latest step in that process. After all, while the studio's earlier animated outings, such as "Snow White and the Seven Dwarfs," "Sleeping Beauty," Bambi" and "Pinocchio" (all of which are also available in terrific Blu-ray editions) advanced the art of traditional animation in a variety of ways, including the multi-plane camera that allowed apparent depth in shots, the studio has used limited CG in such modern era classics as "Beauty and the Beast" and "The Lion King" and others, where computers could enhance difficult shots (creating "crowd scenes," for example, or camera moves that hadn't been seen in "cartoons" before). So it was probably inevitable – especially with the all-CG Pixar gang now under Disney's wing – that they'd jump into "traditional CG animation" with both corporate feet.

So what we have with "Tangled" is an interesting mix of the look and feel of traditional animation with the advantages offered by modern technology, including real apparent "depth", a huge color palate, and more.

As for the film itself, "Tangled" is a musical tale of love, of coming of age, of finding your inner hero, and more. The story sees young princess Rapunzel (Mandy Moore), whose hair has magical powers, kidnapped and spirited away by the evil Mother Gothel (Donna Murphy) and kept high in an isolated tower so she can be Mother Gothel's personal fountain of youth.

But Rapunzel tires of her velvet prison and wants to see the world, hoping especially to witness up close a display of magical lights that appears in the sky every year on her birthday.

Alas, Rapunzel has been taught by Mother Gothel that she's in the tower to keep her safe, that the outside world is a dangerous place full of dangerous people and that if people found out about her magical hair they'd try to steal it. It's a classic case of projection, since it's the so-called mother who's the danger to Rapunzel and who has in effect stolen her hair for her own nefarious purposes.

Then, along comes Flynn Rider (Zachary Levi), a petty thief who ends up in her tower while trying to escape a misadventure with his life. Not particularly surprisingly, he and Rapunzel hit it off somewhat and she uses him to escape from the tower and explore the outside world. And, of course, that's when the story really starts to hum along.

The characters are typically Disney, which is fine with us, and the voice cast was chosen well. There's even a typically Disney animal sidekick, in this case Rapunzel's pet chameleon Pascal, who adds some comedy relief without sucking out loud. Ditto for the horse.

Alan Menken has lost none of his talent, and he delivers a memorable score once again with "Tangled." We've been fans of his since "Little Shop of Horrors", but it's for his Disney work that he's best known. It was he, with the late Howard Ashman, who created the music and songs for such other Disney classics as "The Little Mermaid," "Beauty and the Beast" and "Aladdin," to name three of the best. Here, he's teamed with lyricist Glenn Slater (who we'd never heard of before, though he's also working with Menken on Disney's upcoming "The Snow Queen."

"Tangled" ends up being the kind of timeless fairy tale you and your family can watch repeatedly and not get bored with. It's also an excellent example of the art of animation, with extremely realistic motion, facial expressions, etc.

Enhancing your time in the home theater is audio and video quality that's up to Disney's high standards, plus a range of value-added extras.

The video is in 1080p, of course, and at an HDTV screen-filling 1.78:1 aspect ratio. Colors and textures positively leap off the screen, looking lush and rich. Who needs 3D? Fine detail abounds, as you'll notice in things such as hair, fur, clothing, and the like. Again, this is reference quality stuff.

Audio, presented in dts-HD Master Audio 7.1, is also outstanding and that's especially welcome in a musical. All channels get a nice workout, but it's never in your face and it's always clear and crisp and dynamic, with dialogue that's easy to make out.  

Extras include "Original Storybook Openings," with introductions by "Tangled's" directors Nathan Greno and Bryan Howard. There's also a short "50th Animated Feature Countdown" that's really just a bunch of quick clips from the 49 Disney animated films that preceded "Tangled."  It makes one wish they were all (well, most of them, anyway) available on Blu-ray already.

The Blu-ray also includes three deleted scenes in storyboard form, a short "Making of" featurette hosted by Moore and Levi. The featurette's pretty superficial, but there's good chemistry between the two stars. There are also extended versions of two songs – the opening number "When Will My Life Begin?" and "Mother Knows Best," a series of "fake commercials" ("Tangled Teasers"), a silly 3D promo with "Lion King's" Timon and Pumbaa that's pretty much of a waste of time on a 2D system, and some trailers.

It isn't nearly as extensive a selection of extras as Disney releases on some of their video titles, but we didn't really care. It's great to have value-added content, but the bottom line for us is the quality of the movie and its presentation, and we can't fault "Tangled" in either department.


Jim Bray's columns are available from the TechnoFile Syndicate.