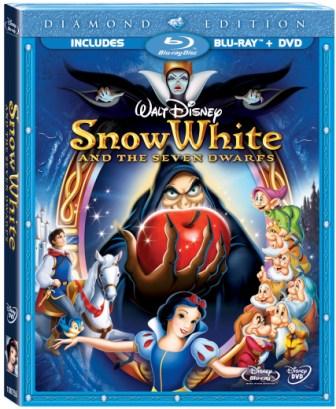 Snow White and the Seven Dwarfs on Blu-ray disc
by Jim Bray
October 7, 2009

The animated movie that started it all – "all", as in the trend toward full length animated features – is now available in high def Blu-ray and, as usual, Disney has done a bang up job with the title.

Snow White and the Seven Dwarfs is the first Diamond Edition release from the studio (what, Platinum Editions just don't cut it anymore?). My review copy looked like a DVD package, and the DVD is the first disc you come across when you open it, but fortunately both BD discs – and their magic – are there, and the movie contained on one of them has never looked or sounded better.

The bad news, such as it is, is that despite the 1080p HD picture and 7.1 channel dts HD Master Audio treatment, the movie still looks its age. You should expect that going in, though, and it shouldn't spoil your enjoyment of what's easily the best version of the movie to date. In fact, despite its having celebrated its 70th birthday a couple of years ago, the colors still look beautifully rich and the picture is nice and crisp, with almost no noise – in all, a lovely transfer.

Likewise, the audio is a little thin after all these years, but the dts soundtrack has been remixed well, including some subtle and well-executed use of the surround channels - all from a monaural source!

Look, there's only so much you can do with an animated feature of this vintage, with a color palette that pales in comparison to today's capabilities and audio that is thin compared with the best of today's soundtracks. But despite that reality the folks at Disney have pulled out the stops and made the film look and sound about as good as possible with today's technology.

Walt Disney's landmark – the first full-length animated film ever – is still a lovely, wonderful tale that's told very well. According to Disney press materials, it's also one of the first films ever designated for preservation by the Library of Congress.

The story, which just about everyone knows by now, is of the beautiful princess Snow White, whose natural and growing beauty rubs her stepmother the Queen the wrong way. Every day the Queen asks a her magic mirror the "Who's the fairest of them all" question and all is well as long as the mirror responds with the correct answer: the Queen. Naturally, one day the mirror replies with Snow White's name, setting the vain and evil Queen off on her mission to kill the innocent young girl so she once again will be "the fairest of them all."

Snow White escapes the Queen's first murder attempt, fleeing deep into a forest where she eventually meets those seven little folk who – after some initial angst – decide to offer Snow White sanctuary. But word gets back to the Queen that Snow White lives (drat that mirror!), so she launches a second plan to off the young lady: after turning herself into an old crone to hide her identity, she shows up at the dwarfs' home and persuades Snow White to take a bite of a poisonous apple.

Bam! Snow White becomes the victim of a powerful sleeping curse that leaves her at death's door. The heartbroken dwarfs make a glass coffin for her, because she is too beautiful to bury (and a darn good thing, too!) and they tear at their hair over the loss of the beautiful princess.

Fortunately when a handsome Prince, who just happened to have fallen in love with Snow White at the beginning of the movie, finds her and kisses her, and she wakes up "to live happily ever after."

Yeah, yeah, it's old, it's predictable. But it's also classic, a beautiful tale told beautifully and a welcome respite from the sex, profanity and violence that washes over home theater screens these days.

As with Pinocchio's Blu-ray release a few months ago, Disney has included with this nice, sharp and colorful 1080p feature an innovation that not only adds a bit of zest to the 4x3 aspect ratio but which makes it 16x9 compliant and so will help prevent burn in on TV's that may be prone to such (though these are fewer in number each year).

It's a neat "DisneyView" feature that uses paintings by Toby Bluth to fill in the black bars to the sides of the pictures, at times almost making the feature look like it's unfolding on a stage, while at others it expands backgrounds such as the forest to fill the screen. I never thought I'd care about such a thing, being perfectly happy with the black bars and suspicious of attempts to "paint a mustache onto the Mona Lisa", but have to admit I like this feature. It's done well and is quite unobtrusive.

And as is usual with Disney releases, they pile on the extras, and that not only adds value for the consumer, it also gives the audience the chance to look at an abundance of neat stuff relating to this groundbreaking film.

For example, you get a running commentary track, and there's "Magic Mirror", which uses Blu-ray technology to guide you through the features, with the mirror acting as host. It supposedly recognizes your viewing patterns, knows where you left off last time, and will even give you suggestions as to where you should go next. A virtual Nanny! Just what we need!

Disney says this is the first time they've used this technology in a Blu-ray release and it gives viewers the chance to create a customized Snow White experience, if you're into such things.

"Snow White Returns" is an interesting look at some newly-discovered storyboards that hint at a second Snow White film, a shorter featurette this time, that never got made. Here, some current Disney animators show how this short story would have played.

The best of the features are the "Backstage Disney" ones, which provide some fascinating views of Snow White's genesis, production and aftermath, as well as some great views behind the scenes at Hyperion studios. It transports you to 1937 and lets you walk the halls of this Tinseltown landmark, virtually experiencing what life was like there. There's some really interesting stuff here, with "dimensionalized" archival photos that look really neat, recordings of the animators' voices, archival transcripts and rare footage of Disney himself. Besides the movie itself, this feature is worth the price of admission.

"The One That Started It All" takes a look at how Snow White and the Seven Dwarfs changed movies, opening up a new outlet for filmmakers' imaginations.

Disney also throws in a music video version of "Someday My Prince Will Come", by Tiffany Thornton, and a Family Play games and activities section with interactive games and the like. I could care less about these features, but applaud any extra value a studio gives in an age where it seems as if most of them are only interested in quick profits.

Not that I'm profit-averse!

There's other stuff, too, such as a karaoke sing-along and the usual bevy of trailers.

Bottom line: It's great to see this innovative film in high definition at last and, despite the limitations of the source material, I'm very pleased with this Disney Blu-ray release and can't wait to see the next Diamond Edition title.


Jim Bray's columns are available from the TechnoFile Syndicate.