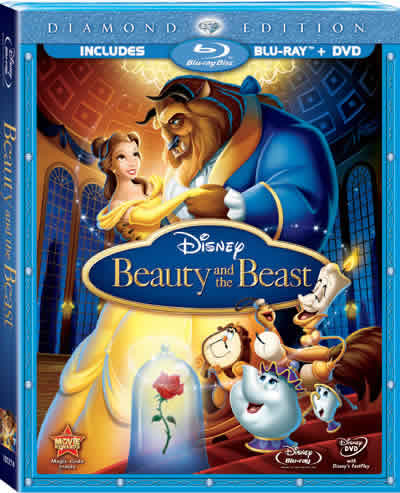 Beastly Disney Classic a Beauty of a Blu-ray
By Jim Bray


Walt Disney studios has released another of its classic titles on Blu-ray, and once again it's a state-of-the-art offering that fans will want to own.

It's "Beauty and the Beast", a wonderful film – almost as much a Broadway musical as it is a normal "cartoon" – and a timeless animated classic in the grand Disney tradition.

In fact, it's so "Broadway-like" that it was turned into a Broadway musical, the first of several Disney films that made the translation from screen to stage. It's easy to see why.

Beauty and the Beast is also the first animated feature to have ever been nominated for a "Best Picture" Oscar (Disney's "UP" was the second) and, coming as it did the wake of (no pun intended) The Little Mermaid, it showed that Disney studios' animation arm was back with a vengeance.

Fortunately, the Diamond Edition Blu-ray definitely does the movie justice.

The story is well-known: in order to save the life of her father, the lovely Belle (Paige O'Hara) agrees to live out her life in the Beast's enchanted castle - while the beast slowly comes to the realization that she could be his (and the rest of his castle's residents') ticket back to human form. Naturally, the beauty and the beast have a rough beginning, but eventually fall in love and, in one way or the other, save each other's lives and live happily ever after.

Well, we assume they live happily ever after. The movie, of course concludes long before forever after comes around – but don't all these movies lead to happy ever afters?

That's admittedly a pretty quick and superficial look a beautiful and timeless story, but it's well known anyway. Plus, thatnks to the gang at Disney, we get terrific animation, wonderful voice performances (especially O'Hara, Robby Benson as the Beast, and Angela Lansbury as "Mrs. Potts") and another beautiful a musical score courtesy of the great Alan Menken and the late, great Howard Ashman – the musical geniuses who also brought humanity the wonderful scores for "Little Shop of Horrors" and "The Little Mermaid."

Once again their music soars, and once again they won the "Best Song" Oscar (for the title song) as they did previously with Mermaid's "Under the Sea" and Horrors' "Lean Green Mother From Outer Space." That darn "Beauty and the Beast" title song appears to be addictive, too, because even though it isn't my favorite song from the movie, it has wriggled its way into my head and taken up residence there.

From the opening production number "Bonjour" (my favorite) , which sets the scene and the tone wonderfully (reminding me of "Consider Yourself" or "Who Will Buy" from "Oliver!"), Beauty and the Beast draws you in and alternately thrills, excites and even frightens. The frightening aspect comes from some fairly violent scenes that put you on the edge of your seat, albeit in the best Disney family film manner. In other words, it might wrap you up tightly and put you on the edge of your seat for a while, but it won't gross you out.

In all, it's a marvelous achievement, a classic film that everyone can enjoy – the kind of movie that Disney did first and best, then forgot how to do for far too long before "The Little Mermaid" gave Disney animation a new lease on life.

The Blu-ray is wonderful, too, not only a fabulous presentation of the feature itself, but a cornucopia of extra stuff, including three versions of the film itself. There's the original theatrical version, the "special edition" that includes the restored song "Human again" (another great production number!), and the "original storyboard version" that's interesting to see but which pales compared to the "finished" versions.

My favorite is the Special Edition, with the "Human Again" number (which was apparently a big hit in the story's Broadway incarnation) that, despite the apparently heavy use of computers, fits well with the overall look and feel of the original.

The Diamond Edition Blu-ray's rendition of the movie looks spectacular. It is, of course, presented in a wonderfully remastered 1080p widescreen edition that makes the movie look as if it were made yesterday. The picture quality is bright and sharp and colorful and the CG-enhanced parts even show pretty good depth. I watched it on a 106 inch front projection system and it very nearly leapt off the screen and into my lap. It's truly a magnificent high definition presentation, not that I expected anything less from Disney (though you occasionally get less, unfortunately; just look at James and the Giant Peach).

The audio is presented in dts HD Master Audio 7.1 surround, though I listened to it in 5.1, and it's also done beautifully and is a real treat for the home theater. Channel separation is excellent and the surrounds are used very well to help immerse you in the story. Dialogue stays up front, mostly, with some surround use occasionally when it's needed, and the beast's voice makes better use of the subwoofer than you'd expect from a character voice. In all, you're enveloped in the sound field, and whether it's voices, musical instruments or sound effects, it all exhibits excellent fidelity.  

Then there are the extras, which stretch over the two Blu-ray discs (the third disc is a DVD version and if you try it out you'll see exactly why Blu-ray is so great!).

The extended version includes an audio commentary that talks about where the film sits in Disney's storied history of classic animation, as well as how they adapted the original tale to make the film.  There's also a Singalong mode for the songs.

That, of course, is only the beginning . Disney not only has a tradition of making grand features, but in piling on the value-added stuff on its video releases. "BaTB" is no exception.

For example, the Blu-ray not only includes the "classic extras" from the earlier DVD version, it also gives you about two and a half hours of high definition behind the scenes stuff in a single and every entertaining feature "Beyond Beauty", an interactive documentary that also lets you poke around behind the scenes when icons appear on the screen during the feature. It's virtually seamless, too.

"Composing a Classic" reunites producer Don Hahn, composer Alan Menken, and Disney historian Richard Kraft to talk about Menken's gorgeous score.  Menken, who if partner Ashman had lived might have gone down as the new Richard Rodgers to Ashman's Oscar Hammerstein II, is about to unleash his score for Disney's Tangled – apparently a retelling of the Rapunzel story. I look forward to hearing it.

Disney also throws in about a half hour worth of "deleted" scenes, in HD, including an alternate opening I'm glad they dumped because it would have really changed the movie and I like it the way it is.

There's also a scene in which Belle pores over the Beast's grand library that I think would have slowed down the movie so, again, I'm glad it wasn't included in the final film.

It's interesting to see this stuff now, however, and get an idea of what might have been.

You also get an HD about the Broadway adaptation, which is pretty much a long commercial, and a couple of interactive games that, in the grand scheme of things, are pretty forgettable.

And Jordan Sparks is on hand to perform "Beauty and the Beast" in a new video.

Extras are always nice to see and no one forces you to look at them if you happen to find many of such features quite lame (and they often are). Disney has included a nice mix of the sublime and the superficial here, so there should be enough to please just about anyone.

As for the most important part, the movie itself, Disney has done a bang up job. The Beauty and the Beast Blu-ray is a beautifully made high definition version of a real family classic! I can't wait to see Blu-rays of other Disney masterpieces such as "Little Mermaid", "Lion King" and "Mary Poppins".

Beauty and the Beast, from Walt Disney Home Video
1080p widescreen (1.78:1), dts HD 7.1 surround
Starring the voices of Paige O'Hara, Robby Benson, Richard White, Jerry Orbach, David Ogden Stiers, Angela Lansbury
Produced by Don Hahn
Written by Roger Allers, Linda Woolverton, directed by Gary Trousdale, Kirk Wise.


Jim Bray's columns are available from the TechnoFile Syndicate.