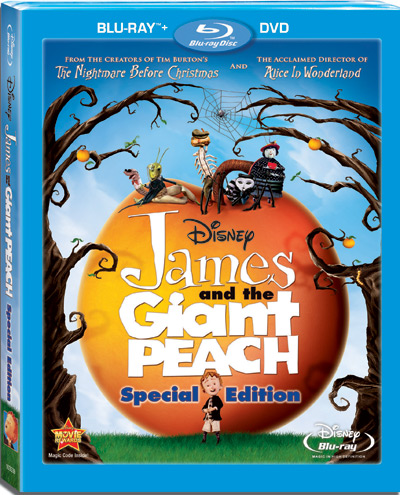 James and the Giant Peach on Blu-ray disc
By Jim Bray

From the director of the fantastic "Nightmare Before Christmas" comes this partially animated take on a Roald Dahl tale; alas, it's a pale shadow of "Nightmare," and not a particularly great example of the Blu-ray species either.

"Nightmare" was such a masterpiece that I'm not surprised they had a difficult time equaling it, let alone topping it. It was a marvelous family film full of humor and music and, if a tad dark and perhaps macabre at times, it wasn't because all those Halloween Town folk were actually evil – it was just their job to scare people at that particular holiday.

And the filmmaking was simply out of this world.

James features the same filmmaking, though there's a lot of live action stuff this time around and I think that detracted from the overall film. On the other hand, I've never read Dahl's story, so perhaps there was a compelling reason to do it this way.

James, like Charlie before his Chocolate factory days, lives with a rather strange family, in this case two awful aunts, Sponge and Spiker. He's living with them because his real parents – who had a loving relationship with him in which they had a shared dream of visiting New York city – were killed by a rhinoceros. Yep. And as we see in the movie, the specter of that big, nasty mammal isn't far from people's minds yet.

The grownups – the aunts (played by Joanna Lumley and Miriam Margolyes) are pretty much caricatures: awful people played with over the top performances. James is their Cinderella, doing all their chores and getting nothing much more than fish heads for dinner. Then, one day, he meets his "fairy Godmother" in the character of a wandering old man (Pete Postlethwaite) who says he knows all about James' tribulations and gives him a container of magic alligator tongues (well, the tonques are magic; I'm not sure about the alligators) that he says will change the luck of anyone who comes into contact with them.

Alas, James spills them onto the ground so rather than being something he can use repeatedly, they sink into the dirt and, soon after, we see a lovely peach begin growing on a nearby, and formerly barren, tree. It gets bigger and bigger (we need a giant peach, after all) until the horrid aunts begin charging people to see it. James discovers there are giant bugs living inside and together they go on an adventure with the peach, strapped to hundreds of seagulls, flying like a hot air balloon.

Not much of it makes sense, but perhaps that's due to the original material. But it's fun and you do end up rooting for James and hope all works out well for him in the end.

It's neat to see a stop motion film again in this age of CG animation, and Selick's work is a marvel to behold. Characters move – and emote – like real people in a way that at times can have you scratching your head in wonder at how they did it. Again, I think the live action detracts from this sense of wonder, but to each his own.

The Blu-ray is more than a bit disappointing. Disney markets it as a Special Edition, but it's actually pretty Spartan compared to what we've become used to with Disney DVD's and Blu-rays.

You do get both a Blu-ray and DVD in the same package, which is nice and there's a short, behind the scenes look at the making of the film as well as a music video from Randy Newman – and the Blu-ray also includes a really dumb game "Spike the Aunts", which is really a waste of storage space.

Even the Blu-ray picture doesn't make it compared with many of Disney's best efforts. While "Nightmare" positively popped off the screen at you, "James" appears mostly flat – especially during the live action. To be fair, there are many animated scenes that look great, but even they don't really show much of that great "depth" effect you can get on better Blu-ray discs.

The picture is presented in 1080p widescreen (1.66:1, which leaves small black bars to each side of the 16x9 screen).

One of the reasons I wanted to see this movie was for its picture quality potential – Nightmare is one of my demo discs – and that made it all the more disappointing.

The audio is good, though, and will give your home theater system a good workout. It's a a DTS-HD Master Audio 5.1 track that really will pop out of your speakers, especially in some of the action scenes. Voices are clear and crisp, music spreads across the front nicely, and there's good use of surround as well. If the video were as good as the audio I'd be singing the disc's praises from the rooftops, much to my neighbors' chagrin.

In the end, "James and the Giant Peach" is an interesting film that has its moments. But if you're looking for a home theater spectacular for the whole family – one that'll reward your audio and video equipment as well as your eyes, ears, and mind – you'd be better served getting the spectacular Blu-ray release of "Nightmare Before Christmas". It is a true masterpiece.

James and the Giant Peach, from Walt Disney Home Entertainment
79 min. 1080p widescreen (1.66:1), DTS-HD Master Audio
Produced by Denise DiNovi and Tim Burton, directed by Henry Selick


Jim Bray's columns are available from the TechnoFile Syndicate.