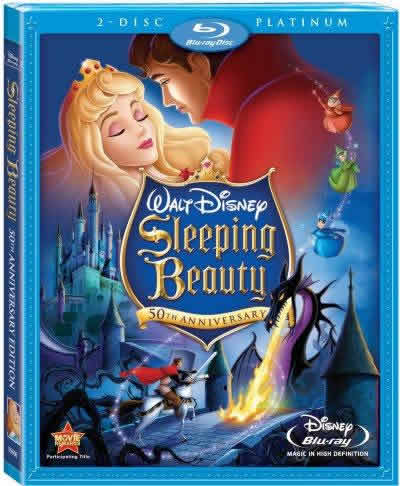 Sleeping Beauty on Blu-ray
Disney's 1959 masterpiece is looking a little long in the tooth, thanks mostly to the onward rush of animation technology, but the studio has done the Blu-ray justice, giving us a gorgeous presentation of this delightful fairy tale that deserves to be in every family's library.

Walt Disney, like George Lucas, was a guy who tried to push the state of the art. His Snow White and the Seven Dwarfs, for example, was the first full length animated feature - and a huge hit. Fantasia was an experiment in multi-channel sound and blending animation with classical music - a theme repeated in this BD package's supplementary materials.

And Sleeping Beauty was an attempt to apply state of the art movie technology to animation - specifically stereo sound and, even more important, the use of widescreen 70mm film stock to present the best image possible.

It works. Sleeping Beauty is a beautiful movie and the Platinum Edition Blu-ray is a joy to behold.

Yes, the animation does look a tad long in the tooth compared with what the studio is doing today, but that's completely understandable. If you hold it up next to Disney's Tarzan, for example, its age shows. Sleeping Beauty's color palette is limited compared to Tarzan's computerized "millions of shades;" camera angles predate what's now possible with computers - and the difference between 1950's recording techniques and Tarzan's 1990's state-of-the-art digital recording is the difference between night and day.But the attention to detail in the original production shows through loudly and clearly and it works still.

That said, "If it ain't on the page it ain't on the stage;" it takes more than technology to make a true classic. Disney's Sleeping Beauty is more than just a glorious look at the state of tradition animation some fifty years ago: it's a marvelous fairy tale that can be enjoyed by all members of the family. It has good versus evil, adventure, romance, and nothing that'll get the kids asking embarrassing questions of Mom and Dad unless it's something like "How can they fall in love so quickly?"

In short, it's Disney classic animation at its best. And the fact that it bases its musical score on the beautiful Tchaikovsky work enhances the enjoyment for fans of classical music .

Princess Aurora, the beautiful child destined to sleep, is newly born and her father betroths her to the neighboring kingdom's young Prince Phillip to cement the bond between the two kingdoms. And at Aurora's public presentation, admirers from all over come to pay tribute and give gifts.




Except that, by device or through oversight, the evil witch Maleficent wasn't invited - and she's a tad put out. She casts a spell deeming that, before sunset on her 16th birthday, Aurora will prick her finger on a spinning wheel spindle and die.

This would throw a serious monkey wrench into our desired happily-ever-after ending - but fortunately there's a trio of well-meaning but ultimately oafish fairies named Flora, Fauna, and Merryweather who whisk to the rescue. They change the spell so that Aurora will only fall asleep until "love's kiss" awakens her - and then they take her away to live with them in secret so they can keep her safe from Maleficent's mischief until it's too late for her spell to take effect.

Fortunately, most of the story takes place before the beauty sleeps, otherwise there'd be a distinct lack of action! Instead, the narrative follows the three good fairies as they prepare for Aurora's fateful birthday, Aurora cavorting in the forest with typically Disney critters - and her ultimate meeting and falling for the good Prince Phillip, neither of whom knows who the other really is.

But of course the beauty does sleep, leaving the three fairies and Phillip to rescue her in the final third of the flick. They have a mighty battle with Maleficent, who in the climactic segment transforms herself into a fearsome dragon in a scene that looks really good on a big screen.

There's also a nifty, though very short, scene in Malificent's castle, where her creatures of hench perform a macabre dance that's a visual treat to behold.

Okay, so shoot us. After 50 years, we still enjoy Sleeping Beauty a lot. And this new Platinum Edition Blu-ray presentation is the best yet.

The 1080p widescreen ( a very wide 2.55:1) picture is superb, the backgrounds are detailed, textured, and colorful - and nearly leap off the screen at you like the best Blu-rays do. The multiplane backgrounds give a lovely 3D feel to the movie and textures such as on characters' clothing or that of even background objects is superb.

Even, the audio quality, which is dts HD Master Audio, is probably as good as you can get from this vintage of film. Disney has remixed the film into 7.1 surround, there's even a decent amount of surround used, and the channel separation is first rate. The front three channels are put to excellent use especially, with dialogue and the lovely score extending across the front of the room in a most enveloping way. The sound is more rich and dynamic than we expected from a film of this age, a wonderful surprise

And, as is typical with the Disney studio, they've given us a fully featured presentation that does the classic movie justice.

Then, of course are the extras - as usual, an entire second disc's worth. And Disney even tosses in a DVD copy of the movie; ours was stuck to the front of the BD package. We can't imagine why you'd want to watch the DVD when you can watch the BD, but a bonus is a bonus.

Our favorite bonus is "Grand Canyon", a 28 minute feature that gives us a loving look at the title hole accompanied by the music of Ferde Grofe's "Grand Canyon Suite". It's presented in widescreen, with excellent sound, and is a marvelous bonus.

You also get the usual trivia tracks, audio commentary, previews and music video.

Then there are the Sleeping Beauty Blu-ray Exclusive Bonus Features:

Cine-Explore – An all new Cine-Explore experience with full motion Picture-in-Picture featuring commentary by John Lasseter, Andreas Deja & Leonard Maltin.

Dragon Encounter – The "ultimate audio experience utilizing Blu-ray high-definition 7.1 or 5.1 audio quality." Explore Maleficent's dungeon in a fully-immersive audio sensory adventure like you've never experienced before. Deep in the bowels of Maleficent's dungeon a dragon encounter awaits. This is a new CG bit that looks and sounds great, but that's about it.

Maleficent's Challenge – Go head to head with one of Disney's most infamous villains. Think of anything in the world and Maleficent will read your mind. Keep your wits about you, for that is the only way to defeat her. So says Disney, anyway.

There's also a featurette on the restoration of the sound track, covering the creation of the new 7.1 mix of the score of that was done using the source tapes from the original recording sessions, the results of which speak for themselves.

Customized Living Menu – a "real time" virtual castle that magically changes based on your location, time of day and current weather forecast. It's kind of creepy, though in a nifty way, and you can change manually the castle's weather to match any of the "Disneyland" Magic Kingdom Castles around the world.

Disney BD Live Network – Disney's BD Live Network is just one of the many ways movie lovers, families and loved ones can continue to stay connected and engage in their favorite movies. Movie Chat lets you communicate with your friends on-screen using any text enabled device such as a laptop, desk top or any PDA device such as a Blackberry, iPhone or most other regular cell phones. Your chat session will appear over the movie and occur in real-time while watching the movie together (for those who refuse to pay attention to the film, we suppose). You can also use "Movie Mall" to record a personalized video message, superimpose it into a pre-selected clip of the movie, and send it off to a friend or whomever. This specific feature enables the Sleeping Beauty Blu-ray Disc owner to personalize a very special greeting as never before, according to Disney.

There's more to the BD Live component, and it may appeal to you, but we tend to eschew BD Live features for the most part.

If Sleeping Beauty is going to be representative of Disney's Platinum Series Blu-ray discs, we can't wait for more!


Jim Bray's columns are available from the TechnoFile Syndicate.