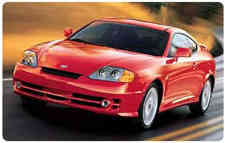 Hyundai Ups its Sporting Ante
Tiburon Tuscani A Fun Ride
by Jim Bray
Hot on the heels of its hot new Tiburon design, Hyundai has offered kind of a "version 1.5" in the racy Tiburon Tuscani.
It's basically the high end Tiburon, but with a few new tweaks and toys added to sweeten the deal. And, as with the "garden variety" Tiburon GS-R I drove last time, it's a blast to drive.
This version comes in what Hyundai refers to as "Tuscani Yellow," which is a racy and bright shade that nearly cries out "Hey, Officer! Come and get me!" This can be like poking at fate with a pointy finger if, like me, you tend to have a foot made of one of the heavier elements.
That said, however, it's an attractive color that's bound to be popular with the Tuscani's target audience. It made me feel a tad out of place, however, since my age is "mumble mumble" and I have more than a tad of grey, which undoubtedly means the car isn't really aimed at me anyway unless I'm in the throes of a mid life crisis or (worse, to many people - and justifiably so) a journalist.
A look at the Tiburon's specs might make you think it isn't up to snuff in the performance department. The 2.7 liter, 24 valve DOHC V6 engine (a four banger's available on the base Tiburon) is rated at 170 horsepower @ 6000 rpm which, when compared with the 200+ horses of some competitors, might not seem like much. Don't let it fool you, though, because there's plenty of torque: 181 lb.-ft @ 4000 rpm and this propels the Tiburon forward in a most satisfying way. Most satisfying, indeed! Torque comes on quickly and pushes you back in the seat in a way I haven't experienced in a car of this price range before.
Not that I've driven all the cars in this class, though.
One of the new wrinkles to the Tuscani is a torque meter, mounted on the center stack beside a gas mileage meter and a volt meter. I've never seen a torque meter mounted in a car before, but it's an interesting idea. In fact, if you want to experience mixed emotions, watch the torque and gas mileage meters at work: as the torque goes up and you're pushed back into the seat, the gas milage goes down and you can just see the dollar bills flying from your wallet.
The engine is mated to a nice six speed manual transmission that, while not the smoothest I've ever shifted, works well and – unlike some six speeds I've driven – lets you find top gear easily in both directions. There's no automatic available on the Tuscani (HOORAY!)
The Tuscani also comes equipped with standard projector type fog lights aerodynamically integrated into the body-color front air dam. A tilt/sliding moonroof that doesn't require two presses of the button is also standard on the Tuscani.
One thing you lose compared with the GS-R I drove earlier is the rear spoiler. This makes the Tuscani's bum as smooth as a baby's and I was surprised to find that I liked it better that way. The Tiburon is plenty aggressive enough in its styling that you don't need the wing to enhance the sinewy look.
I don't know how this affects the aerodynamics, if at all, but I didn't notice any difference. Then again, the two test drives were about nine months apart, so this isn't surprising.
Other Tuscani features include a keyless remote entry system with alarm, though it's a Spartan one: one click opens or locks both doors. This isn't a big deal. You also get chrome-tipped dual exhausts which, combined with the power plant, emit a most pleasing note when you spur the Tuscani forward aggressively.
Any of the current breed of Tiburon is lovely to look at, living up to the cliché of looking fast standing still. It looks like no other car, though from different angles you can see hints of other sporty models in it including the late '90's Toyota Supra in the roofline. The Tiburon shark theme comes through thanks to a small gill motif on the flanks between the front wheels and the doors.
The styling eschews the bumps and bulges of the previous models, which is good, yet it still looks like a Tiburon - a leaner, more muscular one as if the car has been to the gym.
Inside, both front passengers get comfortable and supportive leather buckets that bolster your sides very nicely for cornering. They may give up a little in the lumbar support, but not much. You also get a back seat, kind of, but it should be labeled "for emergency use only" unless the only people you plan to put back there are of the ankle biter class. The 50/50 split/fold seats themselves aren't bad, and the knee room is adequate for this type of car, but the roofline descends so quickly that even diminutive adults will bash their heads on the rear hatch's window.
Hyundai, thoughtfully, even puts a warning sticker on the rear of the hatch, near the grip by which you lower it, warning against cracking someone's skull when you close it. This is undoubtedly lawyer-inspired.
In our real world driving we found that you had to sit crouched forward lest you rattle your skull against the glass when you're sitting in the rear seat.
Fortunately, sports coupes aren't about rear seat headroom, they're about front seat fun quotient, and in this area the Tiburon does very well.
Up front, the driver is treated to full instrumentation and a control panel design where every knob, button or switch is easily in range of a sweep of the arms or an extension of the fingers – except for the cruise control lever, which is mounted low near the steering wheel where I had to take my eyes off the road to find it and then stretch my fingers farther than I should have in order to use it.
The black interior of the regular Tiburon is broken up in the Tuscani with some "chromish" bits, including the edges of the main instruments and around the section of the center panel in which the stereo and secondary instruments are. This breaks up the acres of black very nicely. You also get the usual cup holders and storage bins, though the glove compartment is small. There's also a nice little storage thingy on the center console that's perfect for holding a cellular phone.
And one can't complain about the sporty aluminum pedals and left foot rest. Or the automatic climate control, which works about as well as any of them.
Overall, the materials seem to be of good quality and the buttons, knobs and geegaws have better tactile feel than in some other Hyundai's I've driven. Fit and finish seems fine as well.
The AM/FM/CD stereo is okay, though it didn't sound as good as the one in my GS-R review car from last year.
The Tiburon Tuscani is equipped with power assisted four wheel disc brakes with ABS and traction control. Steering is power assisted rack and pinion and though it didn't impart the best road feel I've experienced it's fine overall, despite a surprising amount of torque steer. Tires are Pirelli Supersport P225/45 ZR's on attractive 17 inch wheels.
The sport tuned suspension includes independent MacPherson struts with coil springs up front and Independent Multi-link with coil springs in the rear. The ride quality is sporty, which means that compared with a family car you feel the bumps, rumble strips and potholes much more.
As one might expect, gas mileage suffers as your driving becomes more spirited and, as mentioned above, you can watch your mileage suffer thanks to the central gauge.
According to Hyundai, the EPA rates the V6 Tiburon at 18/26 miles per gallon city/highway.
Flaws? Well, the outside mirrors are large and work well, but as with other sport coupes they also block your view to the front left and right. The shoulder belts don't adjust up and down (and managed to hit me right where I didn't like it), and my tester had an annoying rattle in the hatch – though the last tester I had was fine so maybe it was just this one, which was at the end of its period of abuse at the hands of journalists pretending they're race drivers.
I'm not sure that, overall, the Tiburon is as refined as competitors such as the Acura RSX Type S and Toyota Celica GTS, but those other models are from carmakers who've learned their trade over decades whereas Hyundai is really playing catchup. And, to be fair, they're playing catchup very well: the Tiburon Tuscani is a blast to drive, plenty fast, and comfortable and plush enough to please. And they've even thought of extras like a cargo net in the rear hatch.
Priced at about $28,000 Canadian (approx. $22K US) the 2003 Hyundai Tiburon seems like a good value, well-built and well performing, so while it may not offer all the world class refinement of some competing sporty cars on the market, it gives you a lot of bang - and a lot of fun - for your bucks.