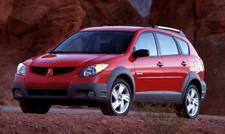 Pontiac "Crossover" Gives Good Vibes
A Handy and Flexible Little Car
By Jim Bray
General Motors' latest collaboration with Toyota has brought us a nifty set of wheels that's perfectly at home in a wide variety of applications.
The General's version is the Pontiac Vibe (Toyota's is the Matrix), a five door wagon with enough space and configuration choices to make it ideal for young people, sales people - or just ordinary people who want a small and economical vehicle with more room than the average four door sedan offers.
Both the Vibe (which starts at $16,990US) and the Matrix are based on the Toyota Corolla, which is an excellent starting point. And while they offer similar features, the Vibe is arguably the better-looking of the two.
My tester came in a nifty reddish "Salsa" color and was the lower end model. It features a 1.8 liter four cylinder, double overhead cam ULEV (Ultra Low Emissions) engine with variable valve timing. Rated at 130 horsepower @ 6000 rpm and 125 lb-ft. @ 4200 rpm, this isn't nearly enough to make the Vibe a particularly sporty-feeling car, but it's right in line with some of its direct competition including the Matrix and the Mazda Protegé 5.
Besides, if that isn't enough oomph for you, you can opt for the Vibe GT and its optional engine that offers 180 horses @ 7600 rpm and 130 lb-ft. @ 6800 rpm and is attached to a six speed manual tranny.
Unfortunately, while this reviewer happens to live and die by the credo "the sportier the better," my test Vibe came with the base engine, and what's worse - it was saddled with the optional four speed automatic transmission rather than the 5 speed manual, which rubbed me the wrong way right off the bat.
But you know what? Now that I've driven it I can say that, unless you really like hot rodding (guilty as charged!) the base engine - even with the slushbox - will serve you just fine under most conditions.
Now, I only had a quick weekend to spend with the Vibe, but I managed to take it on an afternoon trip to the mountains via my favorite narrow and twisty highway - returning on the freeway. And the Vibe performed just fine. Oh, sure, you have to plan your passing with care (not that you wouldn't anyway!) to ensure you have enough forward velocity not to freak out passengers and oncoming traffic, but on the whole it was fast enough, handled well enough, and was almost fun to drive.
And I daresay that if it had had the manual transmission it would have been fun to drive as well.
So what else do you want from a "Corolla-class" vehicle?
Full disclosure: my wife owns a 1992 Toyota Corolla and it goes like hell, despite having no more than 100 horsepower. This leads me to believe that the Vibe, while heavier, would be a relative blast to drive if given a manual transmission. But for those who can't or won't drive a stick, rest assured that the only time your base model Vibe may seem a bit piggish in its acceleration is when you're facing hills. We had no trouble reaching freeway speeds while still on the acceleration lanes and the Vibe performed just fine in traffic.
Besides, there are plenty of other reasons to love what the Vibe offers. Designed to compete with such flexible space makers as the PT Cruiser, it offers a large and flexible cargo area in the rear, the rear seats fold down flat to make the space even larger - and if that isn't enough you can fold the front passenger seat flat to carry Really Long Stuff. There are also multiple tie down points in the back, for tying down multiple things.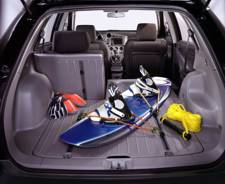 That folding front passenger seat can be perfect for other uses, too. If I were a traveling salesman I'd keep it folded so its flat surface could hold my notebook computer, notes, or whatever. And to facilitate notebook computers or other gadgetry, the Vibe has a 110 volt outlet on the dashboard that lets you plug stuff in just as if you were at home or the office. A Really Nice Touch.
Vibe's suspension includes MacPherson stuts with coil springs and stabilizer bar up front and torsion beam with trailing link, coil springs and stabilizer bar in the rear (the AWD version gives you independent double wishbone with coil springs and stabilizer bar). Steering is power assisted rack and pinion and it gives a pretty good feel.
Vibes' brakes are of the front disc/rear drum variety unless you upgrade them to all-wheel discs (ABS is optional as well). My tester, despite being the base model, had the ABS and discs all around and while its stopping power wasn't up to that of, say, a howitzer, it was just fine on hills, flats, and wet pavement.
My tester also included the "Sport Package" which puts on a set of 16 inch aluminum alloy "pinwheel style" wheels and a power sunroof. The sunroof was a welcome touch, but it had a strange feature that drove me nuts while driving: it only closes half way when you hold the button, forcing you to press it again to finish the job. Weird.
My Vibe also had the "Power Package" (which doesn't refer to the engine!) that gives you power door locks, remote keyless entry, and power windows. It also had the Safety and Security package consisting of ABS and driver/passenger side air bags.
Besides the cargo tiedowns in the rear area, there's also a wide assortment of bins, nooks and crannies in which to store stuff of various persuasions.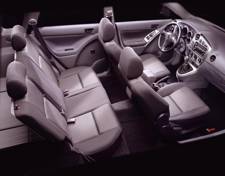 The driving position's a little higher than you'd expect from a "Corolla-compatible," but only a little and it makes for a nice view out of the Vibe's excellent greenhouse. The seats, especially the front buckets, are comfortable and it's easy to find a relaxed driving position. The steering wheel feels great, tilts well, and all the controls fall easily within reach with the possible exception of the farthest stereo control buttons (and they're still not bad).
That stereo is probably the weakest link. It's an AM/FM/CD combo and isn't up to the standards of other GM stereos I've heard, despite the sticker listing it as a premium system. The sound was a tad shrill and my tester featured a blown left rear speaker that rattled when you fed it anything with enough bass to pose a challenge. And this was running all the equalizer settings flat.
Still, the blown speaker could have been from a previous media guy (it certainly couldn't have been me, the rabid fan of The Who!) and would be fixed under warranty anyway. And it was the only sour note in what was a surprisingly pleasant whole.
So pleasant, in fact, that the friend who accompanied me on my mountain jaunt got the Vibe so well that, since he was looking for a new and flexible vehicle, he's arranged to get his own Vibe.
While I had to give the tester back! There's just no justice!
Maybe I should ask GM for a commission...
Anyway, despite only having had the Pontiac Vibe for a weekend, and the test unit conspiring against my favored configurations (power, a manual transmission, and a kick-ass stereo), I really liked the Vibe and have a feeling we'll be seeing plenty of them on the streets over the next few years.