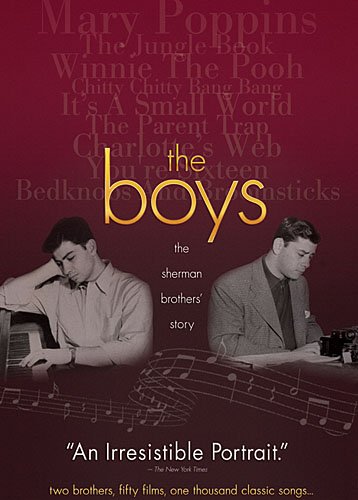 Disney Docs Look Inside The Magic Kingdom
By Jim Bray
December 2, 2010
Three new documentaries from Disney offer fascinating peeks at a trio of very different, but very interesting, facets of the Walt Disney Studios. Unfortunately, they're only available on DVD right now, not Blu-ray, though that could change in the future.
The three are "Waking Sleeping Beauty," "The Boys," and "Walt and El Grupo" and deal with, respectively, the renaissance of quality animation from the studio, the lives and careers of composers Richard M. and Robert B. Sherman, and Walt Disney's World War II trip to South America with his wife and a gaggle of associates. All three are well worth watching, much more so than I had anticipated going in. That's why I'm "slumming," by actually doing a column about DVD's instead of Blu-rays, something I haven't done in a few years.
"The Boys" is a warts-and-all look at the sibling composers who wrote the fantastic music for "Mary Poppins" and some 49 other films for Disney and others.
The "Boys" project was conceived of, produced and directed by cousins Gregory V. Sherman and Jeffrey C. Sherman, two of the songwriters' sons, who become part of the story as they reveal the distance the brothers kept between themselves throughout their careers. Apparently, the two families didn't hang out together and even when they made public appearances they'd sit on opposite sides of the venue.
Part of the reason was undoubtedly the older sibling's (Robert) horrifying and emotionally scarring experiences during World War II, when he was one of the first Allied soldiers to liberate a Nazi death camp. Robert also spent his life wanting to write the great American novel, but never did, and this may have also gnawed at him.
Anyway, we get quite intimate looks at both brothers and their families, but mostly we learn about their work, their close relationship with Walt Disney, and we get some welcome footage of that work, including footage and tributes from people including Dick Van Dyke and Julie Andrews and Barbara Broccoli.
There's even a clip of David Gilmour in concert, performing "Hushabye Mountain" (from "Chitty Chitty Bang Bang"), not the kind of thing you might expect to hear from Pink Floyd's guitarist and songwriter.
The Shermans spent 13 years at Disney, during which they received four Oscar nominations and wrote more than 200 songs. And their music touched many people, as recounted in the documentary by such luminaries as Angela Lansbury, John Lasseter, Randy Newman, Alan Menken, and the late Roy E. Disney.
There is even a pretty decent selection of bonus features, including a featurette that shows us why the duo is called "The Boys", a look at the Disney Studios in the 1960's and a featurette on how Julie Andrews ended up being cast as Mary Poppins. There's also a Sherman Brothers' Jukebox, a collection of "The Boys'" songs and the stories behind them.
Mary Poppins is one of my favorite films – a definite "desert island disc" – but I never really knew anything about the Sherman brothers before watching this documentary. Heck, for all I knew, they could have been a father/son team. As it turns out, their story is interesting, uplifting and heartbreaking at the same time and I'm glad the Disney folk sent me "The Boys".
Even more interesting is "Waking Sleeping Beauty," which tells how Disney's animation studio was revived with such success.
I grew up on Disney movies but had given up on the studio when it seemed to lose its way during the 1970's and stopped making movie magic in favor of, well, dumb stuff.
For that reason, I had to be dragged kicking and screaming to see "The Little Mermaid" – but by the time I left the theater, I was hooked.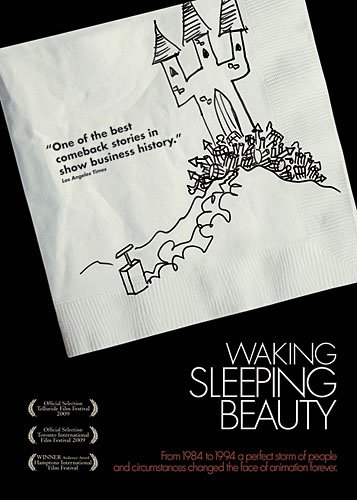 Apparently, I wasn't the only one and the rest is history. Over the next several years the studio unleashed a flood of great animated films that can stand proudly beside the best of the early Disney library.
"Waking Sleeping Beauty" is told by the people who were there, from executives Michael Eisner, Jeffrey Katzenberg and Roy E. Disney, to a veritable who's who of the creative people who populated Disney Animation during the period – people who didn't know if they'd have a job for long but who went on to make "Beauty and the Beast," "Aladdin," "The Lion King" and more.
The documentary was directed by Don Hahn, who produced some of those hits, and produced by Peter Schneider, whose gig at the time was to lead the animation group. As with "The Boys," it appears to be a very honest look at the period, giving us the good, the bad and, yes, the ugly about the work, the studio, the corporate suits and the clashing egos.
"Waking Sleeping Beauty" is an appropriate title and the documentary offers us a fascinating and uplifting inside look at those turbulent times and the movies they led to, not only the abovementioned classics but also "The Great Mouse Detective," "Who Framed Roger Rabbit," "The Nightmare Before Christmas" and "The Rescuers Down Under."  It also covers the evolution from traditional, hand-drawn animation to the incorporation of computers.
The film is full of interviews and home movies, and it gave me my first opportunity to actually learn something substantial about the late Howard Ashman who, with composing partner Alan Menken, created such great music for "Mermaid," "Beauty and the Beast" and part of "Aladdin" before Ashman's death from AIDS in 1991. In my opinion, if Ashman had lived, he and Menken could have gone down in history as the spiritual successors to Rodgers and Hammerstein. And the Shermans, of course.
We get to see and hear Ashman at work, and coaching Jodi Benson (Ariel) as she recorded the song "Part of Your World", which he describes as a musical theater staple in which the heroine tells the audience about her dreams, thereby making us fall in love with her and root for her success.
That part really grabbed me, because I remember the exact moment when I fell under the spell of "The Little Mermaid." It was when Ariel, in her grotto with Flounder, Sebastian and her treasures, reached up through the coral toward the ocean surface as she sang "Wouldn't I love, love to Explore that world up above" with the music swelling behind her. It was, indeed, "Part of Your World" and I've been in love with Ariel and the movie ever since.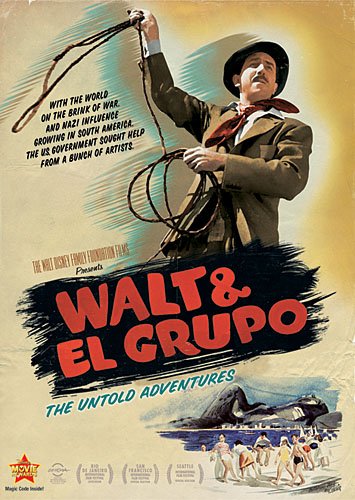 Anyway, it's a marvelous documentary, and the DVD also includes deleted scenes, a couple of features on Howard Ashman and recording "Part of Your World", a celebration of Roy Disney, Frank Wells, Joe Ranft and Ashman, personal video footage from animator Randy Cartwright and a comparison of Walt Disney's era and the current one.
The third documentary, "Walt and El Grupo," chronicles a 1941 expedition to South America led by Disney and a team of animators (dubbed "El Grupo"). This one didn't grab me nearly as much as the other two, but it's still worth a view.
In 1941, when his studio was under assault from union thugs trying to organize it, Disney was sent by the U.S. government to South America supposedly to generate goodwill in a part of the world the Roosevelt administration worried was falling under the influence of the Nazis. Disney took in the culture, made friends with local artists and, ultimately, produced the films "Saludos Amigos" and "The Three Caballeros."
" Walt and El Grupo" was directed by Theodore Thomas, whose father Frank was part of "El Grupo." There's some gorgeous scenery on hand, from Rio to Santiago as well as interviews with family members and historians. And Saludos Amigos, one of the films inspired by the trip, is included as a bonus.

Other bonus features include an audio Commentary, a fascinating demonstration of how old black and white photos from the trip were brought to life in a kind of neat 3D effect. There's also feature in which conductor and music historian Roberto Gnattali reflects on the era.  
All three documentaries are produced in widescreen, with "full frame" sections from the days before widescreen movies and TV came along, and the picture and sound quality are pretty good overall.
These documentaries are well worth your time if you're the least bit interested in the subject matter. They're quite compelling and, in places, they even pack an emotional wallop.
Copyright 2010 Jim Bray
TechnoFile.com