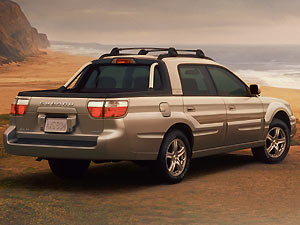 Subaru's Little Pickup Serves Lifestyle Warriors
by Jim Bray
Subaru thinks it has the answer for people with lifestyle toys to haul but who don't want to own an honest-to-goodness pickup truck to haul them.
It's the Baja, a version of the company's Outback from which Subaru's engineers have sliced the rear end, replacing the station wagon's bum with a small pickup bed. The result is an odd kind of hybrid vehicle – not in the gas/electric power plant hybrid vein but in its blend of comfortable car and utility hauler.
Subaru has the courage to march to its own drum, and you can't fault a company for showing gumption. That said, the Baja's unique appearance led me to muse that the "AWD" badge on its rear was a new kind of phonetic spelling for "odd."
"Putting the fun back in function," is how Subaru describes the Baja's mission in its brochure, and that may not be too far from the truth. Alas, that fun and function is lost on this confirmed couch potato, but judging from the compliments and stares the Baja got when I drove it over the Christmas, 2002, season (perhaps qualifying me to have said "Baja humbug!" with a reasonably straight face) there are plenty of people upon whom the Baja's charm is not lost. The Baja was almost as big a crowd pleaser as the Hummer H2 "brute ute" and more so than the Honda Insight hybrid I had driven earlier, both of which are also rather unique.
So maybe it's just me. Which goes to show that we in the media do not have a monopoly on truth and understanding, despite how most of us try to come across…
The popularity of the Baja and Hummer over the Insight could also indicate that political correctness only goes so far with people who don't live in ivory towers: it's the outdoorsy vehicles, especially the most blatantly consumptive one, that got the raves – not the otherwise impractical gas sipper. But I digress…
Anyway, the front of the Baja is a four seat car ("passenger car safety, truck utility") featuring just about all the creature features one could need and, while the truck bed is rather short, it can be extended to the end of the lowered tailgate thanks to a folding (and optional) metal grate or made to stretch right into the car's interior thanks to a fold down rear seat (that doesn't split) and "Chevy Avalanche-style" folding panel pass-through. The result can be long enough to carry a couple of mountain bikes, or boards of the surf or snow variety.
Because that rear bed extender is made of metal tubes and therefore doesn't form a solid rear wall the truck bed isn't really suitable for truck stuff like hauling full length 2x4's (methinks that if you didn't somehow ensure they couldn't move they'd slide right out the back the first time you accelerate), but Subaru is clearly not aiming the Baja at contractors or home do-it-yourselfers. That said, you could easily use the Baja to haul bags of cement or the like, though that same bed extender really gets in the way of the hauling capability when it's folded into the bed.
As with its brother Outback, the fully independent, heavy duty raised suspensioned Baja is powered by Subaru's "classic" 16 valve, 2.5 liter single overhead cam "boxer" four cylinder engine. The engine is rated at an adequate 165 horsepower at 5600 rpm and 166 lb.-ft of torque at 4000 rpm. Alas, my test unit was connected to a four speed automatic transmission that transmitted an apparent aversion to zip. I imagine the five speed manual transmission that comes standard on the Baja would have brought a lot more fun to drive quotient to the equation.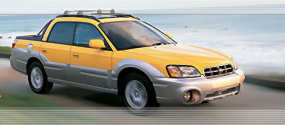 The boxer name, incidentally, comes from the engine's "horizontally opposed" cylinder configuration that, unlike the more common inline of "V" engine, sees each bank of two cylinders moving back and forth toward and away from each other, almost as if they were slugging it out in the boxing ring.
Power is sent to all four wheels via the company's famous full time four wheel drive system that, in this case, also includes a viscous-type limited slip rear differential. Under normal driving conditions you don't really feel the AWD too much, but we were lucky enough to have a decent snowfall while I had the Baja and it came in really handy then: the Baja felt serene on the slippery roads.
Helping bring the Baja to a stop, even in less than optimum conditions, are large four wheel disc brakes equipped with four channel, four sensor ABS. The 16 inch "Baja design" aluminum alloy wheels wear a nice set of P225/60 Bridgestone Potenzas.
The Baja handles well; as one would expect, it's much more carlike than trucklike to drive, and since it's basically a car that had a butt transplant it's also easy to park in normal stalls. Don't expect the high seating position of a truck or SUV, but do expect a pleasant and comfortable cabin that, while not in 2003 Honda Accord territory as far as coddling is concerned, is well thought out and works very well.
Our tester came with just about every option available, including leather seats with bun warmers up front, and 6 way power adjustment for the driver (though it reclines manually). A leather-wrapped tilt steering wheel is standard, as are tinted power windows and door locks with keyless entry.
The stereo is quite good, with adequate power to fill the relatively small interior. It features an AM/FM radio and single disc CD player and the system offers good ergonomics that include buttons large enough to use even while you're wearing gloves.
You also get CFC free air conditioning, cruise control and full instrumentation with a dual trip odometer. Also on the instrument panel is a digital clock that, thanks to its placement, is illegible to anyone but the driver, and an outside temperature readout. An unexpected but handy touch is a little label on the instrument cluster pointing to which side of the vehicle the fuel filler door is mounted.
There's also a small but eminently adequate power sliding moonroof.
My tester also had the optional auto dimming interior rear view mirror with compass and if you don't like the auto dimming or compass you can turn them off (or just save the money by not ordering them…). The outside mirrors are heated.
The rear seats are comfortable, though there isn't a lot of toe room under the front seats and our rather short legged family felt that anyone much taller than us might find things a tad tight back there. And you can't seat a fifth person because between the rear "buckets" is a little "glove compartment" with twin cupholders.
Safety equipment includes dual front airbags, child protection rear door locks and safety rear seat anchors, height adjustable front seatbelts with pretensioners and force limiters and the structure itself features side impact door beams and front/rear crumple zones.
Driving the car is straightforward, the greenhouse is very good, and the Baja is pleasant and comfortable for reasonably long day trips. Steering is light and accurate and braking is accomplished with a nice lack of fuss. The ABS isn't omnipresent, either, so you can still perform decent threshold braking without having the built in droid muscling you out of the way.
One thing that takes a bit of getting used to is backing the Baja. Since the rear window is right behind the back seat, it's tempting to think that's where the car ends but if you fall into that trap you're bound to bang into something as the reality of an invisible bed sinks in for those who only rely on the inside rear view mirror as a guide.
I didn't find any real unpleasantness with the Baja, though as mentioned I was less then thrilled with its acceleration performance. To be fair, however, it has no trouble keeping up with the traffic around it. But, not surprisingly for a utilty-type vehicle, it definitely has no sports car aspirations (Subaru makes the Impreza WRX for people with lead feet). It's agile, howver, and will undoubtedly please those in its target market.
The exterior is afflicted with the type of ugly plastic cladding that GM seems to find so necessary, though my tester's gray exterior color matched the cladding and that helped somewhat. It sticks out like a sore thumb on other colors however, though on the other hand it could be argued that it's better to scratch plastic than metal when you're out in active lifestyle territory.
Okay, the Subaru Baja is unlikely to win a beauty contest, though beauty is in the eye of the beholder, but it does what it's designed to do very well, and that's what the bottom line should always be about.
The Baja starts at $23,995 US ($35,595 Cdn).