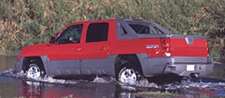 Chevy Avalanche a Big, Brawny brawler
By Jim Bray
There are trucks, and there are TRUCKS.
Chevy's 2002 Avalanche falls into the TRUCK category: it's big, powerful and comfortable. It's also unique.
It's unique because GM has seen fit to make the Avalanche a kind of hybrid between a pickup truck and a sport utility vehicle. Its big cab seats five people comfortably, with the enclosed short truck deck offering plenty of storage space for the stuff you might want to haul.
That may not sound particularly unique, but what other vehicle can you name that also offers the capability to turn the short bed crew cab truck into a long bed standard truck by folding down the rear seats and opening a pass-through to the deck?
I can't think of one. The Avalanche occupies a market niche of its own.
The pass-through, which GM calls a "Midgate" is made of tough plastic and appears quite strong. The actual conversion is very easy. All you do is fold down the 60/40 split rear bench seat, turn a latch, and fold the Midgate flat on top of the now-folded rear seat backs. As if by magic, your cargo bed is extended from about just over five feet to just over eight.
Its advantage is that when it's down you have instant access to the bed, and can haul longer things (and more things) than when it's up.
The disadvantage, of course, is that when it's down anything dirty in the bed is sure to end up in your lap the first time you have to slam on the brakes. And those 2x4's or concrete blocks can slide forward as well.
Well, maybe the concrete blocks won't move too much…
There's more. You can also remove the rear window, either separately or with the Midgate. I'm not sure why you'd want to do this, except to give the dog an extra place to stick its head out, but you can.
I guess it gives you a long box crew cab in the space of a short box crew cab, so if that's what you want this is your vehicle.
Other than that bit of technical (or is it marketing?) wizardry, the Avalanche isn't much different than a big Chevy truck, except perhaps for the way it looks. Depending on your mindset, the body styling can be thought of as either "aggressive," or "ugly." I leaned toward the latter, but then I'm not really a truck guy anyway.
The bed is covered by a three piece hard top and there are also a couple of small, lockable compartments on either side that can be used for storing smaller objects.
The rest of the truck has plenty to like for those who are into such vehicles. Power is plentiful, thanks to GM's 285 horsepower (with 325 pound feet of torque) 5.3-liter V-8 engine, the same power plant that's available in all of GM's full-size trucks. I didn't do a zero to 60 test run in the Avalanche, but it got up and went with plenty of get up and go. The transmission is a four speed automatic with overdrive, the brakes are power discs with ABS all around.
Avalanche is also relatively pleasant to drive. It feels a mite sloppy (this is a big truck, after all), but on the whole it goes where it's pointed and is intimidating enough that you're tempted to merely muscle other traffic out of the way.
My test unit was the Z71 four wheel drive version, but even though I never had a chance to take it into any serious hills it gave the impression that it would be perfectly at home in the boonies.
Big side mirrors are really helpful going forward and backward and, while the turning circle is more like a bus's, it's actually a pretty easy vehicle to parallel park.
The power adjustable, heated leather front seats are quite comfortable and there's a nice, big sliding moonroof, too.
Other nice conveniences include a pair of running boards that came in extremely handy (otherwise I would have needed a springboard to get inside). GM also throws in most of the usual gadgets, including power everything, cruise control, a decent AM/FM/CD stereo, air conditioning, automatic headlights and an voice memo recorder for storing moments of road rage.
The four wheel drive Chevrolet Avalanche Z71 starts at about $34,800.