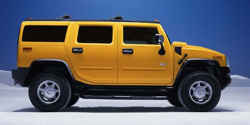 by Jim Bray
Talk about making a statement!
The 2003 Hummer H2 may be the "baby" Hummer, but it also may just be the ultimate "brute ute" for those who want it all – and have it able to fit on an everyday road.
Large, and about as aerodynamic as a concrete block (whose shape the H2 seems to have emulated), it's also a surprisingly drivable and civilized vehicle that coddles those inside while simultaneously impressing and/or intimidating those outside.
This is a vehicle that makes an impression on just about everyone, and boy does it draw a crowd! Neighbors were quick to comment about it, and in parking lots (where it's easy to find, a wonderful feature when said lots are crowded) you can see necks snapping around in your direction as you prowl the rows looking for a vacant spot with room to open the Hummer's doors without dinging some lesser vehicle.
Which means most vehicles..
My five door test unit came in an almost flourescently bright shade; I liked to think of it as "Testosterone Yellow," though GM simply calls it "Yellow," and this caused the vehicle to stand out even more, if that's possible. In fact I expected to see kids lining up on the sidewalk as I approached in the Hummer, waiting for me to pick them up for school.
Okay, it isn't that big, but to call the H2 anything less than "full sized" would be like calling the Grand Canyon a pothole.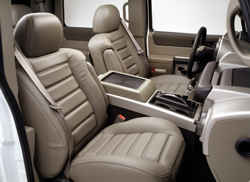 The H2 is high, it's wide, and it doesn't just look like it means business: it means business!
And does it every give you a feeling of élan, of derring do. When you're driving a Hummer you feel like the king of the road, invulnerable and invincible as you cut a swath through traffic and fight the urge to push mere mortals off onto the shoulder when they insist on poking along at half the speed limit.
Remember that scene in "Raiders of the Lost Ark" when Indiana Jones has commandeered the army truck and uses it to push his pursuers out of his way? That's what it feels like to drive the Hummer.
I can hear the anti-SUV crowd now, muttering about how that's exactly what's wrong with this type of vehicle. Yeah, well it's none of their business, even if this thing does sip gas about the same way an alcoholic dives into a vat of beer.
Hey, if you can afford the $56,000+ ($82,000+ Canadian) for a loaded H2, you can afford to keep the 32 gallon tank full.
And you'll undoubtedly be "tankful" you have a vehicle that'll go just about anywhere and put a smile on your face the whole time.
Anyway, the H2 is powered (and I mean POWERED!) by GM's Vortec 6000 V8 6.0 liter, a powerhouse featuring a cast iron block, cast aluminum cylinder heads, and sequential fuel injection that puts out 316 horses @ 5200 rpm and an even more impressive 360 lb.-ft of torque @ 4000 rpm. This, and the four speed automatic transmission that's also standard, manages to propel this 6400 pound small building from a standing start to "Ramming speed!" about as quickly as you'd want it to. Maybe quicker.
It also comes with a Borg-Warner two speed full time 4 wheel drive system with settings including: 4 High Open (normal driving -if any driving in this wonderful vehicle can be considered normal); 4 High Locked (snow, light sand, gravel and the like); 4 High Locked + TC2 (deep sand and mud); 4 Low Locked ("severe off pavement"). There's also 4 Low Locked +TC2, 4 Low Locked & Rear Differential Locked and 4 Low Locked & Rear Axle Differential Locked +TC2. The TC2 setting allows limited wheel spin when appropriate.
Whew! I only had a chance to use the first two settings, with most of my driving happening on city streets with some limited off road. The "snow" setting came in particularly handy on one back roads trip, however, where we ran into sections that had iced up after a recent snow storm. When in its "normal" setting I was getting a tad nervous, but when it switched onto 4 High Locked it was as if a steadying hand had grabbed onto the Hummer and was helping hold it to the road.
The H2 uses an independent torsion bar front suspension and in the rear there's a five link trailing arm with coil springs and a 30mm in diameter stabilizer bar. My tester also had the optional air spring suspension that not only makes it sound as if there's someone flatulent riding in the back but which helps keep the H2 level under various load conditions. You can also raise your rear end (well, the H2's) a little when needed.
And you can use the onboard compressor to re inflate your tires, which could come in handy in the boonies.
The first thing that went through my mind after stepping up on the step that allowed me to haul my 5'6" frame into the driver's seat without having to resort to a ladder was "Wow!" As I slipped my rear end into the eminently comfortable leather seat I felt that I was about to be seduced by something special, something strong and proud – maybe even "the dark side of the Force." And I was. In fact, you haven't lived until you've tooled along playing Darth Vader's "Imperial March" from "The Empire Strikes Back" on the stereo!
I mean, not only does this Hummer have all the right stuff for totally serious off-road work, it also comes with just about every creature comfort you could want – as it should for this price! The front leather bucket seats are very comfortable and very customizable, with stuff like power controls, bun and back warmers and driver's seat memory. Between them is an immense center console with a storage bin the size of a small meat locker and a nice shelf on top.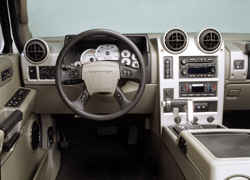 You get an easy to read instrument panel with customizable Driver's Control Center, GM's wonderful automatic headlamp feature, variable intermittent windshield wipers, power everything and dual-zone climate control. Oh yes, and OnStar – mounted just above the center console where it's easy to reach but won't cause you to set it off when adjusting the rear view mirror.
There's also a very good stereo featuring a 6 disc in-dash CD changer with AM/FM radio and the nifty "auto volume" control. The only real complaint I can find for the driver's position is that the vehicle is so large it was virtually impossible for me to adjust the inside rear view mirror without leaving the driver's seat- which means I'd adjust then sit to check and hope I'd gotten it right. And the sun visors are almost as hard to reach for the "vertically challenged."
The rear seat, which thanks to the lack of an outside step is harder to access than the front, is big enough for three real human beings and also features bun warmers; there are a couple of headphone jacks, too, that rear seat passengers can use to listen to the stereo. The middle of the rear seat folds down to form a big armrest/cupholder thing, and the whole shebang splits 60/40 and folds down to make for more storage room in back.
That's a good thing, too, because GM has seen fit to put the spare tire in the back compartment and it's so damn big it takes up nearly half of it. I don't know where else they could have put it and kept both it and the vehicle "practical," but it sure doesn't help the storage space or the driver's view out back where it is.
The tires are LT315/70R off roaders mounted onto 17 x 8.5 inch forged aluminum wheels fitted with a four channel anti lock system helping to control the four disc brakes. Road feel is pretty good, truck like (not surprisingly), but very comfortable and the Hummer actually handles surprisingly well. Parking it in a mall's stalls can be a treat, but overall the H2 is amazingly nimble. Okay, maybe nimble isn't the right term but I was surprised to find that this relatively gigantic beastie is quite nice to drive.
A blast, too, if only for the reactions you get from those around you.
One downside, and it's very minor, is the sunroof. It's gigantic, which is wonderful, but when it's open the wind noise howls like a banshee. Cruising at about 50 mph is like being at a rock concert without the pot smoke, though of course it isn't as bad at slower speeds.
I went into this test figuring I'd spend the review making fun of the anything-but-subtle Hummer (and I suppose I succeeded on that count), but other than the cost of gasoline it would require to keep it going, the H2 won me over. It's definitely everything you've heard, and everything it claims to be.
What a machine!