Subaru Creates a "B9" SUV
By Jim Bray
Subaru has jumped into the so-called SUV market with both feet, offering a terrific new vehicle that's at least as nice to drive as any other SUV I've tried.
Subaru has been marketing its Forester as an SUV for several years now, but I've always found it more of a tall wagon than an honest to goodness SUV. And that's fine! I've always liked the Forester, and prefer it to most SUV's; along with the old Mazda Protégé 5 it has been one of my favorite such wagons, though the Subaru has had the advantage of the company's traditional all wheel drive.
But Subaru is trumpeting the B9 Tribeca as the real SUV deal, though they're calling it a "Crossover Utility Vehicle". And it does look a little like a cross between an SUV and a minivan, without the minivan's traditional sliding side doors. It drives like a cross between a minivan and an SUV, too, and while that may sound like the B9 Tribeca has a split personality, it drives very nicely regardless of what you want to want to call it.
My wife, who is a confirmed "Subaruphile," really liked the B9 Tribeca – as did I. In fact, I only had two problems with it, one of which is superficial and disappears when you sit behind the wheel and the other of which unfortunately rears its ugly head when you're behind the wheel. More on that later.
The 2006 B9 Tribeca, which is apparently based on the popular and very nice Legacy, is extremely comfortable, flexible and fully equipped. It's powered by Subaru's famed boxer engine, in which the three liters worth of cylinders punch each other out to the tune of 250 horses @ 6600 rpm and 219 lb-ft of torque @ 4200. This is plenty of get up and go, and the it allows the B9 Tribeca to reach highway speeds about as quickly as you'd need to if you aren't racing a Porsche from a stop light (and who in his right mind would do that in an SUV?)
The boxer is smooth and refined and likes to rev. This means it hums along comfortably at highway speeds, with enough power to pass and feel almost sporty while doing it.
Almost.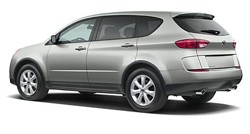 Subaru claims the five-passenger Tribeca, the model I drove for a week, will go from standstill to 60 mph in 8.5 seconds, though I never timed it. A seven passenger model is also available, with a small third row "out back" that would be adequate for occasional use or for relatively small kids.
The vehicle comes with a very smooth five-speed automatic transmission, but while it's fine overall, the tranny is one of my two negative points about the vehicle. While upshifts are just fine, I thought the transmission was somewhat slow when you goose the gas and expect it to downshift – for passing or just plain fun. I didn't notice this as much in "normal" driving conditions, but it was apparent when I chose to put the spurs to her. It wasn't enough to turn me off the vehicle, though.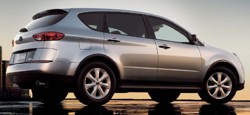 Outside, the B9 Tribeca is very high tech-looking, with an attractive aero body that looks very up to date. But this is where my other "major" complaint comes in, the one that you don't notice from inside the car.
This otherwise very attractive SUV is saddled with a schnoz that looks like Jimmy Durante's after he ran into a wall at high speed (maybe in some kind of early crash testing). It's undoubtedly a love it or hate it proboscis, and I chose to hate it. You don't see it from inside, however, which is where the owner will spend most of the quality time with the vehicle.
On the other hand, it's also an interesting, kind of "retro" look that brings to mind earlier days of aviation, which is kind of a strange thing to find on what is otherwise an extremely modern-looking vehicle. But while beauty is in the eye of the beholder, I think the nose is by far the B9 Tribeca's weakest point, especially since from the side and the rear t looks so new and fresh.
Inside it's a completely different story. The Tribeca has a benign, nay sublime, interior, especially for the people in the front seats. Sit behind the wheel and you're almost embraced in a set of loving arms, such is the swoopy, curvy design of the dash and console – extending right to the doors. The seats are comfortable and supportive, controls are just where they should be – and even though some are unusual in their operation (the HVAC controls, for example), they're very intuitive.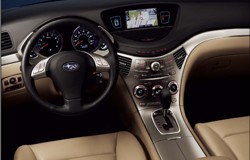 The overall fit and finish is excellent.
I really liked the windshield wipers. Not only do they do a nice job of clearing wetness from the big front window, but they have about a zillion variable intermittent settings, which I found very handy.
The Tribeca has a terrific greenhouse all around, offering excellent visibility. That praise doesn't extend to the sunroof, however. It works well, and a single push of the button opens it (two pushes to close), but I was expecting (and hoping for) one a lot larger. The sunroof on the last Forester Turbo I drove was practically big enough to parachute through, and I loved it. Still, this isn't so much a flaw as a difference of opinion over the optimal size of a sunroof (I like 'em big!).
Subaru and I also must disagree on the quality of the stereo. The AM/FM in-dash CD changer works well, and is as easy to use as the rest of the vehicle, but though the overall sound quality was okay, the system needs better amplifiers because it ran out of steam all too quickly.

The front seats in my tester were covered with leather and featured bun warmers. Finding a comfortable driving position was easy. The sensors in the front passenger seat are quite sensitive, too. One time, I parked my notebook PC on it and the vehicle kept insisting that I had a passenger and wanted me to strap it in: the warning light on the instrument panel kept hounding me until I put the PC on the floor (where it undoubtedly should have been in the first place).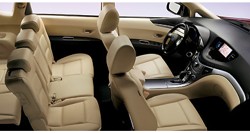 The rear seats (the center seats in the 7 passenger model) splits and folds 40/20/40 and offers enough room for two adults to ride in comfort, though it may be a tad tight for three people on a long trip.
On the road, the Tribeca's ride tends to the firm side, though definitely not harsh, and it feels surprisingly sporty. The suspension is fully independent, the brakes are power-assisted discs with ABS all around (with electronic brake force distribution) and the steering is speed sensitive, power assisted rack and pinion.
The Tribeca comes with 255/55 tires on its 18 inch wheels.
Other standard features include front, side, and curtain airbags, dual-zone automatic climate control, power driver and passenger seats, and HomeLink remote control garage door opener.
Subaru has done a really nice job with the B9 Tribeca. It amazed me how the vehicle looks quite trim on the outside, yet turns out to be very roomy inside, and the warm, ergonomically sound interior is a pleasure to be in.
With a bit of rhinoplasty, this just could be the nicest SUV around.
The Subaru B9 Tribeca's starting price is $30,695 US/$41,995 Canadian.