Mazda Sports Wagon Still Fun, Roomy and Zoomy
by Jim Bray
Mazda's Protegé 5 is a definite success story.
After having driven a bumblebee-colored sample when the car was brand new on the market, I was very impressed and figured the car would sell boatloads. And it has; it's hard to drive very far near where we live without seeing multiple examples of the little wagons "zoom zooming" around. And deservedly so; Protegé 5 is a nice car.
For those who may not have yet experienced such sightings, the Mazda Protegé 5 is the attractive five door hatchback/station wagon that appears to have spawned (or at least beaten to market) a host of imitators including the Toyota Matrix/Pontiac Vibe and Suzuki Aerio. It's probably the most subtle and attractive of them all, styling-wise, and that isn't a bad thing – though beauty, of course, is in the eye of the beholder.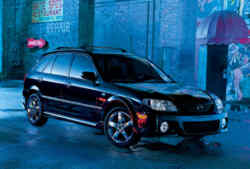 The bright "vivid yellow" 2002 model I first drove came complete with black racing stripes running its length and generated more stares per mile than any vehicle I'd driven back then. Whether it's because my 2003 model tester wore a nice shade of darker blue - or just that they're now so ubiquitous - this tester cut through traffic with nary a "by your leave." I like it better that way, especially since the more conservative paint job is also less likely to bring the Protegé 5 to the attention of traffic cops.
Anyway, the Protegé 5 is nifty little vehicle that, while not the most powerful rocket on the road, is nothing if not competitive with the abovementioned cars. The little wagon works as well in a family situation as it does for the youth culture at which it's rumored to be aimed, its four conventional doors offering good access to a large and comfortable interior that includes a back seat which is plenty spacious for two and, though I didn't have a chance to try, would probably hold three without them resorting to fisticuffs). The big hatch/tailgate opens up a positively cavernous space; fold down the 60/40 split rear seat, and you have enough room for camping gear, bicycles, dead bodies, or what have you.
Though our time in this tester was abbreviated, we managed to use it to haul a fairly large projection screen (from a home theater test we were conducting) and it swallowed the thing up without even forcing us to move the front passenger seat forward.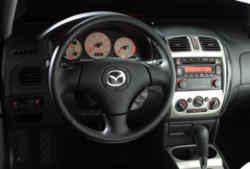 The Protegé 5 comes with either a standard 5 speed manual or optional 4 speed automatic transmission with "manual shift" mode. This time around I had the automatic and while that initially filled me with dread I quickly discovered that it wasn't the end of the world. In fact, while an automatic obviously doesn't have the alacrity of a manual, or its fun quotient, the manual shifting mode was actually pretty good and let you keep the engine revs at usable levels. Oh, it tended to shift from first to second in its own sweet time rather than mine, but the rest of the shifts were fairly quick and quite smooth.
The attractive and sporty front wheel drive Protegé 5 features stuff like fog lights, a front air dam, rear spoiler over the hatch and a set of attractive 16" alloy wheels. My sample also had a power moonroof, and a pretty good AM/FM/single disc CD stereo. Other standard features include side air bags, four wheel disc brakes, remote keyless entry, a nice steering wheel that facilitates 9 and 3 o'clock hand positioning, well located pedals and left foot rest, and most of the creature comforts one expects these days - including cruise control with steering wheel-mounted buttons.
The Protegé 5 cranks out 130 horses @ 6000 rpm and torque is rated at 135 pound feet @ 4000 rpm which, as mentioned is in the same territory as the Matrix/Vibe combo with which it competes. That doesn't put it into sports car territory, however; it's a tad sluggish right off the bat, especially with the automatic, but once you get the revs up it'll put a nice smile onto your face.
In fact, the Protegé 5 is a lot of fun to drive, feeling much more sporty than you might think. This is very welcome if you appreciate a car as more than just transportation.
Steering is variable assisted power rack and pinion, the front suspension is independent, MacPherson strut, with coil springs and stabilizer bar and in back it's independent, strut with twin trapezoidal link, coil springs and stabilizer bar. Add these features to the comparatively large wheels and low profile tires and it isn't hard to see why the car is so enjoyable to toss around. It's nice to see Mazda having included four wheel disc brakes, too (with antilock as an option), and they bring the car to a straight and steady stop with good pedal feel.
Since my time was short, I didn't have a chance to take the Protegé 5 through my favorite twisty bits of mountain road, but my memories of taking the 2002 model on such a trip were quite fond.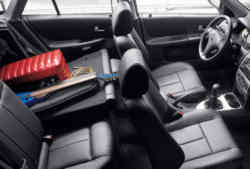 The car's interior is clean and straightforward, with everything you need placed nicely at hand or within an easy sweep of the driver's arm. The instruments are black on white that change to black on red at night and they're well laid out and easy to read, with a classy bit of chrome trim around them. The stereo controls are straightforward, though the audio quality wasn't as good as I'd liked to have seen; to be fair, though, it's better than many original equipment car stereos I've heard. The optional 6 disc changer might offer a little more oomph, though I haven't heard it.
The driver's seat is manually controlled, and has enough adjustments to make it easy to find a comfortable driving position. I would have liked a little more side bolstering for spirited driving, but that's pretty nitpicky. Interior noise is quite subdued unless you leave the moonroof open at highway speeds. "Abnormal" noise from my tester came in the form of an annoying rattle from the hatch, probably because the rear license plate was loose on my well-used tester. My earlier review unit didn't have the same problem, and it would be easily fixed under warranty anyway.
One other quibble. The knob for the HVAC system's vent control, which is furthest away from the driver, tends to block its own labeling, making it hard to see which settings are on the right. This, of course, is something you'd get used to quickly and it isn't hard to figure it out by a process of elimination, though you don't want to do this at speed!
But if that was all I could find to whine about the Protegé 5 must be a pretty well designed and built car.
Protegé 5 starts at just over $17 grand US, and the price of my tester (which, though not fully loaded, was certainly not Spartan either) is around $19,000 US/ $23,000 Canadian, including the block heater.
As of this writing I've driven both the automatic and manual versions of the Pontiac Vibe and Protegé 5 and, while I think the Pontiac comes off as the more "utilitarian" of the two, I'd have to give nod to the Mazda just because it's such a lot of fun to drive.
I guess that's what "zoom zoom" is all about.