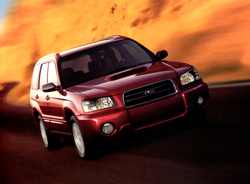 By Jim Bray
In theory, if you take a nice vehicle and add a turbocharger to it you'll up the driving fun ante.
In practice, at least as far as the Subaru Forester is concerned, this is exactly what happened. Yippee!
The Forester is Subaru's SUV, though the company likes to say it has the functionality of an SUV with the driving experience of a sports car. And that isn't a bad description, because it really does balance both tasks – though that also makes it come off as not quite master of either.
It's close enough for me, though. Not only is the Forester, especially this Forester, my favorite Subaru, it's one of my wife's favorite cars of all the vehicles we get to review – probably the one she'd run out and buy first if the Lotto Gods were to smile upon our family.
Outside, while this Turbocharged Forester looks pretty much like a Forester, one exterior detail gives it right away: the functional hood scoop that allows the Forester's engine to swallow gobs of air that would otherwise merely rush over the roof and away.
Other than that, the first thing I noticed about the Forester turbo had nothing to do with its performance. It was the gigantic sunroof that's so big you could probably parachute into the Forester through it if you were careful to avoid the roof rack. This thing opens enough to let sun and fresh air into front and back seat areas. It's a sunroof and a half, and I loved it. It also features a nice auto open and auto close (half way, for the latter) feature that should be standard on all sunroofs.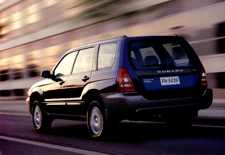 If only it had been warmer when we had the Forester…
Anyway, as is Subaru's wont, the Forester comes equipped with full time all wheel drive. This gives it a handling leg up over vehicles that spend their lives in two wheel drive mode, only sending torque to the second pair of wheels when the car's digital brain notices wheel slippage. This isn't too a big deal most of the time, and it does add weight and complexity to the vehicle, but when the roads get lousy it's nice to have.
The Turbo Forester, a.k.a. the 2.5XT, ups the horsepower ante from the 165 nags of the 2003 2.5X Forester I drove a year ago, tipping the horsepower scales at 210 horses @ 5600 rpm. Torque climbs from 166 to 235 lb.-ft, @ 3600 revs. This makes quite a difference. The more equine-challenged Forester is fun to drive, but the extra oomph makes this one fun.
If only I'd had a chance to try the 5-speed manual transmission...
The engine is at heart Subaru's 2.5 liter single overhead cam horizontally opposed four cylinder "boxer" engine. The turbo sucks back more gas than its less capable brethren, but that's only to be expected. Sucks back your cheeks more, too.
The four speed "electronic direct control" automatic is fine for a slushbox. It shifts well, and generally at the proper times, and you can run it high into the revs without it freaking out and upshifting in a panic. This is as it should be. There's no "pretend manual" feature, but all that really means is that if you want to shift for yourself you go down through the numbers in the traditional linear way rather than using the "rocker switch" up or downshifts of a pretend manual.
The XT doesn't beat you over the head with creature comforts, but everything you really need is there. You get automatic climate control, with big buttons that are easy to figure out, a pretty good AM/FM/Weather Band stereo with 6 disc in-dash CD changer, two tweeters and a subwoofer that's optional on other trim levels. Door locks are powered and include keyless entry (and it doesn't wail like a banshee when you press the "lock" button, which is nice!).
The windows are power-operated, with the usual driver's side auto down feature. I really liked the big side mirrors, which offered good visibility backwards and to the side, without blocking the view forward like some mirrors do.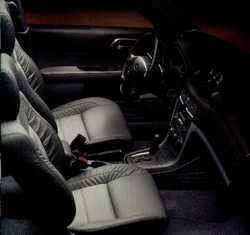 The Forester has a high ceiling and overall the car, er, SUV has lots of room. The seats, at least up front, are comfortable and well bolstered. They're also heated and you can adjust them easily to find the perfect driving position. The seats weren't powered on my tester, but they're easy enough to move. The steering wheel is comfortable in the hands and tilts manually, though it doesn't telescope. There's also a good left foot rest that comes in handy when cornering.
The rear seats hold three in a pinch (and not much of a pinch), and they split 60/40 and fold down to create lots of storage space between the front seats and the big hatch/tailgate. All three rear seats get three point belts.
And here's a nice touch: when you fold down the driver's side sun visor, which is otherwise unremarkable, there's a little holder for credit cards and a pen there. Low tech, but wonderful ergonomics and thoughtfulness.
Of course you'll want a security system if you're leaving credit cards in your car! Fortunately, the Forester has an anti theft system available, though the brochure says it's an option.
Forester has a great greenhouse, with good visibility in all directions and there's a most welcome wiper/washer (with intermittent setting) on the rear hatch.
You also get 12 volt power outlets in the front console and the rear cargo area.
Stopping the Forester are four wheel power-assisted disc brakes with four wheel, four channel, four sensor ABS. Steering is speed sensitive power assisted rack and pinion. Other safety features include dual front airbags, side impact door beams, front/rear crumple zones and active safety head rests up front. The 16 inch aluminum wheels are very nice; the performance tires work well with them.
The Forester is quite nimble, and it doesn't feel big or like an SUV – though it doesn't quite feel like an Acura NSX, either…
But for an SUV, it's a comparative gas. The weather conditions when I had the Forester meant I didn't get a chance to really put it through its paces, but in my everyday-type driving the Forester performed well, with plenty of get up and go for freeway entrances (and displays of testosterone). It has plenty of torque, and is a comfortable and pleasant environment in which to harness it.
And even harass it a bit. The Forester seems to like being driven in a spirited manner and it doesn't take a lot of convincing to indulge it. I wish I'd had a chance to take a long trip in it.
This isn't an inexpensive vehicle, however. The XT starts at just over twenty five grand U.S. (about 36k Canadian) and can go beyond $31,000 U.S. (nearly $39k Cdn) if you keep adding stuff to it. Of course, you get a lot of vehicle for that.
The turbo package packs in a bunch of other extras, too, including special seats, the abovementioned seven-speaker, six disc sound system and a chromed exhaust tip.
As with the Forester I drove a year earlier, my wife liked the XT so much that it's near the top of her wish list for our next vehicle – though any Forester that makes itself home in our garage will proudly display a manual transmission.
But that would be a vehicle with which I could easily live.