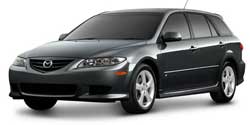 By Jim Bray
Can a station wagon be cool? Can it be sporty?
You bet! The days of a station wagon being a stodgy family hauler are long gone and some of today's wagons are wonderful blends of function with form. Take the Mazda 6 Sport Wagon, for example.
The Mazda 6 has been winning awards ever since it was introduced for the 2004 model year, and the new wagon version copped the 2005 AJAC (Automobile Journalists Association of Canada) Car of the Year Award for "Best New Station Wagon". I can see why. The 6 Sport Wagon is a blast to drive – and you can haul stuff with it, too!
For what more could anyone ask? Well, possibly a manual transmission for those who don't want to be accused of being shiftless – but even there Mazda has thrown "purists" a very nice bone in the form of a terrific 6 speed automatic with a pretend manual mode that's almost as good as an honest to goodness manual tranny with a clutch. Almost.
When I first reviewed the Mazda 6, I said that in order for it to compete with such revered cars as the Honda Accord and Toyota Camry the 6 would have to be not only a great car, but a great that's different from its competition. Mazda does that with the "garden variety" 6, adding a really nice "sportiness quotient" to the four door sedan concept, and it does it even more with the 6 Sport Wagon (and its other stable mate the handsome 5 door hatchback Mazda 6 Sport) by adding utility to the mix. The wagon includes everything I liked about the sedan, as well as everything I didn't like, alas, though my dislikes were fairly nit picky.
The sportiness, which more than justifies their "zoom zoom" slogan, actually makes the 6 more of a competitor to cars such as the Acura TSX, which is high praise indeed. The TSX has no five door or sport wagon options, though, and only offers a four cylinder engine (though it's a dandy!).
My test 6 Sport Wagon was very happy to go for a run. Its 3.0L DOHC 24-valve V6 engine, with variable valve timing, is rated at 220 horses @ 6300 rpm and 192 lb. ft of torque @ 5000 rpm. This is a little less oomph than a V6 Accord and a little more than the four banger TSX, and the torque is about midway between them. The engine pulls smoothly and revs with abandon and the match with the 6 speed auto/manual feels like it was made in automotive heaven. And the manual mode actually shifts in the direction that feels, at least to me, the most natural: pull back to upshift and press forward to downshift.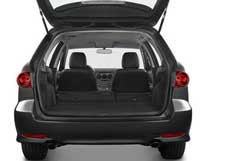 This is a very fun car to drive and I ended up wishing I had longer to play with it than the few short days I could squeeze in. I didn't have a chance to take the Sport Wagon out onto my favourite twisty bits, but it should handle comparably to the sedan (which I did take on those bits) and that means it should be a ball.
Helping to impart the confident, sporty feeling the Mazda 6 simply oozes is an independent, double wishbone front suspension with coil springs and stabilizer bar and an independent, E-Type multi-link rear suspension with coil springs and stabilizer bars. This athletic package not only makes the 6 love to corner, it also gives great road feel without crossing over to harshness in the ride. But what's with the turning circle? I found that even turning 90 degrees into a parking stall I could reach the limit of the 6's steering travel. It turned out (no pun intended) to always be enough to accomplish the turns, but with no room to spare.
I guess that's why front wheel drivers such as this come with hand brakes…
Anyway, the steering is engine rpm sensitive power assisted rack and pinion, and under real driving (not parking) conditions this contributes to the driving pleasure. The car goes where you point it; understeer and torque steer are apparent, but not very.
The brakes are power assisted discs all around, with ventilated rotors up front and solid ones in back. They're enhanced by 4 wheel, 4 sensor, 3 channel ABS with electronic brake-force distribution. The brakes feel solid and confidence-inspiring.
The 6 also has traction control.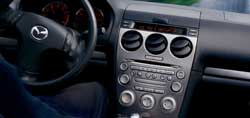 Most of my minor angst about the Mazda 6 came from the interior design, specifically the controls and displays, and since it's the interior that you live with more than the exterior, this bothered me a bit. Overall, however, the cockpit is a comfortable and well appointed place to do the work of driving. My tester's leather trim included power front seats with bun warmers, though I had to search a bit to find the seat heater controls, which are mounted vertically, facing forward, on the center console. That seemed strangely hard to reach, but on the other hand it also keeps them out of the way when you aren't using them and it'll be harder to turn them on by mistake.
The driver's seat features 8 way power adjustment and is well bolstered on the sides, in keeping with its sporty demeanor. It's a great place from which to drive. The three spoke steering wheel tilts and telescopes manually and includes audio and cruise controls. The "dead pedal" driver's foot rest is just where it should be and between all of the adjustments of the seat and steering wheel it's easy to find the perfect driving position.
The instrument panel is handsome and well-lit, with easy to read gauges, though I don't really care for red illumination – but that's a personal thing. The Bose audio system is okay. My tester came with a 6 disc in dash AM/FM CD changer and it's easy to use, though the controls should be a tad more intuitive and the overall sound was a tad anemic if you like it loud. And the display is mounted far away from the unit itself and shares duties with HVAC and clock - and that makes it a tad busy.
The HVAC controls themselves, which are mounted even lower (but just where they should be, the distance from the display notwithstanding), take a bit of getting used to, but they work well.
You also get a power tilt and slide moonroof. It's located well, but small, and features separate controls for tilt and slide. This means you need to get used to which control does which action and, unfortunately, there's no auto-open or auto-close feature.
The heated, side-mounted rear view mirrors are very good, big and useful and they don't block the view ahead.
The front passenger seat is comfortable and roomy and the split/fold rear seat is also comfortable for two and okay for three.
Convenience features include automatic headlight shut off, and keyless entry and I really liked the windshield washers: each side of the windshield is positively hosed down by four jets. I wish this were standard equipment on all cars!
You also get the usual complement of safety features, including a cornucopia of air bags.
Mazda has taken the sport rationale right into the luggage compartment, which comes with eight integrated hooks for keeping cargo from sliding around when the going gets spirited. Luggage capacity with the rear seats up is 953 litres and when you fold the rear seats down (they fold flat) you can haul 1712 litres worth of stuff. You could almost camp in it!
I really like driving Mazdas because - as the "zoom zoom" commercials say - the company puts a lot of fun in their cars. With the 6 Sport Wagon, you have a station wagon's practicality with a sports sedan's fun.
All in a very nice automobile!
My tester tipped the cash register at about $28,000 US (about $35,000 Canadian).