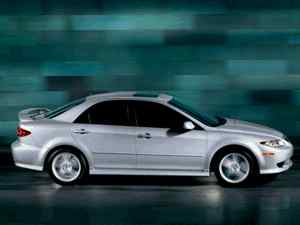 By Jim Bray
In a market segment that features such venerable Japanese entries as the Honda Accord and Toyota Camry, carving out a market share is going to require more than just a great car.
It has to be a great car that's different from its direct competition.
And that's what Mazda has done with its terrific 6 four door sedan. It goes head to head with Accord and Camry (and others, of course), but whereas those other two models are refined and fully featured and all-round excellent, the 6 also adds its own substantial measure of "fun to drive" to the mix. And that makes a big difference.
This makes the Mazda 6 a more worthy competitor to such great cars as Acura's TSX, and I wish my review Mazda 6 had been fitted with the manual transmission to give a true "apples to apples" comparison. Still, my week with the Mazda 6 was highly enjoyable and I came away from my review wishing only for that elusive manual – and a little more oomph from the V6 engine.
And don't take my minor angst about the oomph wrong: this is no gutless piece of machinery. Heaven's no! It scampers along with happy abandon. The 3.0L DOHC 24-valve V6 engine, with variable valve timing, is rated at 220 horses @ 6300 rpm and 192 lb. ft of torque @ 5000 rpm. This is about twenty horses less than a comparable Accord, twenty more than a comparable TSX (which is only available with a screamingly fun four cylinder engine), and the torque is also about in the middle between the Accord's 211 and the TSX's 166 lb. ft.
Needless to say, the 6 doesn't have quite the get up and go of the Accord – but it's a lot more fun to drive. Interestingly, the 6 also doesn't quite have the zippiness of the TSX – but it's almost as much fun - and probably would be with the stick shift. I took the 6 on my favorite jaunt through the foothills and into the Rocky Mountains along a secondary highway you'd think had been planned for just such fun and the 6 gave the most driving pleasure I'd had on that road since I took the TSX there.
And that's high praise indeed. The 6 also has a distinct advantage over the four door Accord in that you can get a manual transmission; the Accord only makes a manual (a 6 speed) available on the Accord Coupe.
By the way, you can also get a 2.3L DOHC 16-valve inline 4-cylinder engine in the Mazda 6, but the V6 is undoubtedly a lot more "zoom zoomy."
The Mazda 6 isn't perfect, of course, but for the most part any hangups I had about the 6 were confined to relatively minor things. The only "major" complaint was that in the "pretend manual" mode of the sport shift five speed automatic transmission it would shift out of first at its own pace regardless of when I nudged the shifter. The rest of the gears were fine, and as far as an automatic transmission is concerned this one does a good job, though it's a lot more rewarding if you leave it in manual mode
I imagine the 5 speed manual would up the fun to drive quotient substantially, and that would be saying quite a bit, since the 6 is a delightful romp even when saddled with the slushbox.
My tester was finished in a handsome silver/gray color that shouldn't attract excess police attention. But bland it ain't; this is definitely a handsome car. From its aero headlights to the little spoiler on the trunk lid, the "zoom zoomy" exterior of the Mazda 6 reminds me of cars such as the BMW 3 – not in that it resembles the Bimmer, but in that it bears a sporting manner that almost appears to be daring you to take it out on some twisty bits.
If you do take it out on some twisty bits you'll have a ball. That highway drive to which I referred earlier is full of twists and hills, and the 6 lapped them up and asked for more - so we turned around and headed back again on the same road, a change from our usual policy of returning via multi-lane freeway to get a feel for a car's performance under those conditions. Basically we said "to hell with the freeway" and opted for the "Wheee!" quotient instead. We weren't disappointed.
Helping to impart that confident, sporty feeling is an independent, double wishbone front suspension with coil springs and stabilizer bar and an independent, E-Type multi-link rear suspension with coil springs and stabilizer bars. This athletic package not only makes the 6 love to corner, it also imparts terrific road feel without harshness.
Steering is engine rpm sensitive, variable power assisted rack and pinion, and this also contributes to the driving pleasure. The car goes where you point it; understeer and torque steer are there, but hardly worth mentioning.
The brakes are power assisted discs all around, with ventilated 11.1 x 1 inch rotors up front and solid 11.0 x 0.4 inch ones on the rear wheels. They're enhanced by 4 wheel, 4 sensor, 3 channel ABS with electronic brake-force distribution. The brakes feel solid and confidence-inspiring. You also get traction control.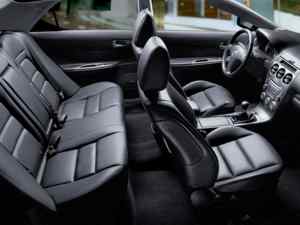 As usual it's the interior that you live with more than the exterior, and the 6's really makes you feel a part of the car; its cockpit is a comfortable and well appointed place to do the work of driving. My tester came with a leather interior that included power front seats with bun warmers. I had to search a bit to find the seat heater controls, which are mounted vertically on the center console, but that also keeps them out of the way when you aren't using them.
The driver's seat features 8 way power adjustment and is well bolstered on the sides in keeping with its sporty demeanor. The three spoke steering wheel tilts and telescopes manually and includes audio and cruise controls.
The instrument panel is handsome and well-lit, with easy to read gauges. The "dead pedal" is just where it should be and it's easy to find the perfect driving position. The leather seat surfaces also manage not to make your bum slide around when the going gets spirited.
All in all, it's a very nice office.
The Bose audio system is pretty good. My tester came with a 6 disc in dash AM/FM CD changer and it's easy to use, though I thought the controls could have been a tad more intuitive and the display's a tad busy and removed far away from the unit itself. The audio quality's good, though.
The HVAC controls take a bit of getting used to, but once you figure them out they're great. Part of the problem is that they blend into the background a little too much.
You also get a power tilt and slide moonroof. It's well located, but smaller than I like. Road noise when it's open is quite acceptable, though since it was chilly when I drove the 6 I never really had a chance for much open-top motoring. There are separate controls for tilt and slide and, unfortunately, there's no auto-open feature.
The front passenger seat is also very comfortable and roomy. In the rear, the split/fold seat is comfortable and features a fold down center console with cup holders. Thanks to the 6's swoopy design, I bashed my head getting into the back seat once (once was all it took to make me more careful!), and since I stand only about 5 feet 7 inches (on a good day!) you may want to warn passengers about this before letting them get in. Or just befriend a good lawyer…
Cupholders abound.
The heated, side-mounted rear view mirrors are very good, big and useful and don't block the view ahead.
Convenience features include automatic headlight shut off, and keyless entry and I was really impressed with the windshield washer system; each side of the windshield is positively hosed down thanks to four jets on each washer unit. I wish this were standard equipment on all cars!
You also get the usual complement of safety features, including an abundance of air bags.
As you can tell, I really liked the Mazda 6; the company has done a heck of a job here in crafting a four door sedan that feels like a sports car. It reminds me of the great job they did of making the old Protege a lot more fun to drive than a mere entry level family hauler deserves to be.
And if you want even more practical fun, Mazda also offers five door hatchback and five door wagon versions of the 6. Both are extremely handsome vehicles.
My tester tipped the cash register at about $26,980 US (about $34,000 Canadian), which puts it right in the hunt.