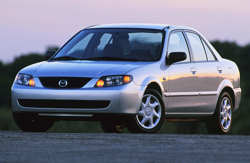 By Jim Bray
The Mazda Protegé is far more fun to drive than it has any right to be.
After all, it's Mazda's entry level vehicle, a supposed econobox that competes with the likes of the Honda Civic, Toyota Corolla, Hyundai Accent and the rest. Yet when you get behind the wheel and take off, even if the car's handicapped by an automatic transmission as my tester was, you find yourself having a really good time driving the thing.
Go figure.
Actually, this is exactly what Mazda wants you to discover about the car. The first page inside its brochure for the Protegé reminds you, however ungrammatically, that "fun" is both a noun and a verb, and that it's time to put your foot down.
Now, I've never owned a fun, but I've owned fun things. And I've never funned, though I've had fun. So while I might argue with Mazda's use of the Queen's English, I won't argue with its point: the Protegé is a hoot if you want to put your foot down.
On the other hand, 130 horses @6000 rpm (I tested the "upmarket" LX trim level; the base SE claims 103 horses) do not make a stampede, and 135 lb.ft. of torque @ 4000 rpm (the SE has 106@4000) isn't the most twist short of a Chubby Checker marathon, but they're quite respectable and competitive in this market segment. The Corolla, for example, boasts 130 and 125 horses and torquey things respectively, at similar revs, while the top line Civic Sedan EX offers 127 and 114 respectively.
Notice that the Mazda has the most torque, and it's torque that pushes you back in your seat when you put the spurs to it.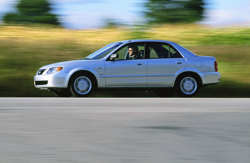 But horsepower and torque only tell part of the story. What really makes the Protegé (approx. $16000 US/ $19000 Cdn) fun is the way it handles and the overall way it feels to drive.
The LX's engine (shared with the ES trim level) is a two liter, DOHC inline four cylinder (the base model engine displaces 1.6 liters) featuring electronic fuel injection. It burns regular unleaded gas.
My LX had only a few options, that darn automatic transmission, keyless entry, and air conditioning among them. I have to admit I missed such conveniences as power windows and mirrors and cruise control, but it wasn't hard living without them - especially since I only had the car for a week.
Obviously, I missed the standard 5 speed manual transmission which would have added a lot more to the Protegé's fun to drive quotient, but to be fair I have to comment about the four speed automatic with which my tester came: Mazda has actually done a very nice job of it; it's well programmed so that you can run the thing almost up to the engine's redline before it upshifts, and it upshifts and downshifts very well even when you aren't screaming up through the revs. I have yet to find an automatic that'll make me a convert - short, possibly, of a continuously variable transmission - but if you have to have a "slushbox," the Protegé's is a good one.
And the top line ES model has an optional sport mode that I imagine would be even better because it offers a "pretend" manual mode. That would be similar, if not identical, to the one I experienced in a Protegé 5 and I thought it did a good job once you got out of first gear.
The front wheel drive, front engine Protegé features unit body construction with side door impact beams, independent strut type suspension with coil springs and a stabilizer bar up front and independent, strut type suspension with twin trapezoidal links, coil springs and stabilizer bar at the rear. Steering is variable power-assisted rack and pinion and the car uses power assisted, ventilated front disc and rear drum brakes to stop. Four wheel discs and/or ABS are optional on the ES model. The Mazda's fifteen inch wheels (the base model gets 14 inchers) wear 195/55R all season radial tires.
All this stuff combines to make the Protegé feel tight on the road, taut and ready to rumble. It loves to corner and, while it's no Miata, this is a relative blast on twisty bits. You won't win many drag races, but there's more to life than straight line acceleration.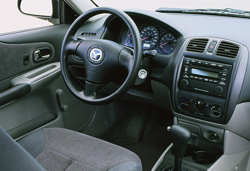 Inside the comfortable cabin you're treated to a very good greenhouse and a very good driving position. You can also "passenge" in comfort either up front or in rear (though it's a tad tight for three across in the back), thanks to seats that grow on you: initially, they feel a bit hard and the front buckets' backs feel a bit short, yet I drove on an all day trip in this Protegé and never got uncomfortable.
The LX's seats are cloth covered and nicely bolstered to the sides for adrenaline-run driving. Since my legs are relatively short (but they still reach the ground, so how long do they need to be?), I had to move the driver's seat forward enough that the arm rest on the center console was useless, but taller driver's may not have this problem. Besides, it's rare for me to use an arm rest anyway, preferring to keep to the ol' nine and three o'clock positions on the wheel, so that's a pretty nitpicky criticism.
It's a nice steering wheel, too, thick enough to offer substance, handsome in a faux carbon fiber way (and with the usual airbag inside), and imparts terrific road feel for an inexpensive car. Point the Protegé where you want to go and it goes there, with élan.
The driver also has a nice dead pedal for bracing in the twisties, and the brakes feel just fine, thanks, despite the lack of rear discs in my tester. Everything is close to hand and well labeled - except for the handle that adjusts the passenger side mirror (which could easily be fixed by ordering the optional power package).
Driving position is excellent, even without a tilt wheel, and the analog instrument panel is well laid out and very legible.
The stereo's pretty good, too, with nice tone, good bass, and it plays pretty loud if you want it to. It's an AM/FM single disc CD unit (that also plays home made MP3 discs) to which you could also add a 6 disc changer and/or cassette and/or minidisk player - if you're one of the half dozen people who've bought that excellent but virtually dead consumer format.
Gas mileage is estimated at 9.9 l/100 km city and 7.4l/100 km highway in Canadian spec and 25/30 mpg respectively US. These figures are for the 2 liter engine with the automatic tranny. Your mileage may vary. Mine sure did. I didn't actually track the mileage, but with my lead foot I never get the "estimated" figures and that's the penalty you pay for putting fun over economy.
There's that word fun again. Funny how it keeps cropping up.
And most appropriate, too.
Jim Bray's technology columns are distributed by the TechnoFILE Syndicate. Copyright Jim Bray.