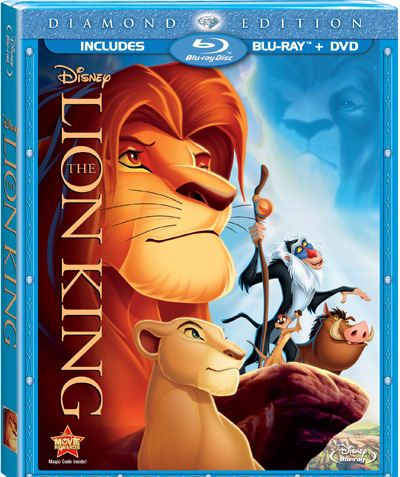 The Lion King on Blu-ray disc
The Lion King proved that Disney studios could still make animated masterpieces when it put its mind to it, even in the 1990's.

Well, it's true that it followed on the heels of such animated masterpieces as "The Little Mermaid" and "Beauty and the Beast" that put Disney back on the map after a couple of decades of it being basically irrelevant. But the Lion King was a huge hit, and deservedly so, and has found its way into the hearts of millions - even more than the other two films mentioned.

Even better, the Diamond Edition Blu-ray release is evidence yet again that Disney is one of the best studios for using the high definition disc format to its greatest potential. It's a superb transfer that looks and sounds fantastic in the home theater.

The Lion King tells the tale of young Simba, prince of the beautiful Pride Lands, who is convinced to run away from home after his evil and jealous uncle Scar kills Mufasa, Simba's father and current king, and convinces Simba that it was he, the young lion prince's fault.

Simba meets the typically Disney cute Timon and Pumbaa, who befriend him and teach him their "No worries" carefree lifestyle, where responsibility is shunned in favor of living for the moment.

Sounds kind of like Hollywood...

Meanwhile, the Pride Lands - now under the totalitarian control of uncle Scar and his hyena "Occupy Wall Street" gang - have become a barren land laid waste. Not a nice place to be.

Eventually, Simba's childhood friend and betrothed, Nala, happens upon the young prince and his little friends. It's a heartwarming reunion, perfect for bringing in the song "Can You Feel the Love Tonight?" and in the process it also helps Simba realize once again who he is and what his responsibilities are. There are some really nice scenes here.

Nala doesn't do it by herself; Rafiki, a mystical ape who's also known Simba since he was a cub, forces him to look inside himself to see that Mufasa still lives, inside him. It's a lesson the audience can keep in mind regarding their own lives as well.

Anyway, you can guess the rest. Simba goes home and confronts Scar and, after a battle, takes his rightful place as The Lion King and all ends well with a complete turn of the Circle of Life.

What a wonderful story! This isn't just Disney cute, though there's plenty of that; it's a smart story, timeless in scope and full of humanity, executed brilliantly by the team at Disney. And it's quite intense at times, though probably no worse for today's kids than parts of Bambi or Snow White and the Seven Dwarfs were for kids of that generation.

The Elton John/Tim Rice songs are wonderful, the vocal talent is first rate, and the animation, featuring some early computer enhancement that sticks out like a sore thumb (but which adds an epic touch to the film), is top notch.

So far as the Blu-ray disc is concerned, Disney has released a fine disc once again, of a quality sufficiently excellent to please the video and audio snob.

The disc features the original version of the movie, as opposed to the one on the "Special Edition" DVD, which also included an extra song found only in the supplements here.

The picture is presented in 1080/24p widescreen, (1.78:1, which fills the widescreen TV perfectly) and it's glorious! We expected nothing less from Disney, and they delivered again. The transfer is magnificent, with a razor sharp image, and deep and rich colors and deep blacks. We watched it on a 106 front projection screen and it was very engrossing.

Audio is in DTS-HD Master Audio 7.1 surround and it sounds great, very dynamic and with excellent channel separation that helps put you right into the action. There are quiet scenes and some others - such as the wildebeest stampede - that'll give your audio system a healthy workout. We listened to it on a 400 watt per channel Crestron/Definitive Technology/M&K system and the disc really did it justice.

The Diamond Edition we got (You can also get 3D Blu-ray) is a two disc one, with a DVD version included. We ignored it, but applaud the studios who offer such combo packaging because they allow people to make a more gradual transition to the high def format: they can watch the DVD (assuming they didn't buy it before!) until a BD player finally makes its way home. Or they can just go back to the DVD afterward to remind them of why they bought a Blu-ray player!

Extras include what sounds like it would be a very interesting feature. Disney says the "Disney Second Screen" feature "Seamlessly synchs a laptop or iPad with The Lion King Blu-ray Disc to provide additional content that consumers control as the movie plays." This means you can peruse stuff without blocking part of the screen via a picture-in-picture thingy. Alas, we couldn't download the app for our iPad via the instructions and when we visited the app store they didn't have the app for "Lion King," just for two other Disney flicks.

We don't usually care that much about such features, but this one sounded cool and unobtrusive to others watching the movie and so we were keen to try it. Well, that and we're also addicted to our iPads...

The problem may be corrected by the time you read this, with luck.

Besides the Second Screen, you also get some deleted scenes, including the musical number "Morning Report" that was included on the old DVD release as well. There's a sing along track and some rather lame bloopers.

"Pride Of The Lion King" takes a look at the movie and its impact, with Nathan Lane, Matthew Broderick, and others. "The Lion King: A Memoir – Don Hahn" sees the film's producer hanging out with the animators to look back at the creation of the film. There's also an interactive Blu-ray Gallery that includes concept art, character designs, visual development, etc.

Legions of fans have loved The Lion King, and with good reason. And now, Disney's Blu-ray version gives them an even more compelling reason to bring it into their home theaters

The Lion King, from Walt Disney Home Video
90 min. 1080/24p widescreen, DTS-HD Master Audio 7.1.


Jim Bray's columns are available from the TechnoFile Syndicate.