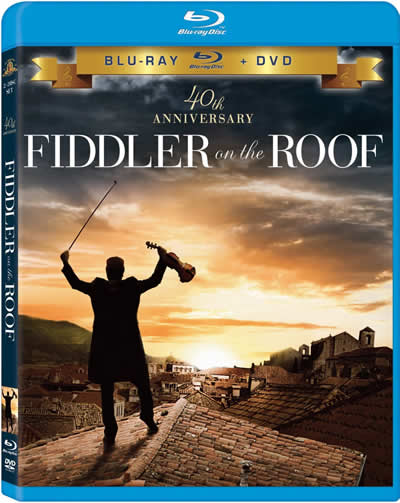 Fiddler on the Roof on Blu-ray
Norman Jewison's production of Fiddler on the Roof received plenty of honors upon its release, and since then has become considered to be a musical classic. It has plenty to recommend it, though we're not sure it's quite as classic as it's made out to be.
Don't get us wrong; we love this movie and we love especially the musical play on which it's based. We just have some quibbles with Jewison's interpretation, based on having seen the stage production several times. But they're just that: quibbles.
For example, we wonder about the casting of Topol as Tevye. Topol is a fine actor, and we've enjoyed him in other films, but here he seems to be the only Jewish-sounding character in an American-sounding family (ditto for most of the cast). And we think his portrayal is a little tired.
Now, we can understand why Tevye would be a tad world-weary, especially at the end of the movie - but he's a man who goes through life with good humor; wouldn't that tend to make him a little lighter?
Maybe it's 'cause we cut our teeth listening to the Zero Mostel original Broadway cast album after having seen the travelling road show back then, starring Bob Carroll. But it isn't just Tevye; the whole production here seems less full of joy and more downtrodden. Perhaps it was deliberate on director Normal Jewison's part. Fair enough; we just happen to disagree with his take (though with his track record he certainly had the right to do the film whatever darn way he pleased!).
That said, this is a sumptuous production with a wonderful story, fabulous songs, and despite our angst about it, it's indeed a timeless movie.
The story is really about changing traditions and standards, coping with pressures from the outside world, and one man and his family's attempts to keep their heads – and their hearts – during a period of extreme turmoil. It's set among Jewish people at the time of the Communist revolution in Russia, but its story could resonate with any group that has been through such changes - such as German Mennonites during World War II - let alone those who may merely feel for such people and hate Man's inhumanity to Man.
Tevye is a dairyman in a small Russian village. The family patriarch, he tries to maintain order through traditional values. But one by one his daughters start bending, then breaking, these traditions, causing much soul searching and angst on the part of the parents and their closely knit community.
In the end, what with all of this twisting of everything he knows and loves and the loss of two of his beloved daughters, let alone the turfing of his family and their entire Jewish community from their homes, Tevye is left a confused and worn man – though he never loses his sense of humor, or his ability to reason things out through one-sided conversations with God.
Then there are the songs! From the scene setting "Tradition" to the wistful "If I Were a Rich Man," and through other great numbers such as "Matchmaker, Matchmaker," "To Life," "Tevye's Dream," "Sunrise, Sunset" and others, this tuneful epic is in the grand tradition of great Broadway musicals.
This is the type of larger than life movie that deserves a loving translation onto Blu-ray and, overall, we're pleased with the result. The film comes on a two disc combo pack that also includes a DVD, but the BD's audio track has been remastered into dts-HD Master Audio 5.1, which is the way it should be. The package doesn't say anything about remastering or restoring the picture, and that's a shame.
The 1080p/24 picture is presented at an aspect ratio of 2.35:1 transfer that looks very good in most places. There's some softness, though it appears to be softness that was there when Jewison shot the film so we can't complain about that. There's plenty of grain in other places, and some weird banding in some backgrounds, but the overall look is good, with excellent color and detail, and even a little of that great depth we like to see.
The audio track is mostly mono, with soft use of the left and right front (we noticed in at least one song that the chorus was louder from the surround track than from the main fronts) but considering the age of the source material it's pretty good. It's also a tad soft; we had to crank the volume about five notches above our default setting before it came to life at all.
And of course there are plenty of extras, including:
Feature commentary by Director/Producer Norman Jewison and Actor Topol
Deleted Song - "Any Day Now"
Norman Jewison, Filmmaker
a fascinating interview with the great John Williams: Creating a Musical Tradition (he apparently won the first of his many Oscars for his work here)
Interview with the actresses who played Tevye's Daughters
Photo Galleries
Trailer
Norman Jewison Looks Back
Set In Reality
Tevye's Dream in Full Color, introduced by Jewison
The Songs
storyboard to film comparisons
and more
Fiddler on the Roof may not have been as groundbreaking a musical as was Oklahoma!, but it definitely belongs up there in the list of Broadway's great musicals along with such shows as South Pacific, Oliver!, The Music Man, My fair Lady, et al. And Norman Jewison's movie version does the Broadway musical justice, adapting the stage play to the film medium very well, indeed.

And if you ever wonder why the Jewish people claim to need the State of Israel, this movie may help to explain it.

Fiddler on the Roof, from MGM home entertainment.
181 minutes, 1080p widescreen (2.35:1), dts-HD Master Audio 5.1 surround.
Starring Paul, Norma Crane, Leonard Frey, Molly Picon, Paul Mann.
Screenplay by Joseph Stein, adapted from the stageplay.
Produced and directed by Norman Jewison


Jim Bray's columns are available from the TechnoFile Syndicate.