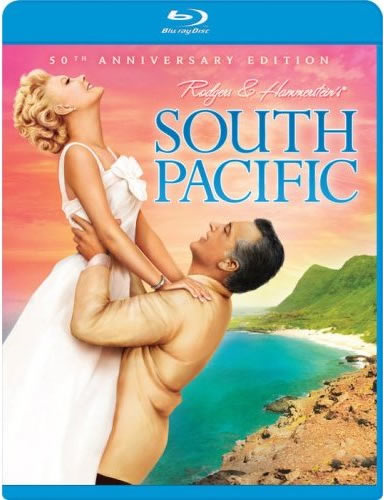 Fox Classic Musical Reborn on Blu-ray
South Pacific is a wonderful production, though a mixed bag in its Blu-ray debut.

It's a marvelous movie, too, with terrific production values, wonderful Rodgers and Hammerstein songs and good performances.

And it's a terrific Blu-ray - with a gorgeous, lush and colorful picture and upgraded audio that truly do this classic Broadway musical justice. In part, anyway.

The story revolves around the romance between Nellie Forbush (Mitzi Gaynor), a nurse from small town USA, and Emile de Becque, (Rossano Brazzi) a mature French planter with a secret past and an even more secret family. Subplots involve Luther Billis (Ray Walston) an entrepreneurial Seabee, and Lt. Cable, a Marine sent to a nearby south sea island on a secret mission.

South Pacific is full of great songs, including "Bali Ha'i", "There is Nothin' Like A Dame", "I'm Gonna Wash That Man Right Outa My Hair", "A Cockeyed Optimist", and the great "Some Enchanted Evening" and "Younger Than Springtime".

This musical also raises some serious issues about prejudice and tolerance, though it doesn't beat you over the head with it.

20th Century Fox includes two versions of the musical in the package, with disc two featuring the extended "Road Show" edition that apparently played in theaters originally before the better known, but edited version, was released.

Alas, while the road show version longer than the "original" (and features a different aspect ratio), not all of the footage has been reclaimed and/or restored, so there are sequences that look almost as if they were colorized from black and white footage and, considering the spectacular video quality of the film on Disc 1, it sticks out like a sore thumb. Even the "shared" video on this disc isn't as good as on the version on Disc 1. Of course if you don't like it, you can watch the other version, which looks spectacular, with a sharp, clean and very colorful image.

Likewise for the audio. Disc 1's dts HD Master Audio is outstanding. It doesn't sound as if it were recorded on modern equipment but, like the picture, it's glorious. The voices and instruments are spread around the room well, and the overall sound is rich and dynamic.

In short, if you're looking for the best home theater musical experience, stick with Disc 1. Disc 2 is for curiosity seekers.

The only thing that really gets in the way of enjoying this first rate production is director Joshua Logan's use of bizarre colored filter effects during many of the fanciful scenes, probably as a setter of mood. Unfortunately, like the unrestored footage on the road show version, it sticks out like a sore thumb and rather than enhance the mood it spoils it. And it's too bad.

And of course there are plenty of extras, from a running commentary and songs only options on disc one, to a commentary on the "Road Show" version, making of featurette, and plenty more. The extras are spread across both discs, so don't throw away that road show version!

This is the first of the classic Rodgers and Hammerstein musicals to be released on Blu-ray to our knowledge and we're tickled pink with Fox's presentation. We can't wait for the rest.

South Pacific, from 20th Century Fox Home Entertainment
157/172 min, 1080p widescreen (2.35:1/2.20:1), dts HD Master Audio
Starring Rossano Brazzi, Mitzi Gaynor, John Kerr, with Ray Walston, Juanita Hall, France Nuyen, Russ Brown
Produced by Buddy Adler
Written by Paul Osborn, directed by Joshua Logan


Jim Bray's columns are available from the TechnoFile Syndicate.