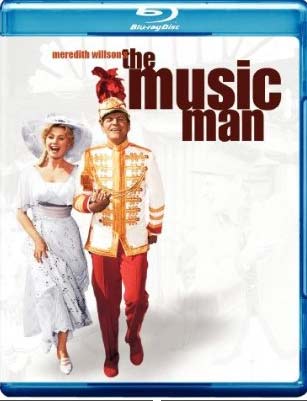 "The Music Man," on Blu-ray disc
1962's "The Music Man" is the brassy and exuberant movie version of Meredith Willson's classic Broadway musical about a "flim flammer" of a travelling salesman who cons an entire town into believing he's going to set up and train a boys' band. And it's finally on Blu-ray, though in a rather disappointing form.

Robert Preston shines as "Professor" Harold Hill, and Shirley Jones brings grace, spunk, and wit to "Marian the Librarian," while the supporting cast (including Buddy Hackett, Paul Ford, Ron Howard, and "The Buffalo Bills" barbershop quartet) complement the stars perfectly.

It's hard to watch "The Music Man" without a smile crossing your face. The story, the songs, the performances, all make this one of the most enjoyable movie musicals ever.

One thing missing from the home video versions to date is a complete restoration, though, and this appears to be the case still with this new Blu-ray release. Oh, it's the best video version ever, but it could really use the sort of frame-by-frame restoration that many films are getting these days. Until then, the picture will not get any better than "good", and that's unforgiveable in this age of high definition pictures - even of older films such as this - that positively pop off the screen.

Warner Brothers apparently remastered the movie for its DVD release several years back, but that doesn't cut the mustard today. There are many in which some flesh tones seem a bit pasty, the overall resolution doesn't appear up to snuff, and it comes off all round as just a straightforward porting over of the DVD release.

Time for a special edition!

Likewise the audio. While I'm not always a big fan of making changes to an original (which can be like painting a moustache onto the Mona Lisa), Warners did a pretty good job of having the soundtrack remixed into 5.1 Dolby Digital (from the original two channel stereo) for its DVD release and it worked well. The orchestra still fills the room as it always did, from up front, but now the voices emanate from the center channel (where they should, as it places it close to their on-screen faces) - unless there are multiple parts being sung, in which case the people on the left come from the left, etc.)

This has also been carried over basically unchanged and the dts HD Master Audio track sounds so much like the DVD release's Dolby Digital that when we A/B'd them back to back (taking into account the length of time that HDMI "Handshaking" takes), there was very little difference.

it wasn't that the old soundtrack was bad; it wasn't. But they can do so much with old soundtracks these days to restore their original sparkle that we hoped Warners would try that here. Such doesn't appear to be the case, though.

The extras are also reproduced from the DVD release. There's a nice introduction by Shirley Jones - and, fortunately, Warners has programmed the disc so that it doesn't appear unless you seek it out, rather thand defaulting to the intro as the DVD did.

There's also about a half hour documentary on the making of the film, featuring Shirley Jones as narrator and including behind the scenes shots and commentaries from cast and crew members. It's pretty good, but we'd love to see a really deluxe treatment, maybe historical commentaries, new "making of" features, interviews and the like.

Until then, the movie is still worthwhile and this Blu-ray version is the best video version of it yet, so sit down and get ready to be captivated all over again with this classic example of "Hollywoodized" Broadway musicals.

The Music Man, from Warner Brothers Home Video
151 minutes, widescreen (2.4:1)
starring Robert Preston and Shirley Jones, with Ronnie Howard, Pert Kelton, Buddy Hackett, Paul Ford, Hermione Gingold
Screenplay by Marian Hargrove, from the musical by Meredith Willson
Produced and Directed by Morton DaCosta


Jim Bray's columns are available from the TechnoFile Syndicate.