Men in Black on Blu-ray
Sony's Blu-ray library has a welcome new re-release of the first Men in Black film, just in time to cash in on the summer 2012 release of MIB III.
Barry Sonnenfeld's comic book tale of a super secret US law enforcement agency was a big hit, though the second film wasn't quite as good as the first. Still, both movies looked very good on their initial Blu-ray release and this new release, which features Sony's "Ultraviolet" "download from the Cloud" feature, looks even better that we remember the initial release being.
Maybe you can go home again!
Will Smith and Tommy Lee Jones star, with Vincent D'Onofrio as the bad, er, thing. The film sees Jones recruit Smith to the MIB unit to fight the vicious alien bug (D'Onofrio) who's bent on assassinating some high powered alien dignitaries. It becomes a race against time to see whether the MIB or the bug can find a hidden galaxy first.
How do you hide something as vast as a galaxy? The movie makes it plain.
There isn't really a love story here, unlike in MIB II, though we do have Linda Fiorentino along as a medical examiner whose life is threatened by the big bad bug. And that's fine; a love interest would have slowed down the action and gotten in the way of the visual lunacy.
There's plenty of action, lots of gags and laughs, and fans of computerized special effects will have a great time watching the wizardry.
And the film never takes itself too seriously, though the actors play their parts very straight. Jones, in particular, is delightful as his tough guy image is lampooned. There are several laugh out loud moments, too, a rarity, it seems, in films these days.
Smith and Jones make a good team, with excellent chemistry between them.
The video quality, as mentioned, is excellent, with a widescreen 1080/24p picture that's reference quality, with deep blacks and wonderful depth and detail. Audio, which is Dolby TrueHD surround, is also exquisite, with excellent channel separation and dynamics.
As for the extras, we couldn't try the Ultraviolet feature 'cause it's only available in the United States right now, and we hang our hats in Canada, so we can't judge as to whether this "Cloud-based" service is worthwhile or not. As "Cloud deniers," however, who prefer to keep control over our own content, we have our doubts.
Still, that's just a bonus; the rest of the package is first rate. You even get a decent selection of supplements, including extended/alternate scenes, audio and visual commentaries, galleries, a trivia game and "Ask Frank the Pug," silliness.
If you're planning to see this summer's MIB III, it might not hurt to take this trip down memory lane and revisit the modern classic original, which is definitely a Blu-ray hoot.
Men in Black, from Sony Pictures Home Entertainment
98 min. 1080p/24 widescreen (1.85:1) Dolby TrueHD surround
Starring Tommy Lee Jones, Will Smith, Vincent D'Onofrio, Linda Fiorentino, Rip Torn
Produced by Walter F. Parkes and Laurie MacDonald
Written by Ed Solomon, Directed by Barry Sonnenfeld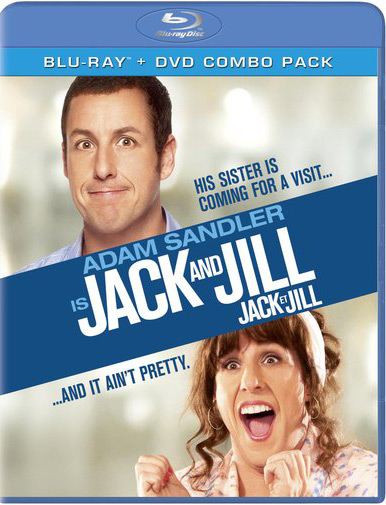 Jack and Jill on Blu-ray
How bad does a movie have to be for a person who's being paid to watch it to want to bail after the first 10 minutes?
Well, that's Jack and Jill, Adam Sander's latest outing. It's a shame, because we've enjoyed most of the Sandler films we've seen. This one, however, is about as bad you've undoubtedly heard. After this, we wanted to watch Tootsie again as eye and brain cleanser.
Jack (Sandler) works in advertising and wants to snag Al Pacino to star in a commercial for a donut chain. It's something Pacino is apparently not likely to do, and that's stressing Jack out. What's worse is the news that his twin sister Jill (Sandler in drag, of course), is going to inflict herself on him and his family for Thanksgiving. Jack hates her guts – and after seeing this movie we agree with him – but she can't see in what little esteem she's being held with Jack's pack.
Of course she gets on everyone's nerves and under everyone's skin but of course they eventually warm to her at least a bit – or at least feel sorry for her – and when Jack takes her to a baskeball game she catches the eye of – who else? – Al Pacino, who must have been blinder than his character in Scent of a Woman. For whatever reason, Pacino is smitten and once again our suspension of disbelief is gone.
We're tempted to give away a bunch of spoilers just out of spite, but we'll try showing some restraint instead. But consider yourself warned.
The Blu-ray itself is fine, not quite reference quality – not that you'll want to show this thing off to anyone who means anything to you – but it's still a solid transfer. The 1080p picture is bright and clean and crisp, with wonderful color.
The audio is fine as well. This isn't the kind of movie where you expect a big, booming sound track, and you don't get one. Still, the DTS-HD Master Audio 5.1 lossless soundtrack works well. Dialogue, which is most of what's here, is clear and always understandable. We hated that. There's decent ambience at times, such as the  basketball scene, and the music sounds good as well.
You even get some extras. There are a few scenes that must have been deemed not up to the high standards of the rest of the film and which were excised, yet pop up here to further assault us. There are also some outtakes, a look at some of the folks silly enough to have shown up for a cameo, a very short look at Adam becoming Eve (so to speak) and a coupla tours – one of Regis Philbin's scene by the Reeg himself and the other of the Allure of the Seas cruise ship.
Jack and Jill, from Sony Pictures Home Entertainment
To Catch a Thief on Blu-ray
Cary Grant stars as John Robie, a one time cat burglar and French resistance fighter living quiety in the South of France.
Well, living quietly until someone starts robbing rich women of their jewelry in a manner virtually identical to his MO when he was "the Cat," the burglar who was almost a kind of folk hero.
To clear his name, because few believe he isn't responsible for the new robberies, he decides to track down the thief himself. This brings him into contact with rich American widow Jessie Stevens (Jessie Royce Landis, who's terrific) and her daughter, Frances, played luminously by Grace Kelly.
We won't get into the ins and outs of the story lest we ruin this entertaining Hitchcock romp for you; suffice it to say that not everyone is what or who he and/or she claims to be but all works out well in the end.
This has been called by some a lightweight Hitchcock outing and perhaps it is. It isn't dark, it isn't scary, but it's still a ripping yarn that keeps you guessing and never stops being highly entertaining.
The cinematography and the locations are gorgeous and the performances are uniformly first rate - especially Grant and Kelly, with Landis offering some wonderful comedy relief and John Williams putting in a strong performance as an insurance company employee.
Kelly, of course, was beautiful in an extremely classy way, intelligent and outgoing - and if you never understood why she's so well thought of, her mystique some fifty years later, this movie will show you why.
She was also a very good actress, even in little things (though perhaps Hitchcock had something to do with that!); for example when she's driving her sports convertible it's obviously shot in front of a blue screen, yet unlike many actors and actresses she keeps her eyes on the road and her hands on the wheel as if she were really doing it.
It's little things like that that make "To Catch a Thief" such a great film.
Paramount has given the movie a pretty good Blu-ray treatment. The video - all important with locations and stars such as these - is presented in 1080p widescreen and it looks great. It's so good that you can tell when the blue screens were fired up, but the effects work is excellent anyway, so it doesn't spoil things. Colors are excellent and there isn't a lot of grain. It's head and shoulders better than the DVD we reviewed several years back.
Audio, of which we don't expect much from a film of this age, is presented in Dolby TrueHD stereo and, as with most of its comtemporary films, is unremarkable but very listenable.
And there are some wonderful, and welcome extras! First up is a commentary track by Hitchcock historian Dr. Drew Casper. There are also several featurettes that focus on different aspects of the film: "Writing and Casting," "The Making of To Catch a Thief," "Alfred Hitchcock and To Catch a Thief" and more.
It's a decent package and a nice treatment given to a highly enjoyable film. Recommended.
To Catch a Thief, from Paramount Home Video
---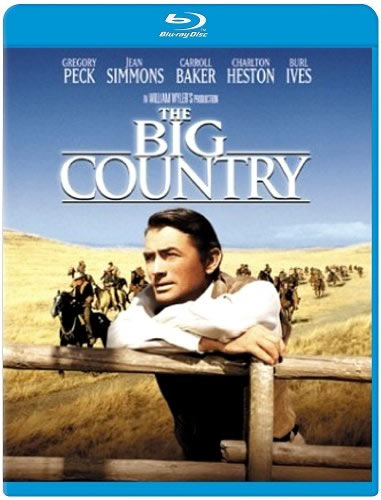 "The Big Country" on Blu-ray
Wyler's Wild West
MGM and William Wyler's widescreen epic before Ben-Hur is a sprawling soap opera set against the sweeping vistas of the Old West.
Starring (and co-produced by) Gregory Peck, and with a marvelous supporting cast, it has all the Western clichés you could want, except that they never seem to really end up being cliché here.
Peck is a stranger in a strange land, a wealthy merchant sea captain who arrives at the spread of his fiancée (Carroll Baker) only to find himself in the middle of a war between her father (Charles Bickford) and a poorer but equally strong-willed rancher (Burl Ives, in an Oscar-winning performance).
Peck's Jim McKay is the strong and silent type, a successful man comfortable with who he is and not about to be pressured into performing like a clown for the locals - who write him off as a dude with few or no redeeming qualities.
Even his fiancée begins to question his manhood after he refuses to be goaded into a useless fight with her father's head man (Charlton Heston), which causes Jim to question her commitment to him.
Of course it all ends as it should, at least mostly. We won't spoil it because it's really worth seeing all the way through.
Despite its 2.75 hour running time, "The Big Country" moves along at a good pace, never bogging down in even its most soap opera-like moments. In the end, it delivers as a Wyler epic should, with a look and feel that actually surpasses the source material.
The cast is outstanding. Peck, Baker, Bickford, Heston, Ives and Chuck Connors are all excellent, as is Jean Simmons, the "attractive school marm" who's a real friend to all her neighbors and a strong character to boot - not that anyone really boots her.
The locations are beautiful and the shots are BIG, so the movie should be experienced on as large a screen as possible.
The Blu-ray is presented in 1080/24p widescreen, at an aspect ratio of 2.35:1, and the picture is excellent. This is always important, but never more so than with a big, widescreen epic such as this. Colors are bright and rich, detail is very crisp and the black levels are very good, indeed. This easily outclasses the earlier DVD release.
Audio is DTS-HD Master Audio but in mono, so you shouldn't expect surround effects or even a wide stereo soundstage. That kind of surprised us, since big movies like this often had at least stereo sound, but what can you do? Sound quality itself is good for what it is.
The only "extra" besides the theatrical trailer is a short promo featurette "Fun in the Country," which is a very superficial look behind the scenes.
The Big Country, from MGM Home Video
167 min. 1080/24p (2.35:1), DTS-HD Master Audio mono
Starring Gregory Peck, Carroll Baker, Charlton Heston, Jean Simmons, Burl Ives
Produced by Gregory Peck and William Wyler
Written by James R. Webb, Sy Bartlett and Robert Wilder, Directed by William Wyler
---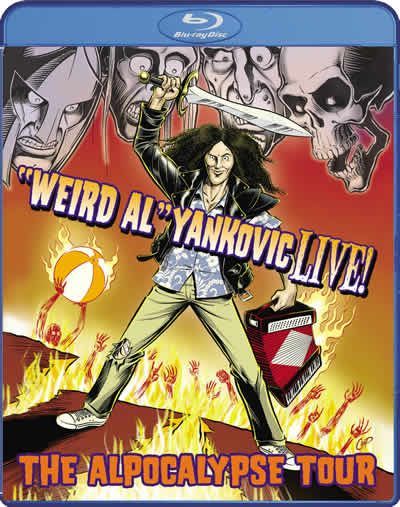 "Weird Al" Yankovic Live! - The Alpocalypse Tour on Blu-ray
by Jim Bray
"Get ready for an experience like none other – Weird Al Yankovic…LIVE! He's your favorite comedian who can carry a tune, "Weird Al" Yankovic Live!: The Alpocalypse Tour, filmed during his 2011 tour is more than just a show, it is a cinematic event featuring new songs along with his classics! Weird Al: Live is a brand new way for fans to experience this comedy icon."
That's how Paramount's publicity describes this concert disc and, hyperbole aside, it's a pretty apt description. If you're like me (a scary thought, indeed!), you probably remember "Weird Al" Yankovic for his parodies, specifically his Michael Jackson ones "Eat it" and "Fat," ripped from the still-breathing corpses of Jackson's "Beat it" and "Fat," respectively. They were well written, well played, well produced (audio and video) and, well, funny as well.
But there's a lot more to "Weird Al."
I'm also a fan of his movie "UHF," in which he plays a ne'er do well slacker who lucks into a job managing a decrepit UHF TV station. A minor classic, it's funny enough to very nearly be one of my top ten desert island discs, though it probably just misses the cut due to such other minor classics as, oh, Ben-Hur, Lawrence of Arabia, Lord of the Rings and Star Wars. And it would probably lose out to Airplane! as well, though just barely.
UHF was also full of "Weird Al" parodies, one of which ("Beverly Hillbillies") is played in this concert. And since it appears you can count on Yankovic to put his money where his mouth is, his "Hillbillies" parody features the same type of rudimentary (but state of the art at the time) computer animation found in the source song, Dire Straits' "Money for Nothing.
This "Alpocalypse Tour" (named after a famed brand of dog food, undoubtedly) concert, recorded in July of 2011 at Toronto's Massey Hall (and how's that for making it onto video quickly?) features not only Yankovic's most well-known parodies, there are also rocking versions of some original Yankovic songs - and overall, they're very good. I'd never heard Yankovic originals before, and they're very good.
Yankovic's rock 'n' roll accordion is put to good use tackling topics such as "TMZ" (about how tough it is to be a celebrity when your every move - or misstep - ends up on gossip television), a paen to Charles Nelson Reilly, Canadian Idiots and Craiglist. Some of these may be parodies, but I'm not familiar with the original tunes from which they'd have been scooped, so am assuming they're Yankovic originals. After all, his website says heabout half of his material, lyrics and music, isn't parody. Just humorous.
I'd never seen "Weird Al" live before, either, so I'm glad this concert disc came along, because it's a heckuva show. Yankovic's backup band is excellent, and they get into the humor of the show by joining Al in several costume changes. The music is great, the songs are very entertaining, and the performances are first rate.
Here's a track list:
* Polka Face
* TMZ
* Smells Like Nirvana
* Skipper Dan
* Party in the CIA
* CHR
* Let Me Be Your HOg
* Canadian Idiot
* Wanna B UR Lover
* Medley (Includes "Hillbillies," "Eat It," "eBay," "My Bologna," "Lasagna"
* Amish Paradise
* Craigslist
* Perform This Way
* White & Nerdy
* Fat
* The Saga Begins
* Yoda
The Blu-ray, presented in 1080p high definition, looks great, with fine detail and wonderful color. Alas, the audio is seriously lacking for a 2011 release: it's only presented in Dolby Digital stereo, so it not only doesn't fill the room (which isn't necessarily a deal breaker), it doesn't even offer the higher fidelity of today's lossless formats such as Dolby TrueHD and DTS HD Master Audio.
It shows, too. While the sound is good, it should be great, and it isn't. There's a lack of the kind of "punch" you can get with the lossless formats, and that works against the overall quality of the disc. It sounds compressed. What's with that?
Extras include a couple of music videos, some performances cut from the show and a selection of Weird Al's YouTube videos.
I have to give this disc a qualified thumb's up. It's a fun concert featuring very entertaining performances, but the sound quality is not up to snuff. If you're an audiophile, be warned.
---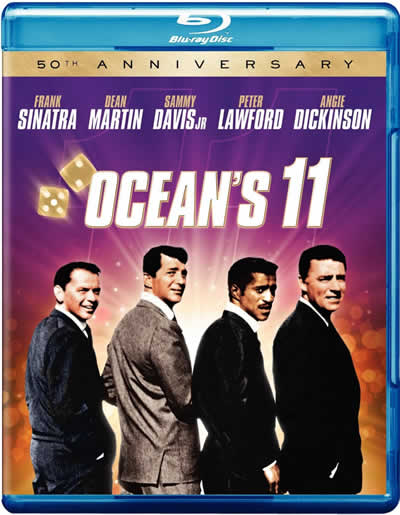 Ocean's 11 on Blu-ray
Frankly, the Dean of Rat Pack Flicks
Warner Home Video's release of the original Ocean's 11 flick is a mostly excellent Blu-ray, and definitely the best video version of this "Rat Pack" classic yet.
It's also a fascinating time capsule: the Las Vegas featured in this heist flick is long dead and gone, as anyone who's been to Vegas in the past ten years will notice. Watching the Sin City of this 1960 release we see a much smaller town in every way, from the scale of the buildings to the size of the electric signs, to the overall grandeur of the place.
The movie is about a gang of old army Airborne buddies who reunite after fifteen years to pull off the ultimate heist of five Vegas casinos. Using the New Year's Eve festivities as a cover, they hit all five places simultaneously, spiriting the money out of town until they can divide it up and hide it more permanently.
They end up doing this, but not exactly in the way they had anticipated.
The cast is great. Frank Sinatra is Danny Ocean, and he's joined by Dean Martin, Sammy Davis Jr., Peter Lawford, Richard Conte, Joey Bishop, Henry Silva, Norman Fell, Angie Dickinson, Akim Tamiroff, Cesar Romero, Patrice Wymore and a few cameos.
Most of these people were friends and the chemistry shows through on screen. The gang obviously had a good time filming Ocean's 11, and the audience has just as good a time watching them.
Warners has done a nice job on the Blu-ray release. The 1080p widescreen picture (at an aspect ratio of 2.4:1) is terrific; the colors, though obviously shot on 50's/60's film stock, are bright and crisp and the picture is sharp and well defined. There's even some pretty good depth.
Heck, If it weren't for the fact that most of the people involved are long dead - and to recreate a Vegas of days gone by would have had to be done digitally - you could almost think the film was newly shot using an "old film stock" look.
The audio, which is dts HD Master Audio, but only mono, is also very good considering the original track they had to use. Naturally, it isn't up to the standards of today's digitally-recorded surround sound mixes, but all things considered it's very well preserved and presented.
Then there are the extras. The first is a running commentary with Frank Sinatra Jr. and Angie Dickinson and it's full of interesting observations and trivia about the film, its era, and the people in it. Then there's an interactive "Las Vegas Then and Now" feature involving the five casino hotels in the film. This basically consists of people who've lived through the then and now (whether showgirls, hoteliers or whatever) reminiscing about Vegas and pining for the days gone by - and if you watch one of them you've pretty well seen all five.
An interesting inclusion is a clip from the old Johnny Carson Tonight Show, where Ol' Blue Eyes himself is sitting in as the guest host, reminiscing with Angie Dickinson about shooting Ocean's 11. The video quality on this is awful (it appears to be a straight transfer from someone's VHS collection), but it's still interesting to watch.
Other extras include filmographies of some cast members and a couple of trailers.
Ocean's 11, from Warner Home Entertainment
127 min. 1080p widescreen (2.40:1), dts HD Master Audio mono
Starring Frank Sinatra, Dean Martin, Sammy Davis Jr., Peter Lawford, Richard Conte, Joey Bishop, Henry Silva, Norman Fell, Angie Dickinson. Akim Tamiroff, Cesar Romero
Written by Harry Brown and Charles Lederer, Produced and directed by Lewis Milestone.

"The Bridge on the River Kwai" on Blu-ray
Fans of Sir David Lean have a pre-Christmas treat in store with the new Blu-ray release of "The Bridge on the River Kwai". It's a boxed collector's edition that contains not only the definitive, high definition version of the film, but which also includes a DVD of special material.
Sony Pictures Home Entertainment's "Bridge" not only gives you a state-of-the-art widescreen version of Lean's epic WWII drama, it's a newly-restored version created from the original negative that also includes newly-remasted 5.1 audio.
"The Bridge on the River Kwai," based on the novel by Pierre Boulle (who also wrote the original novel of "Planet of the Apes", it stars William Holden, Alec Guinness and Jack Hawkins in the three main English-speaking roles. The seven Oscar-winning film tells the story of a group of Allied prisoners of war incarcerated in a Japanese camp and forced to work as slave labor building the now-famous railroad bridge through the Southeast Asian jungle.
Director David Lean's name is probably thought of in concert with the term "epic" more than any other, thanks to this film and the two that followed it - Lawrence of Arabia (and we can't wait for its Blu-ray release!) and Dr. Zhivago. Brige on the River Kwai is truly epic in scope but also in its examination not so much of war but of the human condition - what makes a man a man, a British office a British officer and even what drives a Japanese officer (here played wonderfully by Sessue Hayakawa).
There are few battles in this movie and the skirmishes that are on film are pretty small against the canvass of World War II. At least, that's as far as military skirmishes with the traditional ordnance of war are concerned, because the movie is full of differnt types of battles, of wits, of conscious, of character - the stuff that might make an action movie fan's eyes glaze over but which really make this movie a moving picture in the most intimate meaning of the word.
It's also a movie that positively bristles with delicious ironies - such as Colonel Nicholson's (the great Alec Guinness) refusal to knuckle under to Colonel Saito's (Hayakawa) decree that officers perform manual labor alongside the enlisted men in defiance of the Geneva convention yet later - after he has prevailed over Saito and reduced him to a broken shell of a man - he not only sends his officers to work side by side with the enlisted men but he cajoles sick and injured to leave the hospital and work with them as well.
And the irony of who actually blows up the bridge in the end, of Shears' (William Holden) desperate and miraculous escape and where he ends up going afterward, and even the irony of Saito's transformation from ruthless POW camp commander to becoming basically an onlooker - yet an onlooker who watches as his mission is completed on time, and better than he could have done it, in spite of himself.
It is a delicious story, indeed, populated by interesting characters and delightful wit in places. It's about honor, duty, expedience, cynicism, obsession, pride. And we get to experience vicariously the lovely scenery that is now Sri Lanka, where the film was shot.
Sessue Hayakawa is nearly as good as Guinness as Nicholson's adversary - despite a thick Japanese accent that at times makes understanding his words challenging. Yet we never miss his meaning and when, defeated by Nicholson's superior control, he weeps like the broken man he is, it brings not cheers for his comeuppance but compassion for the man and what, the Japanese culture being what it is or was, he must be going through.
It's Guinness' portrayal that really makes the movie, however. and his Best Actor Oscar was surely deserved. Watching his Nicholson be pulled, weak and filthy, from "the oven" but shrug off the guards helping him stand and force his body to make that trek across the compound, was enough to ensure him that award, yet it's only one of many memorable moments in Guinness' portrayal.
The counterpoint between Nicholson and Saito is William Holden's Shears, a character who we find out isn't exactly who he claims to be and, rather than striving to be some larger than life Big Cheese like the other two, he just wants to survive the war and get on with life. That things don't necessarily work out as he planned gives him a chance for "redemption", but even that is affected by "the unknown".
Holden's is the least interesting of the three main characters (four, if you include Jack Hawkins as a British Commando leader, though he appears along for the ride more than as if he's actually spurring on the story), but he's the "everyman" to Guinness and Hayakawa's "supermen". And as such, he's just as vital to the story. He values a drink and a skirt more than a gun, but war keeps raising its ugly head.

Sony says this Lean masterpiece has received a 4K restoration for this Blu-ray release, and it shows. The 1080p transfer, at a very wide aspect ratio of 2.55:1, is marvelous. The film looked good on its DVD release, but here it's outstanding, with many shots that have that "pop off the screen" depth that's so enjoyable with the high definition disc format. Color and detail are wonderful and though there's definitely grain in places (especially during dissolve transitions, but not exclusively there) the picture is for the most part immaculate.
Audio is presented in dts-HD Master Audio 5.1 soundtrack. It's also very good, more dynamic than we expected from a movie this old. It's mostly front and center channel-centric, which is okay considering that surround sound was still decades in the future when this movie was made, but there's still a bit of surround and it's used appropriately. A movie today would probably use more surround for ambience, such as the heavy rain and the jungle wildlife sounds that "surround" the players, but we're at peace with this presentation, which sounds far better than the earlier video releases.
This "collector's edition" also comes with a good selection of content to please collectors. Crossing the Bridge: Picture-in-Picture Graphics Track, offers viewers insights into the film's creation, as well as giving facts about World War II and some POW camp experiences via first-hand accounts from soldiers who actually worked on the railway portrayed in the film.
The "Making of 'The Bridge on the River Kwai'" feature is nearly an hour long and covers the whole filmmaking process, from the hiring of David Lean, shooting locations more. It's well worth watching. The Steve Allen Show with William Holden & Alec Guinness is about six and a half minutes worth of the stars promoting their new flick on TV, while "The Bridge on the River Kwai Premiere Narrated by William Holden is a real quickie featuring the actor talking about the film's premiere over a series of stills.
And there are more featurettes, including a vintage black-and-white one that looks at the building of the bridge and "An Appreciation by Filmmaker John Milius", which sees the "Conan the Barbarian" director talking about why he loves the film. There's also BD-Live connectivity, if your player cooperates, a photo gallery, trailers for this film and others and a second disc that's a DVD copy of the film.
The discs come in a book-like package that also includes an interesting 32page booklet and a bunch of replica theatrical lobby cards.

It's one heck of a package.
The Bridge on the River Kwai, from Sony Pictures Home Entertainment
162 min. 1080p widescreen (2.55:1), dts HD Master Audio
Starring William Holden, Alec Guinness, Jack Hawkins, Sessue Hayakawa, James Donald,
produced by Sam Spiegel
Written by Carl Foreman and Michael Wilson, directed by David Lean
---
Knight and Day on Blu-ray disc
It's James Bond meets Jason Bourne meets True Lies. Kind of.
Tom Cruise stars as Roy Miller, a super spy who can land a crashing Boeing 727 (which, actually, was the point where our suspension of disbelief ended and we just sat back and enjoyed the ride), kill the enemy with his hands and pretty well do anything else a spy might need to do.
Cameron Diaz is June Havens, an old car restorer (well, the cars are old, though she doesn't appear to be aging that well, either) who ends up being taken on the ride of her life when her quiet life crosses Miller's on a trip to Boston.
Miller is smuggling a super battery the entire world seems to want, and he gets it onto the abovementioned 727 in her carry on bag, which links them for the rest of the movie.  
Naturally, June doesn't suspect Roy's profession, though it doesn't take long for reality to hit her in the face. But she's a bit smitten by the good looking dude who seems to want to take care of her – and the next thing she knows she's on a globe trotting misadventure as she and Roy take on and escape from a variety of baddies.
It's kind of silly and superficial, but it works surprisingly well – partially, we think, because for quite a bit of time we don't really know if Roy's a good guy or a bad guy. He sure seems like a good guy, but we've been fooled before. Is he really a good guy? We'll let you find out.  
Whatever side he ends up on, Knight and Day is a surprisingly fun ride. Cruise is always good and this movie is no exception. Diaz turns in a good performance as well.
The Blu-ray comes with a DVD and digital copy in the box and is presented in 1080p at an aspect ratio of  2.40:1. The picture is very good, and for the most part the special effects hold up well, with no lines or signs of a lot of blue (or green) screen work. Colors are nice and bright and the picture is sharp and clean and with pretty good depth.
The audio, which is 5.1 dts-HD Master Audio, is also very good. There's a lot of surround use that puts us into the middle of the action – and when there are bullets and vehicles whizzing all over the place that's exactly where you want to be. Low frequency effects come through nicely and clearly, most of the dialogue is very clear (some's a bit drowned out in the action, though) and overall it's very dynamic and enjoyable.
Fox also throws in a decent amount of extras.  "Wilder Knights and Crazier Days" is just over 10 minutes long and is basically a promotional "making of" feature where the cast and crew talk about the fun they had, the stunts, etc.  "Boston Days and Spanish Knights" covers the locations, while "Knight and 'Someday'" has little to do with the movie itself, but which covers Cruise and his wife Katie Holmes going to see the Black Eyed Peas perform the movie's closing song "Someday" in London.
There's also a selectionof "viral videos" that are basically promos. In one, Cruise and Diaz play soccer on the set, one shows Diaz practicing kicks, and one consists of clips interspersed with cast/crew comments. They also throw in the trailer.
"Knight and Day" looked interesting from its TV commercials, though of course that doesn't necessarily mean anything. It's a pleasant surprise, however, a fun spy spoof.  
Knight and Day, from 20th Century Fox Home Entertainment
109 min. 1080p widescreen (2.40:1), dts HD Master Audio
Starring Tom Cruise, Cameron Diaz, Peter Sarsgaard, Viola Davis
Produced by Cathy Konrad, Steve Pink, Todd Garner,
Written by Patrick O'Neill, directed by James Mangold
Excalibur on Blu-ray
Visually beautiful, but not as involving as we'd like, John Boorman's Excalibur looks at the King Arthur legend from the point of view of Merlin, who's portrayed as a kind of Svengali-like character.
This 1981 film also gives audiences a look at a couple of actors who went on to much greater things later in their careers: Patrick Stewart, Gabriel Byrne and Liam Neeson, a kind of "where were they then" when they were building their now-substantial resumes. Heck, this is even before Stewart's "cinefantastique breakout" role as Gurney Halleck in David Lynch's much maligned "Dune."
Excalibur is actually Merlin's (Nicol Williamson) movie more than Arthur's, which is an interesting way to position it. It's also a tad ponderous, taking itself more seriously than necessary, and to us that gets in the way of what could also be a great action flick.
Oh, sure, Boorman ensures that all the most important elements from the classic Sir Thomas Mallory "Le Morte D'Arthur" tome are here, from Arthur (Nigel Terry) grabbing the sword from the stone, the Round Table, the quest for the Holy Grail and the shifting balance between the wizard Merlin and evil sorceress Morgana (Helen Mirren). But we found ourselves remaining distant, not really being drawn into the film as much as we'd hoped (and as much as we remembered when seeing the film on its theatrical release more years ago than we care to remember).
But it is gorgeous!
That look helped contribute to the film's being nominated for a Best Cinematography Oscar (though it lost to Reds which, being about communists, undoubtedly had an advantage in the hearts of Academy members). It also received acclaim for its costumes.
Helping us suspend our disbelief, or at least feel more a part of the story, is a very moody setting – with plenty of clouds, iconic castles, strange lighting, and a few positively breathtaking scenes including a nifty one in which Perceval tosses Excalibur back to the Lady of the Lake, who appears to have been practicing with a catcher's mitt.
The performances are top notch. Full marks to Williamson's Merlin, despite some scenery chewing, and Nigel Terry is very believable as Arthur. This was the first time we'd seen Mirren – now a much honored actress – and she makes her presence known in a big way.
All of the elements for a top notch fantasy film are here as well, including an excellent sense of realism where knights wearing  heavy armor find themselves a bit less agile than they'd like, pikes are used to make human kabobs, heads get bashed in, and the like. It may be a bit overly graphic (and sexual) for some – though not compared to what's on screen these days! – but, fortunately this realism helps add a layer of verisimilitude to Excalibur that also helps us suspend our disbelief.
Unfortunately, the film ends up being more than a bit of a mish mash, wandering around and not as focused as it could be. We're left with a film that looks fabulous and which has all the elements we want, but which just doesn't seem to know what to do with them or how to get us to care.
On the other hand, it does treat the subject matter with respect. Monty Python and the Holy Grail this ain't!
The Blu-ray is presented in 1080p widescreen (1.85:1) and the picture quality is bloody (no pun intended) marvelous - mostly. Colors are rich, blacks are deep and there's a good sense of depth at times, though it isn't consistent. We don't think it's the type of reference quality picture you can get on many Blu-rays, but it's good nonetheless. We'd give it a clean four out of five if we rated stuff that way.
Audio is dts HD Master Audio 5.1 and it's not as good, coming off as quite flat and uninvolving. Dialogue is clear but it isn't supported by the rest – the sound effects are all over the place (at times they either hurt your ears or a muddy) and there isn't a lot to recommend from the LFE channel. This is a shame because there are scenes – such as when horses are charging and their hooves should positively thunder – where a bit of power and clarity would be appreciated. And forget about surround channels! We only noticed a bit of occasional surround use, which also works against making you feel a part of the action – especially during the battle scenes.
Extras include a commentary with director John Boorman as well as the theatrical trailer.
Perhaps there'll be a full digital restoration/remastering in the future and we certainly hope so. While flawed, Excalibur could be a home theater treat, and we'd like to give it another chance with a proper presentation. In the meantime, this would make a decent rental if not a decent purchase.
Excalibur is available for rent ON DEMAND through Digital Cable, Satellite TV, and IPTV. You can also buy it for permanent download or rent it on iTunes, Cineplex.com, and the Xbox 360 and PlayStation 3 game consoles.
Excalibur, from Warner Home Entertainment
140 min. 1080p widescreen (1.85:1), dts HD Master Audio 5.1
Starring Nigel Terry, Helen Mirren, Nicholas Clay, Cherie Lunghi, Paul Geoffrey and Nicol Williamson
Produced and directed by John Boorman
How Do You Know on Blu-ray
James L. Brooks has been around forever, it seems. From being one of the driving forces behind the old Mary Tyler Moore show to The Simpsons – and to his body of work directing feature films such as As Good As It Gets, he veteran has nothing to apologize for.
His body of work is such that he deserves a bit of slack if he makes the occasional stinker. We'll invoke that slack here – not that How Do You Know is a stinker, but it is certainly not up there with his best work. But it's worth seeing – if only for some likeable performances from a likeable cast.
The movie basically starts with Matty (Owen Wilson) and Lisa (Reese Witherspoon) starting a relationship that won't be as smooth as either would like. Matty is a big league pitcher (Lisa's a pro softball player, so they have that in common right off the, er, bat) who lives in the same building as a tycoon Charles (Jack Nicholson, playing himself again) whose son, George (Paul Rudd) is going through a life changing moment reminiscent of Dan Aykroyd's character's in "Trading Places" – he's under investigation by the law, his girlfriend has turfed him because of that, etc.
Lisa's crisis is that she didn't make her team this year, leaving her devastated but determined to get on with life. She meets George initially on a blind date and a few potentially romantic sparks fly, but she's already in a relationship and so they go their separate ways.
Besides, Matty makes Lisa feel good and she ends up moving that relationship ahead, moving in with him. Ah, but it's HIS place and HIS life she's joining, leaving plenty of opportunity for some big time angst on both their parts.
But the hapless George is never too far away and, despite Lisa's being "otherise engaged", he can't get her out of his mind. What builds as a friendship that could blossom into a romance doesn't blossom into a romance for a while, making for a pretty strange romantic triangle in the duration, but on the upside, Witherspoon, Rudd and Wilson (especially Witherspoon) are fun to watch (Nicholson, as mentioned, is Nicholson) and the movie never gets boring. Well, nearly never. It does take its time getting anywhere!
But it never really takes off, and that's its downfall. To be fair, we did laugh a few times – even out loud once or twice – but mostly this is a minor entry into the James L. Brooks repertoire, slow to unfold and not particularly involving.
The Blu-ray's about the same, too. It looks good, but not fabulous. It features a warm palette and the picture looks bright and clean and colorful, though skin tones look a tad problematic. Black levels are excellent, however, and the overall picture is very clean.
Audio is fine, but there isn't much there. The dts HD Master Audio 5.1 soundtrack does a good job with what it has, but in a movie that's nearly all dialogue your home theater audio system may be a tad disappointed and decide to go on strike.  
Extras include an audio commentary from writer/director Brooks with Cinematographer Janusz Kaminski on hand. One interesting topic they handle here is the future of digital filmmaking, a film-less medium that's becoming increasingly popular these days, really since George Lucas made it mainstream with Star Wars Episode II.
There's also commentary offered for "select scenes",  some deleted scenes, a short blooper reel, a short "Making of" featurette, and a more substantial "conversation" with James L. Brooks and composer Hans Zimmer. You also get an interactive script gallery and a very short look at "The George", a drink they made in the movie.
Such great potential. So disappointing a result. Oh, well.
How Do You Know, from Sony Pictures Home Entertainment
121 min. 1080p widescreen (1.85:1), dts HD Master Audio 5.1
Starring Reese Witherspoon, Owen Wilson, Paul Rudd, Jack Nicholson
written and directed by James L. Brooks
---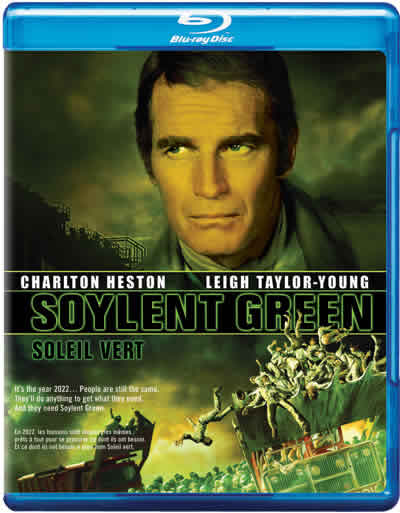 Soylent Green on Blu-ray
New York City is big, with plenty of people So imagine the New York City of 2022 - when "plenty of people" has become "too many people".
The world of Soylent Green is severely overpopulated, to the point where throngs of homeless people are sleeping in stairwells and resources are so scarce that only the really wealthy (who are always evil, right?) can afford stuff like real whiskey and real meat.
And of course there's pollution everywhere.
Having so many people means there has to be some way to feed them, which means in this case that the "Big Food", distributed by a Big Food Cartel, is a product called Soylent and while we don't know what's in it it looks as artificial as the crap the "food police" are trying to foist on people today. And the newest version is turning out to be the most popular yet: Soylent Green. It's munchy! Might even taste like pork! Or maybe Chicken!
The late great Charlton Heston plays NYPD Detective Robert Thorne, who's trying to solve a murder and subsequent cover-up that threatens to blow open some very closely held secrets and bring down some high-ranking folk.
Times are tough in this universe, and even a good cop like Thorne isn't above "taking inventory" from a crime scene. Where Columbo will scoop up a cigarette butt and place it carefully into a plastic bag to keep as evidence, Thorne will scoop up a bottle of hootch or a slab of beef and take it home with him to share with his elderly curmudgeonly roommate Sol Roth (Edward G. Robinson).
Roth remembers better times, when it wasn't always oppressively crowded and hot and poverty wasn't so rampant, and he's sick and tired of the bad times in which he lives. He's ready to die and, fortunately, this future society makes that easy and relatively pleasant.
As Thorne's investigation continues, he gets closer and closer to the secret that's being guarded so closely - one many people already know because it's out in Pop culture. It's a neat whodunit set in a frightening future world that looks like what our own world could turn out to be if the social engineers got their way.
Heston is always great, and the supporting cast is also first rate here. Leigh Taylor-Young is wonderful as Shirl, a piece of furniture who's basically a prostitute, someone who lives in a luxury apartment and gets passed from tenant to tenant, if subsequent tenants find her desirable.
Thorne finds her desirable, and vice versa, and this provides the love interest in Soylent Green, even though he can't afford the apartment for which she's part of the decor. Guess she's also a prostitute in her spare time...
Part cautionary tale (environuts will love it!) and part detective story, Soylent Green is another one of those fairly weak overall but still quite enjoyable 1970's sci-fi flicks that fans will love to own and others should see at least once.
The Blu-ray does the movie justice. It's good but not great, kind of like the movie itself.
The video is presented in 108op widescreen (2.4:1) and the quality is very good indeed, with a nice sharp image and good color. Not a lot of that great "depth" that comes from wonderful black levels, but overall it's quite satisfying.
The audio is presented in dts HD Master Audio mono and it's pretty unremarkable.
Extras include a running commentary by Leigh Taylor-Young and director Richard Fleischer. We have lots of time for Mr. Fleischer, who has helmed such classics as 20,000 Leagues Under the Sea, Doctor Doolittle, Conan the Destroyer, and many more.
You also get two vintage promotional features: "The World of Soylent Green," and "MGM's tribute to Edward G. Robinson's 101st film" (now that's entertainment!). There's also the trailer.
This flick doesn't reach the standard of the truly great science fiction films, but it's enjoyable and reasonably thought-provoking, definitely worth seeing and worth owning if you're a fan of serious science fiction movies.
Soylent Green, from Warner Home Entertainment
97 min. 1080p widescreen (2.40:1), dts HD Master Audio mono
Starring Charlton Heston, Leigh Taylor-Young, Edward G. Robinson
Produced by Walter Seltzer and Russell Thacher
Written by Stanley R. Greenberg, Directed by Richard Fleischer
---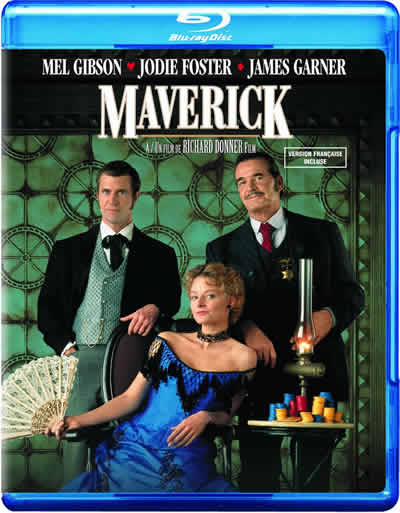 Maverick, on Blu-ray
One of the better movies to be made from a classic TV series, Maverick not only benefits from an excellent cast, but also from the sure hand of Richard Donner in the director's chair and William Goldman's pen.
Mel Gibson takes over the Bret Maverick role from TV's James Garner, who's along this time as Marshal Zane Cooper, a fellow who not only gets caught up in Maverick's adventure but who's also hired by Commodore Duvall (James Coburn) to referee the climactic poker game where an abundance of the movie's protagonists and antagonists gather to vie for a half million dollar pot.
Jodie Foster is excellent as Annabelle Bransford, the love interest who – like most of the characters in Goldman's imagining of the show – is more than she first appears to be. Alfred Molina is a delicious villain named Angel and Graham Greene gets a nice chance to flex some comedic muscles as Maverick's Indian friend Joseph.
Gibson's Maverick, like Garner's before him, is a gambler whose skill is such that it appears he's regularly hunted down by people whose money he has won. He isn't a cheater, he's just very good. Helping make his pigeons hate him even more is his sense of humor; the guy's a real kidder and doesn't mind teasing those who he's fleecing.
Needless to say, Maverick's reputation precedes him – and his former tablemates pursue him. This makes up a good part of the movie as Maverick tries to keep a couple of steps ahead of those who wish him ill, while trying to raise the $25,000 stake to enter the climactic card game. It's kind of like a comedic version of "Casino Royale," except that Maverick's too smart to fall for the femme fatale; if James Bond had been as smart, we might have been spared "Quantum of Solace!"
Anyway, we remembered enjoying Maverick as a TV show, and then again as a movie when we first caught it on DVD upon its initial home video release. But we didn't remember enjoying it as much as we did with this new Warner Blu-ray release, which not only means that the movie stands up after more than 15 years but that perhaps it gets even better with time. Clearly, Goldman's script has a lot to do with this. It moves along at a good pace, doesn't bog down, and gives us a bunch of laughs and a few surprises along the way.
It doesn't hurt that it appears the cast and crew had a good time making the film, either.
Maverick works on its own, but it's also a good tribute to the series that spawned it and a worthy two hours and a bit in the home theater. A win-win all around.
The Blu-ray is pretty good, too, though not particularly spectacular. Warner Brothers gives us a quite satisfying 1080p/24 presentation at an aspect ratio of 2.40:1, and the picture quality is very good. It isn't the kind of reference quality you'll want to use to show off your system, but it's clean and sharp and bright and colorful nonetheless and eminently watchable.
The audio isn't as up to par. Oh, the sound is okay, but the dts-HD Master Audio track is only stereo, which is quite surprising for a movie as recent as 1994. Still, if that's the way it was recorded we can't really complain. As for the soundtrack itself, it's okay. There's little LFE track use, and it isn't particularly dynamic but, well, it's okay. Again, hardly reference stuff, but enjoyable overall.
You don't get a lot of extras, either. There's an HBO "First Look" at the making of the film (they call it a "Pictorial History" and it's pretty enjoyable) the theatrical trailer, and a music video in which the "Maverick Choir," which includes many big country and western stars singing a rousing, up tempo version of "Amazing Grace."
Maverick, from Warner Home Entertainment
126 min. 1080p widescreen (2.40:1), dts-HD 2.0
Starring Mel Gibson, Jodie Foster, James Garner, Alfred Molina, Graham Greene, James Coburn
Produced by Bruce Davey and Richard Donner
Written by William Goldman, directed by Richard Donner
---
The Man Who Would Be King on Blu-ray
John Huston's telling of the Rudyard Kipling tale is a grand adventure, told swimmingly.

It follows two rogues, Peachy Carnehan (Michael Caine) and Danny Dravot (Sean Connery) a couple of former British military NCO's now basically ne'er do well adventures in India who decide to follow their wild goose into far off Kafiristan, beyond the Khyber Pass, a region where previous explorers have gone but never been heard from again. 

In the presence of one Rudyard Kipling (Christopher Plummer) they make a contract to avoid alcohol and women until they've obtained their goal of riches and fame, then are off for parts so far unknown.

Eventually, the reach Kafiristan, and run into a former soldier named Billy (Saeed Jaffrey), who had gone there with one of those English explorers and who, fortunately, speaks English and acts from then on as their translator and partner in crime. Peachy and Danny hire themselves to the warlord of a village that has been attacked repeatedly, training their men to be soldiers and marching them off to do battle with the bad guys, who happen to also inhabit a village nearby.

They take it over and, during the battle, Danny takes an arrow in the chest – but it really just gets stuck in his bandolier and doesn't hurt him at all. Still, it's a good show for the natives, who think Danny is a God because he can survive an arrow to the chest. This sets off a chain of events by which Danny (with Peachy as his "number one") unites the country under his banner and declares himself king of the entire region, setting up headquarters in the country's holy city.

And that's when things start to unravel. Absolute power does, indeed, corrupt absolutely, and Danny gets far too big for his britches – eventually deciding to take himself a wife to perpetuate his dynasty.

He actually isn't a bad king until he gets too big for his britches, but as you might expect it all blows up in his face and the natives turn on him and Peachy.

How do they get out of it? Watch the film. It's a delicious, old style adventure directed by a master of the medium and is a dynamite couple of hours in the home theater.

Connery and Caine, as you might expect, are terrific and so's the chemistry between them. The Moroccan locations are quite lovely, too, as is Roxanne, the woman Danny chooses to take to him (who, in real life, is actually Mrs. Caine).

It's a fantastic film, in every sense of the word, a grand production that couldn't or wouldn't be done today without resorting to digital trickery (sure there are some matte paintings here, but none of the "cast of hundreds" extras are CGI like they would be today), and watching it made us miss this old style of film.

Warner Brothers has done a nice job on the Blu-ray, which comes in one of their book-like cases and so includes several pages of pictures and essays on the production and those behind it.

The picture is presented in 1080/24p, at an aspect ratio of 2.40:1, and is a very good transfer overall. There's some softness in many shots, but for the most part the image is very sharp and clear, with lovely colors. Black levels are for the most part very good, and there's some good depth as well. This is obviously an older film (it's from 1975), but time and the Warner folk have treated it quite well.

The audio is unremarkable, being presented in dts-HD Master Audio but only in single channel monaural. It's decent, and you can always make out what they're saying, but it certainly pales in comparison with many other soundtracks, even from that era.  

Extra features include "Call it Magic: The Making of The Man Who Would Be King," which is about a dozen minutes long and is a vintage look at the production. It's quite interesting.  

The Man Who Would Be King, from Warner Home Entertainment
129 min. 1080p widescreen (2.40:1), dts-HD Master Audio mono
Starring Sean Connery and Michael Caine, with Christopher Plummer and Saeed Jaffrey
produced by John Foreman,
Written by John Huston and Gladys Hill, directed by John Huston


Jim Bray's columns are available from the TechnoFile Syndicate.