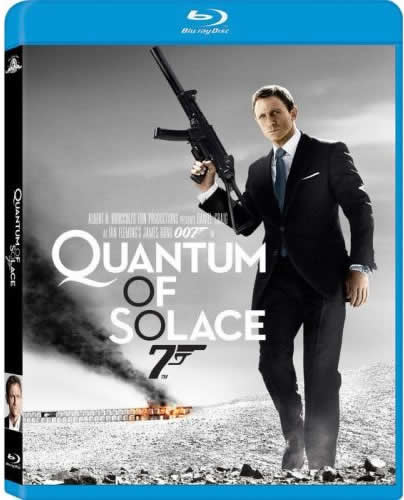 Quantum of Solace on Blu-ray disc
Daniel Craig is back as James Bond, a welcome return to the role he recreated so successfully in Casino Royale.

He's an excellent Bond, probably the best next to Connery – and head and shoulders better than the buffoonish Bond played by Roger Moore.

Alas, if it ain't on the page it ain't on the stage and while Quantum of Solace is well worth watching, it doesn't come close to the overall quality of Casino Royale.

The movie is a continuation of Casino Royale, picking up shortly after it ended with Bond's confrontation of Mr. White. Now, Bond is escaping from White's black men (as in evil; no racial element suggested and isn't it a shame that in today's world some people could assume otherwise and complain about it?). He's flying along in his gorgeous Aston Martin DBS, a car that, as  usual, is destined to need some body work once the chase is over.

It turns out, the baddies in Casino Royale were only the tip of the iceberg, and that an organization called Quantum has infiltrated a frightening number of supposedly trusted places and are working on implementing their nefarious plans.

Bond has other things on his mind, too. He wants to track down and get revenge on the people responsible for the death of the lovely Vesper, his main squeeze from Casino Royale. Fortunately, all paths appear to head in the same basic direction, so he's off to the races.

The bad guy this time around (well, the main bad guy; he has plenty of company!) is Dominic Greene (Mathieu Amalric), a supposed environmentalist who uses his wealth and power to help a wannabe despot overthrow a government in exchange for a piece of desert that will give him control the country's water supply. Yep, it's yet another evil capitalist!

Unfortunately, Bond runs afoul of M (Judi Dench again) and has to work without the help of MI6. So he teams up with a Bond Girl named Camille (Olga Kurylenko), who's on her own quest for revenge (which Bond screws up early in the movie).

It's a fairly straightforward Bond plot, but so sparse that even padded out with the usual action sequences, the movie only comes in at 106 minutes – very short for a Bond film of recent years and even a tad more truncated than the Dr. No to Goldfinger days. That isn't necessarily a bad thing: better a short Bond than an artificially padded Bond. Alas, this movie comes off as both.

Craig's Bond is very good, though. He's sauve, but he's also death on two legs - and he's relentless. In short, he's just how Bond should be. This Bond is also flawed: he screws up but, hopefully, he learns from his mistakes.

Director Marc Forster seems to go out of his way to make this an atypical Bond movie in the way it feels. This is also not necessarily a bad thing, but in our never humble opinion a continuation of Casino Royale should feel like such. But Martin Campbell is nowhere to be seen and instead we even have to wait for the very end of the movie for the classic Bond-down-the-gunbarrel shot that opens Bond flicks traditionally.

Likewise, the action scenes, and others, seem like the filmmaker is trying to give us somewhere between an arty movie and an action flick. The result is a bit of a mishmash, but it could have worked perhaps in a Bond adventure that was unconnected to another one as closely as this one is to Casino Royale – perhaps the next one, now that this plot is supposedly out of the way?

Oh, well. It's still worth a look; it just won't go down in Bond mythology as one of the best outings – like Dr. No, Goldfinger and, well, Casino Royale (the Craig one, not the Niven/Sellers/et al one).

It's a pretty good Blu-ray, though judging by the few extras included there's a special edition coming down the pike some day.

But the 1080p widescreen picture (2.40:1) looks great. It's on a par with Casino Royale in that it's near the top of the Blu-ray video quality drawer, but not quite on top.  The picture is clean and bright, with good blacks and colors, and pretty good depth.  You won't mind showing this one off to your little friends.

Likewise the audio, which is in dts-HD Master Audio surround, is excellent. All of the channels pump out plenty of dynamic sound, with great clarity and separation.  Nice low frequency effects, too – you'll probably want to crank this sound track.

Extras include a music video (ho hum!), featurettes dealing with "Bond on Location", "Start of Shooting", and "On Location." They're okay, but not very long or particularly exciting. There's another feature on chief Bond girl Olga Kurylenko and the boat chase scene, one on director Forster and another on the music. Add in some behind the scenes clips and trailers and you have the package.

Bond fans will have to own this title, but it could have been so much better. In the end, the movie comes off like a coda to Casino Royale, and with a thin enough story that we wonder why they didn't just tack it onto the end of the previous film (other than the fact that it would've made Casino Royale really, really long!).

Quantum of Solace, from MGM Home Entertainment
106 min, 1080p widescreen (2.40:1), dts HD Master Audio
Starring Daniel Craig, Olga Kurylenko, Mathieu Amalric, Giancarlo Giannini, Judi Dench
Produced by Michael G. Wilson and Barbara Broccoli
written by Paul Haggis and Neal Purvis & Robert Wade, directed by Marc Forster


Jim Bray's columns are available from the TechnoFile Syndicate.