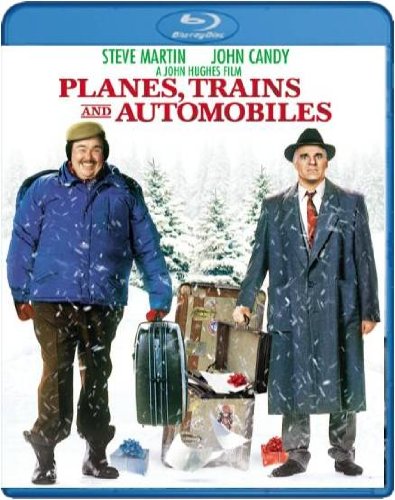 Airplane! The Naked Gun and Planes, Trains and Automobiles on Blu-ray disc
Paramount has let three very funny movies loose in HD, two from the same team that also made Top Secret! and one from the creator of Home Alone and many others.

They aren't real collector's editions, offering barely more than a commentary track and trailer, but they're satisfying catalog titles that have never looked or sounded better for home video.

Airplane! is basically a remake of Arthur Hailey's "Zero Hour", which was basically a remake of his "Flight Into Danger," but at the hands of Jerry and David Zucker and Jim Abrahams the gripping subject matter completely loses its grip.

It set the world on its ear when it came out in 1980. It was rude, crude, juvenile, puerile, and twisted – but it was also one of the funniest movies to have come along in quite a while – or since.

The story is of an ex-military ex-pilot who's forced to land a commercial airliner after the crew is stricken with food poisoning. It's just a framework for the writer/directors to attach what has become their trademark comedy, however.

Robert Hays is Ted Striker, the ex-pilot with the messed up head and drinking problem. Julie Hagerty is Elaine, the stewardess with whom Striker has been involved for years, until his various demons got the best of him. Leslie Nielsen begins his long relationship with the Zucker/Abrahams team as the doctor who surely keeps things relatively together on the ill-fated flight.

Also on hand are Lloyd Bridges, Robert Stack, Peter Graves, Kareem Abdul-Jabbar and many others in a variety of supporting roles.

You can't close your eyes for a second during Airplane! or you'll miss something funny or outrageous, like the tough guy next to Striker during the disco flashback scene – when Striker's voice over says he was so smitten by the sight of Elaine that he had to ask the guy next to him to "pinch me to see if I'm dreaming."

The movie doesn't only spoof disaster films, but many other films (including "From Here to Eternity" and "Saturday Night Fever"), groups, and situations.

It's so funny I thought my pants would never dry.

The Blu-ray's transition to high def home video has avoided turbulence, and is a sometimes wonderful presentation. It appears at its original 1.85:1 aspect ratio, and it's clean and crisp. Look at Elaine's sweater during the hospital scene – it looks terrific. Black levels are good and quite deep.

The dts-HD Master Audio soundtrack does a nice job as well. There isn't much surround, but the dialogue always comes through clearly – essential in a movie like this – and the audio is dynamic and clean. We expected worse, from audio and video. And it kind of spoiled us for "Naked Gun," which isn't as good.

Extras include a very funny commentary track in which producer Jon Davison rides herd on Jerry Zucker and David Zucker and Jim Abrahams. You can also partake of "The Long Haul version," in which little "Trans-World" icons pop up and can take you to various interviews and stuff. There's also a trivia track that's funny in its own right.

Bringing up the rear is the original trailer.

High art? We think not. But we laugh our patooties off every time we watch it.

While "Airplane" set a new standard, as it were, for lowbrow, slapstick movie comedy, the brains behind it followed up, eventually, with "The Naked Gun" series of movies, the first of which is now on Blu-ray.

Originally a six part TV series called "Police Squad," the concept follows Lt. Frank Drebin (Leslie Nielsen) as he bumbles his way through life. "The Naked Gun" sees him attempting to foil an assassination attempt on Queen Elizabeth while she's visiting Los Angeles.

The tone is set right from frame one. Drebin, supposedly on vacation in Beirut, bursts in on a meeting of international bad guys (including the Ayatollah Khomeini, Moammar Gaddafi, Yasser Arafat and others), and single handedly disrupts their plans.

Back in California, at his regular job on Police Squad, Drebin stumbles across the assassination plot, which uses mind control to force otherwise innocent people to become ruthless killers.

Priscilla Presley provides the love interest, George Kennedy is Drebin's boss Ed Hocken, and O.J. Simpson is a perpetually dumped upon co-worker who has havoc wreaked upon him that's undoubtedly slightly less than what the Goldman family would like to see done in real life.

Guest stars include Ricardo Montalban, the Seattle Mariners and the California Angels, as well as the TV play by play team. Everyone gets a chance to mug for the camera and participate in some not-too-subtle gags, but what would a Zucker/Abrahams/Zucker film be otherwise?

As with this filmmaking trio's other efforts, it's virtually impossible not to laugh out loud at least once – and you may find yourself snickering on many occasions, some of which you may be embarrassed to admit.

The Blu-ray is in widescreen at 1.85:1 and while it's okay it isn't up to the snuff of Airplane!'s. It's definitely a step up from a DVD, though that's hardly high praise.

Audio is dts-HD Master Audio 5.1 "surround" is fine, though you shouldn't expect much from the rear channels.

Extras include another gang commentary, this time with co-writer/director David Zucker, producer Robert Weiss, and "host" Peter Tilden. In places, it's almost as funny as the movie itself.

You also get the trailer.

Like "Airplane!" before it, "The Naked Gun" is highbrow lowbrow at its best and has spawned many an imitator. It also seems to have helped spawned a whole new direction to the late Leslie Nielsen's career, which must have pleased the veteran Canadian actor to no end. Well, maybe not to "no" end…

John Hughes' Planes, Trains, and Automobiles sees Steve Martin on the trip from hell. It's a relatively wild ride in which Martin's Neal Page, an ad executive whose plan is to fly home to Chicago from New York for the Thanksgiving holiday, appears to have a large black cloud floating over it, whether it be via scheduling conflicts, weather, whackos, or just plain bad luck.

His nemesis is Del Griffith, played to the hilt by the late John Candy. Griffith is like the proverbial bad penny, always coming back to Page at the most inopportune moments.

Or that's how it seems. As it turns out, Griffith's appearances are sometimes almost welcome, because he knows people and knows how to pull in favors.

It takes Page a while to figure this out, however. Initially, Del's just a real pain in the neck, whether he's inadvertently stealing Page's NYC taxi, condemning him to a airline flight in which he gets jabbered at incessantly – or just being his naturally abrasive self.

Their odyssey takes them everywhere but Chicago, it seems, and into a love-hate relationship that, by movie's end, looks as if it could be the beginning of a beautiful friendship. That's because at heart, Neal Page is a tight assed twit and Griffith is a "real live person" and both of them begin to understand that they can learn from each other.

Martin and Candy are both terrific, and it appears as if they had a wonderful time making it. We can only imagine the retakes as they broke each other up on the set.

The Blu-ray is presented in 1080p/24 widescreen. Picture quality is very good; it looks a tad grainy at times, but this gives it a more "film-like" appearance than it detracts from the overall enjoyment.

Audio is dts-HD Master Audio 5.1 and, though there isn't a lot of surround information here either, the quality of the sound is fine.

This movie gets the most extras of the three. "Getting There is Half the Fun: The Story of Planes Trains and Automobiles" is basically a video record of a press conference with director John Hughes and stars Martin and Candy, with a few clips thrown in. "John Hughes for Adults" looks at Hughes the filmmaker with other interviews thrown in for good measure.

There's also a welcome tribute to John Candy, a deleted scene, and about an hour's worth of "John Hughes: Life Moves Pretty Fast," a two-part tribute. It's quite good.


Jim Bray's columns are available from the TechnoFile Syndicate.