Microsoft Office 2007 – Reinventing the Wheel
By Jim Bray
April 24, 2007
Windows Vista may have gotten most of the hype, but it isn't the only bread-and-butter product to come from Microsoft this year. Also new is Office 2007, a major upgrade to the popular Office suite. It's the first Office upgrade in years to offer a whole new interface and, for the most part, it's a pretty good one.
On the downside, it's also the first Office in a couple of generations to change its file formats, making documents created in Word, Excel and PowerPoint 2007 incompatible with previous versions. The new format is based on XML and adds an "x" to the file extension; for example a Word document's file name now ends in "docx".
Perhaps it was time for a new generation file format, but it can be an unpleasant speed bump to many who have to share files with others. Fortunately, Microsoft has been wise enough to allow you to set Office documents to default to (and save as) the "97-2003" format. This is how I set it and it works fine.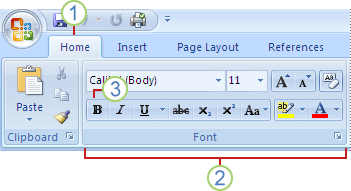 Microsoft sent me Office 2007 Professional, which includes Word, Excel, PowerPoint, Outlook (with the Business Contact Manager feature), Publisher and Access.
The first thing you'll notice after installing Office 2007 is the new look. The familiar top section, with buttons and drop down menus, has been replaced – or at least reorganized. The new section is called the Ribbon, which groups similar functions together and changes depending upon what functions you're using – kind of like the smart toolbars that products like CorelDraw have been using for years.
The result is a "tabbed" interface (No. 1 in the illustration) much like is becoming popular on web browsers. Each tab contains features organized around particular tasks. In Word, for example, the top tabs are labeled "Home," Insert," Page Layout," "Reference," "Mailings," "Review," "View" and "Developer". Clicking on "Home" gives you functions such as font/size, alignment (2), style, format painter/cut/copy/paste and the like, while the "Review" tab reveals spelling/grammar check, thesaurus, track changes, compare documents, etc.
It does manage to put experienced users onto a new learning curve, but overall the new interface is quite well thought out and once I got used to it I liked it.
Another new feature is the "Microsoft Office button" on the top left of the window. This button looks as if it's just a logo, and that's what I thought it was at first, but if you click on it with your mouse, it opens up a "start menu" of choices that are sure to be familiar to users of other Office versions. This is where you find stuff such as "New file", "Open file", "Save," "Print" and the like.
There's also a customizable "quick access" toolbar immediately to the right of the Office button, but I've found that so far – between the other features and my preferred use of keyboard shortcuts for many functions – I haven't needed to use it other than the "Save" button.
Another nifty, though sometimes obtrusive feature is the mini-formatting toolbar that pops up with the "right-clicked" context sensitive menu. This means that, in Word for example, if you highlight a section of text and right click, the little toolbar pops up near the text, offering basic font and formatting choices you can access right from there instead of moving the mouse up to the ribbon. It's pretty slick. Likewise, if you change the font, size or style from the ribbon, you're given a live preview that lets you audition the change right in the document as you work. This is a wonderful feature.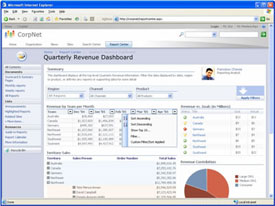 You can also change the layout of an Excel chart quickly using the ribbon, which puts a design library right at your mouse tips without your having to go off in search of it.
I also found the new interface helped speed up my work with PowerPoint; it's far more intuitive than before and requires less hunting and less clicking.
Another interesting feature is the contextual spelling checker, which can flag words it thinks you've misspelled depending on the words around them. And, fortunately, you can still disable the grammar checker, which I've generally found to be more annoying than helpful.
The document checker will look over your piece and find hidden information you may not want disseminated, such as hidden text or personal information. And, perhaps, evidence of plagiarism?
In use, some of the features don't seem to work, or at least they don't seem to work all the time. For example, I changed the "normal" template to reflect better the fonts and formats that I use normally, then saved the template. Upon subsequent uses, it seems as if my "normal" is there sometimes, while at others it goes back to Microsoft's default.
Likewise, there's a great feature in Word that gives you a running tally of your word count in the lower left corner of the window. And if you highlight a section of text it'll tell you how many words of the total you've highlighted. This is a great tool for a writer, except that it doesn't always work, either. Or it didn't work for a while, and then seemed to fix itself, perhaps with a upgrade/tweak download I didn't notice.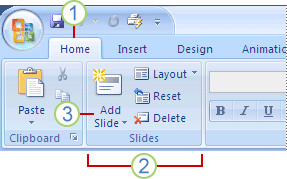 Fortunately, it isn't the only way to calculate your word count! Another slick and easy way to do that is to merely click on the "running word count" at the bottom of the window at which time a little box will pop up with the info you want.
The other apps include similar tweaks to make your day more efficient. Most won't jump right out and bite you, but the overall feel is of a cleaner and more robust product. I still refuse to use Outlook as my e-mail program, but that's because I prefer Thunderbird more than I hate Outlook – and to be fair I do rely on Outlook for my calendar, contacts and tasks.
Outlook's new Business Contact Manager reminds me of applications like ACT!, and the app will now manage your RSS subscriptions.
Access also has a new file format, labeled ".accdb", which lets you store documents and/or files as compressed attachments in your database. Microsoft says it improves privacy and security. The company also says Access is easier to use now, even for people new to databases, and from my poking around in the app it I'd agree, though I'm not much of a database person in any case. But a new "getting started" screen gives you a selection of already-designed databases you can use for your data, rather than having to invent the wheel yourself.
And though Publisher has always been an easy way for non-designers to create good looking publications, the 2007 version is even easier and more flexible. It doesn't use the new ribbon interface, but it's so easy anyway that I can't imagine many people having much trouble.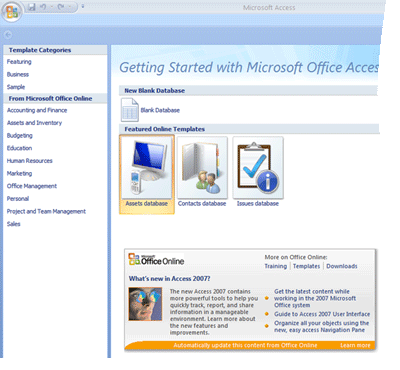 Over time, Publisher also has built in capabilities to let you work with professional print houses, a welcome feature that may help prevent you from getting laughed at you if you show up with a Publisher file.
It's no InDesign or QuarkXpress, but it doesn't pretend to be. It's more like a Print Shop-compatible, so if your organization needs a quick and easy way to create professional-looking brochures, cards, or whatever, without having to hire a designer, this is a pretty good way to do it.
Most of my time with Office, in any version, is with Word, Excel and PowerPoint, and the more I've used Office 2007 the more I like it. I still think Microsoft puts too much stuff into the programs, and if you're creating html documents you may be causing hair tearing sessions for "real" web designers, but it still remains one of the quickest, most robust and "no brainer" ways to do your tasks.
If you want to see some demos of Office 2007, you can find them here.