Adobe Creative Suite – Even More Suite for Round Two
By Jim Bray
Adobe's industrial strength, "janitor in a drum" creativity suite is back in a second incarnation that builds upon the original bundle of applications and ups the ante.
Adobe has traditionally been the benchmark for document and graphic creation, with apps such as Illustrator, Photoshop and to a lesser extent PageMaker, and its Creative Suite brings all these apps and more together into an integrated whole.
The applications included in the box are: Photoshop CS2, Illustrator CS2, InDesign CS2, GoLive CS2, and Acrobat 7.0 Professional, with new Version Cue CS2, Adobe Bridge, and Adobe Stock Photos. That's a pile of potential creativity! And it's very well integrated, so all the apps play nicely with each other.
This means that the apps have common interfaces and tools, which not only lets you work more easily but also cuts down on the learning curve – and if you're new to these apps you'll find that a nice thing. And you can customize the suite to make the apps work more the way you want them to. I've never thought Adobe's interface to be the benchmark by which all others should be measured (I like the customizable button bars of the CorelDRAW Suite, for example), but once you're up to speed you'll be fine.
One can't have a new version of a software package without putting in new features, or at least such is the history of software. So CS2 has plenty of new carrots to tantalize potential customers as well as reward existing owners who choose to upgrade.
Adobe Bridge, according to the company, is the "hub for productivity, imagery, and inspiration." It's accessible from Photoshop, Illustrator, InDesign and GoLive, as well as independently, and is designed to let designers organize, browse and find assets efficiently while acting as a gateway to the stock photos. It lets you drag and drop assets into your layouts as required, then preview them, add metadata and keep track of them using Version Cue.
Stock Photos lets you find images quickly and efficiently, regardless of whether you own them already or not. It's kind of a one-stop shopping source where you can view, try, buy, and manage stock images from some outside image libraries right from the Creative Suite.
For example, you can be using InDesign and from there you can search and download low-resolution shots with links back to where you can buy the high res version if you need it.
The integration is very good. The apps share core technologies such as the color engine and OpenType, and as mentioned above the shared interfaces and the like make it easier to move from one app to another without poring over the manual or the help section.
Here's an example of integration: Using Photoshop, Illustrator and/or ImageReady with GoLive, you can take advantage of Adobe's beefed up html support to create Web pages; you can also lay out pages in InDesign and package them for the web by exporting them and their images as "smart objects" output as XML data.
I really liked the way you can go in ("edit – keyboard shortcuts") to customize your most often-used commands – though I was also disappointed that the right mouse button capabilities are more limited than I like. Oh, there's quite a bit that you can do, and it's context sensitive, but I really like using the right mouse button a lot and found its support in this suite lacking in comparison to some apps I've known and loved over the years.
When you first boot up the apps, you're welcomed with a screen that offers looks at what's new – a handy way to get up to speed with the changes in this version. There's also a disc of video tutorials you can use to help learn the basics.
There are also discs of "resources and extras" in the package.
Here's a quick look at the various parts' major features of the Creative Suite:
Illustrator
Illustrator is a powerful app for graphic design, with some page layout and/or Web creation capabilities as well. Its main competition is CorelDraw and, like that product, it's a powerful piece of software that does a great job at helping you be creative. I'm not nearly as up to speed with this as I am with Draw (which I've been using for more than ten years), but the more I use it (as with the rest of this suite), the more I find to love about it.

New in Illustrator CS2 is Live Trace, which is a tracing tool designed to help you convert a bitmap into a vector graphic so you can edit it better or even completely change it. Live Paint lets you apply color strokes and fills easily and intuitively. Illustrator CS2 includes support for placing Photoshop CS2 layer comps and for applying Photoshop CS2 filters and effects; you also get custom stroke placement, type enhancements and support for colonizing grayscale images.
Adobe says the new Illustrator blurs the lines between vector graphic and bitmap, and I would tend to agree, within reason. That means that there's still room for PhotoShop, the benchmark bitmap editing/manipulation software.
And of course PhotoShop been upgraded, too.
Photoshop
Photoshop is one of the reasons photographs shouldn't be admissible in court any more. A Photoshop artist worth his salt can manipulate an image and turn it into something else so convincingly you'd think it was the original picture. It's the sort of tool Dan Rather and his cronies would have undoubtedly found handy if they weren't already busy trying to pass off MS Word documents as thirty year old typewritten pages.
PhotoShop is a bitmap editing tool by which you can create images or edit photographs, including such mundane tasks as sharpening a picture or removing "red eye" to sophisticated magical stuff such as removing a person from a photo and putting him into a completely different one.
I did such a thing, for example, by taking a photograph of my father standing in front of a Rocky Mountain scene and dropping a photo of a grizzly bear in behind him so it looked as if they were both posing for the picture. I'm no artist, but the result was humorous and satisfying. A real artist using PhotoShop could have made it seamless and spectacular.
But, hey, I got the laugh I wanted, so it worked, even if I am all thumbs.
One thing I really like about Photoshop is how you can save images for the web. Under the "File" menu you can make such a choice, and the image is optimized for online use and you're given a little message showing the eventual file size as well as how long it'll take to load in a Browser. It could be a little more user-friendly, but it works well.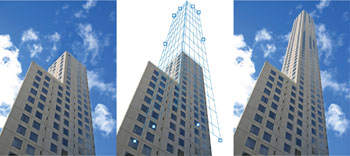 New features include Vanishing Point, which gives you edit and transform tools that automatically adjust to the visual perspective of your images. Image Warp lets you do live image warping directly on the canvas, using presets or your own customized warps: just drag and drop control points on the warp grid. This is to make it easier to wrap graphics around objects, and thanks to the new Smart Objects features, your warps are re-editable.
32-bit, floating point, high dynamic range (HDR) editing gives you control of detail from shadows to the highlights, and the Reduce Noise filter lets you correct color noise in digital camera images, globally or per-channel.

One of the features I liked the most is the "WYSIWYG" font menu, which gives you a look at how a particular font looks as well as just its name. As a non-pro, this really speeds up my choice of fonts because I don't have to use trial and error to find one I like.
There's also better menu customization this time around, which lets you adapt the applications to your own working style.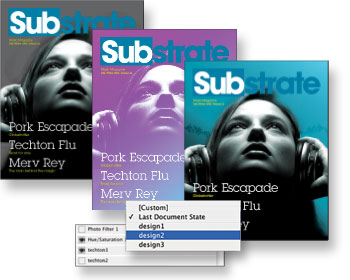 InDesign
I used PageMaker many years ago before converting to QuarkXpress, arguably the industry standard in page layout software, though they may have opened themselves up for stiff competition from InDesign thanks to some fuzzy thinking on their part regarding their latest releases).
InDesign is where you assemble your pages, putting together elements you undoubtedly created in other Creative Suite apps (such as Photoshopped images or logos you created in Illustrator). Since it's well integrated with the rest of the suite, working with and from the other apps is very smooth.
Adobe says the focus of the CS2 version of InDesign is on accelerating productivity. To that end, they're brought in new object styles so you can save formatting you'll use a lot. Better text handling capabilities includes smarter Microsoft Word import (and who hasn't struggled with Word files?), the faster application of styles, drag-and-drop text, and you can now paste text without keeping its original formatting, which is nice when you're working with lots of text and don't want to spend you day stripping out formatting crap.
You can also save portions of an InDesign page as "snippets," which can be re-used in other files or shared with others. InDesign also claims a better ability to work with XML.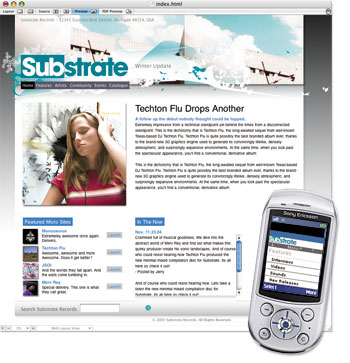 GoLive
Like Macromedia's Dreamweaver, GoLive lets you design and build powerfully interactive web sites and maintain them via ftp between your desktop and the remote site.
I'm still not convinced it's the best web app out there, but it does offer some great features I found really handy, such as an excellent cross-site search and replace, powerful design and layout tools and a good set of templates you can adjust to suit your own needs. But it's very slow.
I used GoLive, in combination with Dreamweaver, to create the TechnoFile web site's new look. I crafted the overall design in GoLive, then used Dreamweaver to create templates that let me update the entire site easily. I could have done this in GoLive, but I like Dreamweaver's site maintenance/control features better, and that was the deciding factor. That said, I find myself using GoLive more and more for the actual creation and as I learn it better I'm doing more site maintenance with it as well – though I don't use it for ftp stuff.
One thing I don't like about GoLive, though it may not be GoLive's fault, is how it won't let me use Hot Metal Pro any more for page updates. HMP's "tags on WYSIWYG" view is a fabulous way to update pages quickly and easily, but alas also a real stickler for your html and doesn't seem to like GoLive-generated code because when I tried to open GoLive-generated pages in HMP it held its little virtual nose and refused to play nicely.
This led to me reluctantly dumping HMP, because despite my adoration for it I like GoLive's overall feature set better.
New features in GoLive CS2 include visual CSS authoring, pre-built, drag-and-drop CSS block objects, enhanced layer, layout grid, and layout text box tools and support for mobile authoring.
It's very flexible and powerful and, like the Dreamweaver Suite, lets you use the other apps in the suite to create elements (graphics, text, Acrobat files, you name it) you can use in your site.

Acrobat
Acrobat has become the standard for exchanging documents between people, applications, platforms, what have you. Who hasn't received or downloaded PDF (portable document format) files of such things as product brochures or information sheets? Acrobat lets you create Internet or e-mail-ready documents that, unlike HTML pages, have the exact look and feel of the original print versions – and you can add Internet interactivity to them as well.
If you've only ever used Acrobat reader, Acrobat writer will be a real eye opener.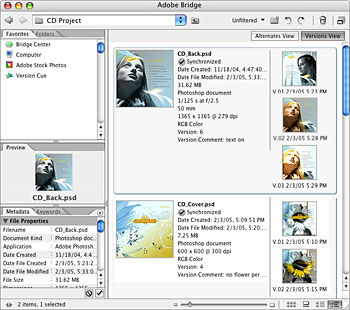 Version Cue
This is a file-version manager that has been that Adobe says is more intuitive, visual, and robust than in CS1. It lets you manage and share Adobe and non-Adobe files, access historical file versions (and version "alternates"). You can create two or more versions of a file, for example, define one as the primary version and the others as alternates and send them all out for review without losing track of which is which.
Basically, Version Cue is designed to let you:
• Find files quickly:
Search for files by the comments you've applied to them, or use keywords, file descriptions, author, copyright, and file type. Preview large files without opening them.
• Track Edits
All versions of a file are tracked in one dialogue box. You can revert to previous versions from within the Photoshop, Illustrator, InDesign, and GoLive environments.
• Share
Manage your project with multi-user controls that prevent files from being accidentally overwritten. Runs from your desktop to give team members access to your files. Also run on a separate machine.
Lots of stuff, eh?
Adobe also makes InCopy CS2, which is a writing and editing program that integrates with InDesign. It features a new assignments workflow, with which editors can work on parts of pages, spreads, or documents in parallel with designers. Adobe claims it has 100% accurate copyfitting as well as a set of editorial tools.
Adobe Creative Suite CS2 is designed for graphic and/or print professionals and as such I don't come anywhere close to exploiting its capabilities. But the more I use it the more I learn and the more I like it. Maybe one of these days I'll do it justice!