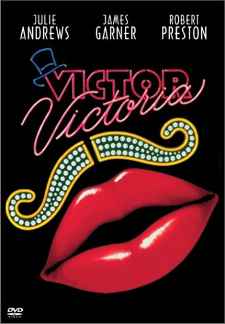 Victor/Victoria on DVD
Julie Andrews stars with Robert Preston and James Garner in this sex farce set in Paris in the 1930's.
She's Victoria Grant, a talented but down on her luck singer who, much like Dustin Hoffman's character in Tootsie, finds herself sneakily swapping her sex in order to get work.
Robert Preston is Toddy, a drag queen entertainer who dreams up the scam to turn Victoria into Count Victor, Europe's finest drag queen entertainer.
Well, she's a hit of course, and her "unnatural act" comes to the attention of American impresario King Marchand (Garner), who doesn't believe she's really a man but who isn't sure enough to say for sure. Much to his masculine chagrin, he finds himself attracted to Victor/Victoria (a feeling which is mutual) and sets out to see whether or not he'll still be able to wear the pants in the family if they get together.
The farce unfolds fairly predictably, but that doesn't mean it isn't funny. Writer/director Blake Edwards (who is also Andrews' real life husband) crafts an entertaining film that (though it's hard to believe the lovely Miss Andrews could really pass for a man) is an at times funny and at other times charming musical tale of sexual mores that's also a paean for the acceptance of homosexuality (though it doesn't beat you over the head excessively with its politics).
Andrews is, as is typical of her, wonderful as Victoria; this is a more mature woman than Mary Poppins or Maria from The Sound of Music, but she's still sexy and feminine - with a singing voice that could stop a clock (or, more appropriately for this film, shatter glass). Preston, as the old pouf who mentors her through the scam, is also typically charming. Garner turns in an excellent performance as the macho man who becomes unsure of his machismo. Lesley Ann Warren, though her part isn't very big, manages to chew enough scenery to worm her way into our hearts, and Alex Karras turns in a good, against type, performance as Garner's bodyguard.
The music, by Henry Mancini with lyrics by Leslie Bricusse, includes some terrific show numbers that are very well staged and shot.
Fortunately, the DVD does the film justice. It's presented in anamorphic widescreen (16x9 TV compatible) and the picture quality is excellent. Warner Brothers says it's a new transfer, and it shows; the image is sharp and crisp and the colors are rich and well-saturated. This is particularly welcome since the production - especially in the staged musical numbers - is full of rich, vibrant costumes and sets and they come across very well in the home theater in this DVD version.
Audio is Dolby Digital 5.1 surround and, though there's definitely a dearth of surround information, the sound quality itself is very good. Think of it mostly as a "three channel stereo" film with excellent separation across the front and the odd bit of business (for instance, thunderclaps) emanating from the rear speakers. The original soundtrack was recorded analog rather than today's more common digital methods and that means the dynamic range isn't what many of today's films offer, but it's still more than acceptable over all.
Extras include a fascinating running commentary featuring writer/director Edwards and star Andrews (who sounds a tad hoarse here) and they offer plenty of interesting insights into the production (including Andrews' deep-seated hatred for cockroaches).
You also get some filmographies of cast and crew, a list of the awards for which the film was nominated, and the theatrical trailer.
Victor/Victoria, from Warner Home Video
133 min. anamorphic widescreen (2.35:1), 16x9 TV compatible, Dolby Digital 5.1
Starring Julie Andrews, James Garner, Robert Preston
Produced by Blake Edwards and Tony Adams
Written and directed by Blake Edwards