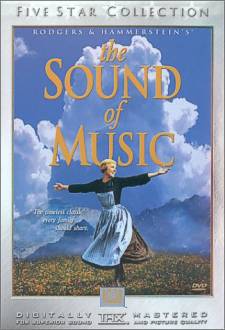 "The Sound of Music" on DVD
Fox's Five Star Classic
The Sound of Music is a wonderful movie, a five Oscar-winner (including "Best Picture") that has finally made the transition to DVD. And what a transition it is!
Part of 20th Century Fox's "Five Star Classic" series, it's a two disc extravaganza that not only includes a THX mastered widescreen version of the film, but enough extras to keep "Music" lovers happy.
The film itself is well known. Directed by Robert Wise and starring Julie Andrews and Christopher Plummer, it tells the song-filled tale of would-be nun Maria (Andrews) who's sent to be governess for Captain von Trapp's (Plummer) seven children.
Maria's just the latest in a long line of governesses for the Captain's kids, but it turns out she's just what the doctor ordered. Her sunny disposition, love of music, and strength of character quickly breaks down the barriers between herself and the kids - and Captain von Trapp and life in general.
The Captain falls in love with Maria and they marry, only to have their new family life threatened by the rise of Nazi Germany and its takeover of von Trapp's beloved Austria.
Speaking of "beloved Austria," this movie was filmed on location, and that was a wonderful decision by the producers. Austria is gorgeous and the locations enhance the beauty of the overall film, as well as lending a feeling of authenticity.
The Rogers and Hammerstein musical is a masterpiece, with wonderful songs performed wonderfully. Andrews' singing is effortless and she plays the part of Maria with guts, vulnerability, and bravado (perhaps a strange combination, but she pulls it off). Plummer is also good as the crusty Captain, a shattered man who, thanks to Maria, finds reason to sing and to love again.
The widescreen THX picture is superb, as is the Dolby Digital 4.1 audio. We'd have liked to seen those 4.1 audio channels augmented by a center front channel, because sometimes some onscreen characters' voices were coming from the left or right speaker, but on the whole that's a pretty minor criticism for a marvelous video adaptation that undoubtedly chose to remain true to the original soundtrack.
Disc one also includes a full length running commentary from director Robert Wise as well as a DVD-ROM link to the movie's official Web site.
Disc two features a series of documentaries, including a 1965 look at the film and at Salzburg starring 'the oldest daughter,' and a full length one ("The Sound of music: From Fact to Phenomenon"). There's also an audio supplement from screenwriter Ernest Lehman, interviews with Julie Andrews and Robert Wise, DVD-ROM games, storyboards, sketches, production stills, trailers, and radio/TV commercials.
There's even a booklet essay inside the box.
It's a complete package that for the first time does "video justice" to this timeless classic.
The Sound of Music, from 20th Century Fox Home Video
175 minutes, Widescreen (2.2:1), Dolby Digital 4.1
Starring Julie Andrews, Christopher Plummer, Richard Haydn, Peggy Wood, Eleanor Parker
Executive Producer Saul Chaplin
Written by Ernest Lehman, Directed by Robert Wise