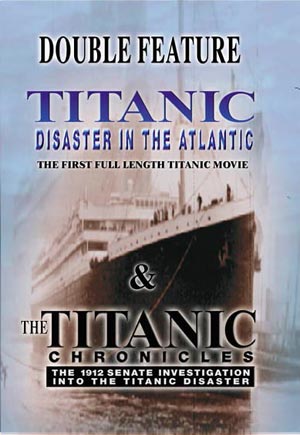 The Titanic Chronicles on DVD
Experiencing That Sinking Feeling...
DVD International has found an interesting way to cash in on Titanic mania: release two Titanic features on one DVD.
Titanic: Disaster In The Atlantic is a 1929 British feature film on the sinking of "the Atlantic," which may as well be the Titanic (perhaps they changed the ship's name for copyright reasons?).
This 90 minute film, however (which is introduced on the disc by David McCallum), is the weaker of the two entries.
Starring Franklin Dyall, Madeleine Carroll, Monty Banks, John Stuart, John Longden and Ellaline Terkiss, it's based on the play "The Berg" by Ernest Raymond. The producers try, but they're hamstrung by their budget and by 1929 movie technology. It really makes one pine to see Cameron's epic again instead.
Still, the movie has its place in history: it's apparently the the first feature sound film to tell the tale of the famous disaster.
Titanic: Disaster in the Atlantic, from DVD International
1929, 90 minutes, full screen, Black & White
Starring Franklin Dyall, Madeleine Carroll, Monty Banks, John Stuart, John Longden and Ellaline Terkiss
Written by Victor Kendall
Strangely enough, The Titanic Chronicles is a far more interesting production - even though on the surface it may appear to be a pretty dry offering.
The Titanic Chronicles is a relatively straightforward presentation of the 1912 Senate Investigation into the disaster. It uses archival footage and some scenes that look like they're taken from the above feature to accompany actors' readings of the actual investigation transcripts.
As such, it's a fascinating glance into the heads of people who survived - or were nearby - the sinking of the great ship. The actors chosen do an excellent job of bringing the testimony to life; there are even cast members from Cameron's film on hand, including "old Rose" Gloria Stuart. Her voice really stands out.
The Chronicles is hosted by David McCallum, a very poor teleprompter reader, and it covers testimony from Bruce Ismay, the White Star Line executive who made himself scarce from the sinking ship while hundreds of passengers died. You also hear from crew members of the California, the ship closest to the Titanic when she struck the iceberg yet which never came to help (and would perhaps have allowed many more - if not all - of the doomed Titanic roster to have lived) as well as passengers and crew from the Titanic itself.
An alternate audio track gives even more testimony.
In all, The Titanic Chronicles is well worth a visit.
The Titanic Chronicles, from DVD International
1999 full screen, 55 minutes
Written and produced by Wayne J. Keeley and James Scura