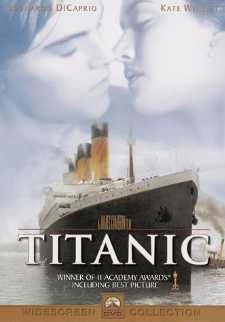 "Titanic" on DVD

Big Movie, Big Box Office, Small Disc
It took about a year for Paramount Home Video to release the most popular movie of all time on DVD. It was the big title for Christmas buyers in 1998, and perhaps the studio thought it would recreate that marketing success again in '99.
And the DVD Titanic will probably sell oodles of copies - and deservedly so. And while there's nothing wrong with the quality of this DVD release (in fact, it's superb, or would be if the widescreen presentation were 16x9 TV compatible), after waiting a year for the digital disc, we were hoping it would have more of the extra goodies that can make DVD's so marvelous.
But for whatever reason, it was not to be.
Now, this is kind of a halfhearted criticism. After all, Titanic has enough going for it on its own to make it a "must have" in DVD collectors' libraries. And it's so long that there isn't a lot of room for extras - unless you use the other side of the disc (in which case there's plenty of room).
Still, it makes one wonder if there's a "Titanic - the Director's Cut" or other type of special edition in the offing down the road somewhere.
James Cameron's epic tied Ben-Hur (William Wyler's masterpiece) for the most Oscars ever handed out to a movie (11) to that date. As everyone on earth knows, it tells the epic tale of star-crossed lovers who meet and are subsequently torn apart forever (well, almost forever) by the disaster that sent the unsinkable Titanic to the ocean floor.
This is a BIG movie, in every way. It's grand in concept and scope, and it seems as if every one of the 200 million dollars Cameron spent on the production made it onto the screen. Cameron takes what could have been a standard romance, or a standard disaster movie, or a standard epic, and crafts a multilayered human-and-technological drama that puts the ill-fated liner's story into human terms and makes the viewer feel almost as if he's been there for the ride.
The digital special effects are superb, as is the script, the performances, the musical soundtrack - in short, everything.
Far more than just a love story, Titanic is epic filmmaking at its best and it deserves its place in movie history. Cameron's famed attention to detail shows through in just about every frame and the end result is a film that's ultimately moving, inspiring, exhausting, exciting, and emotionally draining at the same time.
The DVD has been given the THX treatment, so the audio and video quality are as befit such a movie experience. The limiting factor to your enjoyment of "Titanic" will be in the size and quality (the bigger and better the better) of your TV screen and the size and quality (ditto) of your audio system.
The disc is only available in widescreen (we prefer seeing both versions available, but if we had to choose we'd take the director's original version - whether widescreen or full screen - every time, and in this case that means widescreen).
But it isn't anamorphic widescreen, so the picture must be zoomed out to fill the 16x9 TV screen and this costs you some resolution! This is unforgivable! What was Paramount thinking?
It's also in Dolby Digital 5.1, and the audio is great.
Extras are limited to the theatrical trailer, chapter stops, interactive menus, and subtitles. The audio has also been mixed into Dolby Pro Logic for both English and French alternate soundtracks.
There's a ten page booklet inside the package, but rather than give the copious liner notes this would allow, you just get a humongous chapter list. A shame.
"Titanic" is one of those movies, like "Ben-Hur" or "Lawrence of Arabia," that come along infrequently. It's a must see - and a must own for any collector who prides himself on having the best Hollywood has to offer.
"Titanic" is perfect for DVD because the digital disc format gives you the best picture and sound quality you can get in home video - and because you can see the whole movie without changing sides of the laserdiscs or swapping tapes. And that's great.
Unfortunately, it also falls down as a DVD in that it doesn't really exploit the medium to its best. And that's a shame.
Still, we'd rather have a generic "Titanic" DVD like this one than not have "Titanic."
Titanic, from Paramount Home Video
194 minutes, widescreen (2.35:1), Dolby Digital
starring Leonard DiCaprio, Kate Winslet, Billy Zane, Gloria Stuart, Kathy Bates, Frances Fisher, Bernard Hill, Jonathan Hyde, David Warner, and Bill Paxton.
Music by James Horner, Produced by James Cameron and Jon Landau,
Written and Directed by James Cameron