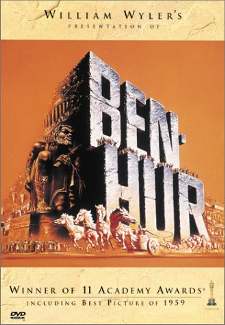 "Ben-Hur" on DVD
Wyler's Most Wonderful Work Goes Digital
By Jim Bray
Finally, Warner Home Video has released onto DVD one of the greatest and most honored films ever.
The Best Picture of 1959, William Wyler's Ben-Hur snagged eleven Academy Awards, a record never beaten (though it was tied by Titanic in 1997).
The $24.95 DVD isn't one of those multi-disc extravaganzas like The Rocky Horror Picture Show, where they include a second disc of extra material to convince movie buffs to buy the title rather than merely renting it, but it does the classic film justice nonetheless.
It ends up being a double-faced DVD extravaganza that sandwiches the extras – as well as the post-intermission section of the film – onto the second side.
Bonus materials are gravy; it's the movie that really counts and, fortunately, Warner Brothers has come through in spades with a digital remastering that must be seen to be appreciated.
The picture looks about as pristine as a forty-two year old movie can, and in places (especially close-ups) the widescreen image is positively breathtaking. This is a wonderful change for Ben-Hur on video. I can remember watching old "Pan & Scan" versions on VHS (where they lop the sides off the widescreen picture to make it fit onto TV's squarish screen) where, when the Roman troops were trooping along near the beginning of the movie, the figures would all smear together into huddled masses of smudgy humanity.
Now, however, you can almost count the individual extras who make up the "cast of thousands."
There are a couple of strange anomalies, like a strange jitter during the opening credits (which you may not notice if you aren't picky) and a few shots that jump ahead as if a couple of frames were missing, but on the whole this is the version of Ben-Hur for which collectors and fans have been waiting.
They've also maintained the film's original aspect ratio of a whoppingly wide 2.76:1, which is nearly three times as wide as it is high. Fortunately, they've also given the DVD the proper enhancement for 16x9 widescreen TV's, though even here there's quite a bit of unused black area above and below the picture. On a regular 4x3 TV the widescreen image only uses about half the total screen!
So the bigger the TV the better…
Likewise, Warner's digital refreshing of the audio soundtrack has breathed new life into Ben-Hur.
The original stereo soundtrack has been remixed into Dolby Digital 5.1 channel surround – and it shows. Most of the film doesn't make a lot of use of the rear channels, but where they've invoked them they've done it tastefully. For instance, during the opening scene of the birth of Christ in Bethlehem, there's a beautiful choral section that sets the mood perfectly and the new mix surrounds you with voices, while the orchestra remains mostly up front with the main stereo speakers.
Whenever I hear of a company making retroactive changes to a classic film I'm always afraid they're going to paint a mustache onto the Mona Lisa, and sometimes they do. Not here, though; the remix is tasteful and appropriate.
The audio works best with Miklos Rozsa's gloriously sweeping "pre-John Williams" score and during the spectacular chariot race as we're nearly deafened by thundering hooves and humanity.
You can still tell it's an old soundtrack, especially with the music, but it's probably about as good as it can be short of hiring a new orchestra to re-record the music digitally.
There aren't a lot of extras on the disc, but what you do get is pretty good.
Charlton Heston provides a commentary that may disappoint those looking for inside dirt, but which is a gracious recollection of his experiences during the long shoot in Italy. Since he doesn't prattle incessantly for the entire film, you can jump to the commentary sections using the chapter skip button.
There's also "The Making of an Epic," a one-hour documentary that starts with the original novel and takes you on a tour of Ben-Hur's stage and silent versions before tackling the Wyler film.
If that isn't enough, there are a couple of screen tests, one of which features Leslie Nielsen playing Messala, a short and rather superfluous gallery of photographs, the theatrical teaser and trailer, and some minimal cast and crew info.
In all, a wonderful presentation befitting this Hollywood benchmark.
Ben-Hur, from Warner Home Video
212 minutes, Widescreen (2.76:1)16x9 TV compatible, Dolby Digital 5.1
Starring Charlton Heston, Stephen Boyd, Haya Harareet, Jack Hawkins
Produced by Sam Zimbalist
Written by Karl Tunberg, Directed by William Wyler
Jim Bray's technology columns are distributed by the TechnoFILE Syndicate. Copyright Jim Bray.