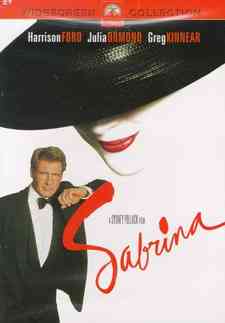 Sabrina on DVD
An Enjoyable Jaunt Down Memory Lane
As was the Bogart, Hepburn, Holden original, Sydney Pollack's Sabrina is a charming romantic comedy in which an ugly duckling is transformed into a beautiful swan, causing people to fall all over themselves to win her favor.
Harrison Ford is Linus Larrabee, tycoon in charge of the gigantic Larrabee corporation. He's a good man, but driven and extremely busy and doesn't have any time for a life outside of business. Greg Kinnear is David, his layabout playboy of a brother, a man who never grew up and who ignores the family business in favor of a series of short term love affairs.
And then there's Sabrina (Julia Ormond), the daughter of the Larrabee's chauffeur. She's been in love with David since she can remember. When we first see her, she's up in a tree watching and dreaming about David as he begins making woo with a compliant female at a typically posh Larrabee party.
But Sabrina's father wants her to get over David and to grow up with some sophistication, so he sends her to Paris, where she starts out awkwardly but eventually blossoms into the strong and classy woman her father wishes her to be. She also begins to forget about David, which was his main intent in sending her away.
Flash forward a couple of years and Sabrina comes home all grown up, radiant, and full of life. David happens to pick her and her luggage up and, not recognizing the little girl he didn't really know anyway, hits on her while offering her a ride home.
Of course, that home is his home too (Sabrina and her father live over the garage), and once Linus - who is sharp as a tack and recognizes her right away - points out to David who this delightful lady is, he's smitten and decides to call off his engagement so he can pursue Sabrina.
Unfortunately, that engagement is one for which Linus and the company has been working tirelessly for months and involves the corporate merger of the Larrabee empire with that of the fiancee's family's high tech business. It becomes incumbent upon Linus to do what he can to torpedo David and Sabrina's relationship.
Unfortunately, his plan works all too well, and Linus falls under Sabrina's magical spell, setting up a triangle that could see brother pitted against brother, and the corporate fortunes of the Larrabee empire dealt a severe blow.
Sabrina is pretty good movie, though the original is better. The story pulls you along, and you can't help but root for Sabrina (and the workaholic Linus) as they begin to fall for each other.
Where the movie is inferior to the original is mostly in casting. There aren't any Audrey Hepburns or William Holdens around any more and, as likable and good as Kinnear and Ormond are in their roles, they just don't have that old style sparkling Hollywood magic. Ford is fine; he's the closest we have to a real, old fashioned movie star these days (though more and more he seems to have developed a particular onscreen persona and continues to play it over and over again), but where Hepburn lit up the screen with her mere presence, Ormond is merely a journeyman actor. Ditto for Kinnear. He's likable, but there's no Holden him comparable to William.
John Williams did the score for this version of Sabrina and though he's always terrific, this score sounds more like a typical Dave Grusin (with whom Pollack has also worked) than a typical Williams effort. Just goes to show Williams' skill and flexibility...
The DVD, other than a dearth of special features, is terrific. The presentation is anamorphic widescreen (16x9 TV compatible) and the picture quality is wonderful. Colors are rich and very realistic and the image is sharp and clean, a great use of the DVD potential. The Dolby Digital 5.1 surround audio quality is also top notch, though there's little or no use of the surround channels.
Extras are limited to the theatrical trailer.
Sabrina, from Paramount Home Video
127 min, anamorphic widescreen (1.85:1) 16x9 TV compatible, Dolby Digital 5.1 surround
Starring Harrison Ford, Julia Ormond, Greg Kinnear
Written by Barbara Benedek & David Rayfiel
Produced by Scott Rudin and Sydney Pollack, Directed by Sydney Pollack