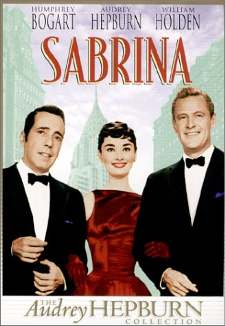 Sabrina on DVD
Audrey Hepburn at Her Best
Billy Wilder's Sabrina is a delightful romantic comedy that sees an ugly duckling transformed into a beautiful swan and thereafter cause the people who scarcely knew she existed to fall all over themselves to win her favor.
Audrey Hepburn is wonderful as Sabrina, the daughter of the chauffeur to the super rich Larrabee family of Long Island New York. She's been in love (or at least infatuated) with David Larrabee (William Holden) since she can remember. Unfortunately, David is a playboy and a flake who goes through wine, women and song as if they're impulse items in a Walmart bin.
Her father wants her to get over David and to grow up with some sophistication, so he sends her to a fancy Parisian cooking school (though not before she tries to kill herself rather than be forced to go).
Flash forward a couple of years and Sabrina comes home all grown up, radiant, and full of life. David happens to pick her up at the railroad station and, not recognizing the little girl he didn't really know anyway - who is now a beautiful and classy charmer - he hits on her by offering her a ride home.
Of course, that home is his home too (Sabrina and her father live over the garage), and once it hits David who this delightful lady is, he's smitten by her and decides to call off his engagement so he can woo the silky Sabrina.
Unfortunately, that engagement is one for which his brother Linus (Humphrey Bogart) has been working tirelessly for months and involves the corporate merger of the Larrabee empire with that of the fiancee's family. Linus therefore decides to do what he can to torpedo David and Sabrina.
Unfortunately, Linus also falls under Sabrina's magical spell, setting up a triangle that could see brother pitted against brother, and the corporate fortunes of the Larrabee empire dealt a severe blow.
Sabrina is a wonderful movie. The story pulls you along, and you can't help but root for Sabrina (and the workaholic Linus, too).
Hepburn sparkles in the title role (she's totally believable as the young urchin and the sophisticated lady), and Holden plays his paperweight playboy to a "T" - but it's Bogart, in an uncharacteristically light romatic part who, with Hepburn, really steals the show.
The three are backed up by a marvelous supporting cast, a wonderful script and, of course, the legendary Billy Wilder's direction.
The DVD is in the original fullscreen presentation, and in black and white. The picture and Dolby Digital mono sound quality are top notch for the age of this movie, though the sound comes from the main stereo speakers instead of the front center channel, which would have put the dialogue on the screen where it should be, instead of to both sides of the screen.
This doesn't really detract from your enjoyment of what's one of the all time great romantic comedies.
Extras include a decent, though short, documentary, and a photo gallery.
Sabrina, from Paramount Home Video
112 min, black and white, full screen, Dolby Digital mono
Starring Audrey Hepburn, William Holden, Humphrey Bogart
Written by Billy Wilder, Samuel Taylor, and Ernest Lehman Produced and Directed by Billy Wilder
Paris When it Sizzles
If you looked up the word "Farce" in the dictionary, they could very well have reproduced the poster from "Paris When It Sizzles" to illustrate the definition. This is a very silly - though quite engaging and enjoyable - movie.
Hepburn is a vivacious and free spirited typist hired to crank out an entire screenplay for jaded alcoholic playboy writer William Holden. It's a seemingly impossible task, especially since Holden hasn't a clue about what he'll write - and the finished script is due in two days, when the producer (a cameo played to the hilt by playwright Noel Coward) is set to show up at the door wondering what he has gotten for all the money he's pumped into Holden's lavish lifestyle.
They drink, and eat, and brainstorm - acting out parts (in vignette form where the scripted events are played on screen), revising them, throwing them away, and starting all over again. Naturally, they also fall in love (or is it lust?) along the way as they manage to finish what ends up being a particularly formulaic mishmash of a romantic action comedy.
Holden's character is the one with the most potential for growth, if only he'd get that big Hollywood chip off his shoulder and, in the end, he realizes what a piece of crap he's cranked out and vows to start over and do it right.
We never find out if he's given the chance, but we assume all will work out for the best.
This is a very broad farce, totally unbelievable, yet lots of fun - and watch for Tony Curtis in a minor supporting role that, like the rest of the film, makes fun of actors, egos, BS, and Hollywood in general.
The DVD is presented in widescreen, 16x9 TV compatible, with Dolby Digital mono audio (directed to the main stereo speakers, unfortunately). Picture and sound quality are very good.
Paris When It Sizzles, from Paramount Home Video
110 min, color, widescreen (1.85:1), 16x9 compatible, Dolby Digital mono
Starring Audrey Hepburn, William Holden
Written by George Axelrod, Produced by Richard Quine and George Axelrod, Directed by Richard Quine
Funny Face
Audrey Hepburn teams up with Fred Astaire in this song and dance production set to the music of George and Ira Gershwin.
Hepburn's a highbrow book store clerk whose life is turned upside down when a highbrow fashion magazine blasts its way into the store, without permission, to shoot a photo spread.
The photographer (Astaire) is a decent sort and he pushes the magazine's publisher (Kay Thompson) to select the always-graceful and radiant Hepburn to be the new, fresh face the mag'll use to launch a major corporate promotional campaign. She agrees and, though reluctant intitially, Hepburn also agrees - mostly because it'll give her a free (and first class) trip to Paris and the opportunity to meet a philosopher-guru with whose work she is infatuated.
Hepburn again goes from not-so-ugly duckling to the radiant swan - this time with the romantic triangle provided by Astaire and the French deep thinker who turns out to be more man than thinker.
The tunes are typically Gershwin (which generally means wonderful) and, as one might expect with Fred Astaire's involvement, the choreography is also first rate. Add in some great costumes, production values, and French locations, and you have a diverting couple of hours in the home theater.
Funny Face isn't one of the great Hollywood musicals, but it works on most levels - and gives the audience an opportunity to see Audrey Hepburn's singing and dancing skills before her dubbed performance in "My Fair Lady."
The DVD is in widescreen, 16x9 TV compatible, and the audio tracks are in remixed Dolby Digital 5.1 (though you'd never know there were surround tracks) and restored mono. We noticed a few strange color blotches on the picture that looked almost like lens flares, except that they persisted throughout the entire film. They aren't enough to get in the way of the movie, however (though they did make us a tad paranoid about our TV!). Other than that, the video and audio quality are fine.
Extras include a short promotional feature on Paramount studios during the 1950's, a photo gallery, and the trailer.
Funny Face, from Paramount Home Video
103 min, color, widescreen (1.85:1), 16x9 compatible, Dolby Digital 5.1/ restored mono
Starring Audrey Hepburn, Fred Astaire, Kay Thompson
Written by Leonard Gershe, Produced by Roger Edens, Directed by Stanley Donen.