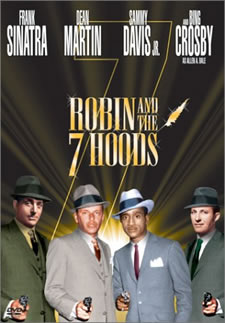 Robin and the Seven Hoods on DVD
Robbing Hoods
Frank Sinatra is a modern day Robin Hood in this uneven musical that co-stars his buddies Dean Martin and Sammy Davis, Jr.
Sinatra is Robbo, boss of Chicago's North Side during the heyday of the Chicago crime gangs of the prohibition era. When his good buddy and fellow crime boss "Big Jim" (Edward G. Robinson) is assassinated and rival Guy Gisborne (Peter Falk) takes over his territory, a gang war between the two breaks out.
Sinatra is a hood with a difference, though: he may be a bootlegger and casino owner, but he also knows how to spread the wealth around to those in need. This leads him to become a folk hero to the public at large, further driving a wedge between his group and Gisborne's.
Meanwhile, Big Jim's daughter (Barbara Rush) turns up with plans of her own that affect just about every other cast member in one way or another.
There's booze, broads and bullets on display, and every so often one of the stars breaks into a song that brings the action grinding to a halt. Don't get us wrong, the songs are fine, but the movie seems more like a comedy than a musical comedy, with songs tossed in periodically just so they can take advantage of the singing abilities of Sinatra, Martin, Davis, and Bing Crosby.
Despite that, it's an enjoyable flick with likable characters (it's even tough to hate Falk, even though he's such a rat) and an entertaining but improbable plot.
The DVD is well done, though there aren't a lot of extras. The picture is anamorphic widescreen, 16x9 TV compatible, and it's very bright and sharp, with clean edges and rich colors that don't run or smear. We love the look of these old Technicolor movies, and Warners has done a nice job of transferring the flick into the digital medium. We wish all DVD's from these eras were done as well.
The audio is okay. It's presented in Dolby Digital mono, correctly directed to the center front channel, and the sound quality is pretty good for an old, analog recording. There's little evidence of shrillness or muddiness and, while it doesn't appear the audio was given a first rate digital remastering in the vein of Paramount's original Star Trek series, it's all right.
Extras include a full-length running commentary featuring Frank Sinatra Jr., and it's pretty interesting to listen to this "son of rat pack" reminisce. There's also a Behind the Scenes documentary "What they Did to Robin Hood" that's really just a short promo for the movie (not that there's anything wrong with that) and a little bit of cast/crew filmography. You also get the trailer.
The Robin and the 7 Hoods DVD doesn't compare with Ocean's 11 (perhaps because there's no remake for it to compete with), and neither does the movie itself, but it's a good disc nonetheless and a worthwhile viewing.
Robin and the 7 Hoods, from Warner Home Video
Starring Frank Sinatra, Dean Martin, Sammy Davis Jr., Bing Crosby, Peter Falk, Barbara Rush
Produced by Frank Sinatra,
Written by David R.Schwartz, Directed by Gordon Douglas