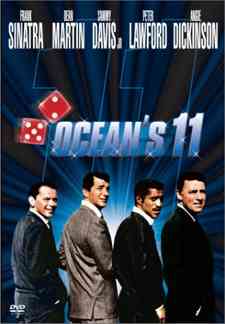 Ocean's 11 on DVD
Frankly, the Dean of Rat Pack Flicks
Warner Home Video's release of the original Ocean's 11 flick is a mostly excellent DVD. The fact that its release was timed to coincide with (dare we say "cash in") the theatrical release of the remake aside, this disc stands as a rollicking ride from a bygone day, featuring a likable cast and a grand scheme.
It's also a fascinating time capsule: the Las Vegas featured in this heist flick is dead and gone, as anyone who's been to Vegas in the past ten years will notice. Watching the Sin City of this 1960 release we see a much smaller town in every way, from the scale of the buildings to the size of the electric signs, to the overall grandeur of the place.
The movie is about a gang of old army Airborne buddies who reunite after fifteen years to pull off the ultimate heist of five Vegas casinos. Using the New Year's Eve festivities as a cover, they hit all five places simultaneously, spiriting the money out of town until they can divide it up and hide it more permanently.
They end up doing this, but not exactly in the way they had anticipated.
The cast is great. Frank Sinatra is Danny Ocean, and he's joined by Dean Martin, Sammy Davis Jr., Peter Lawford, Richard Conte, Joey Bishop, Henry Silva, Norman Fell, Angie Dickinson. Akim Tamiroff, Cesar Romero, Patrice Wymore and a few cameos. Most of these people were friends and the chemistry shows on screen. The gang obviously had a good time filming Ocean's 11, and the audience has just as good a time watching them.
The scale is as grand as the city was at the time (we haven't seen the remake, but can only imagine that its grandeur has increased as exponentially as has the city itself)
Warners has done a nice job on the DVD release. The anamorphic widescreen picture (16x9 TV compatible) is terrific; the colors, though obviously shot on 50's/60's film stock, are bright and crisp and the picture is sharp and well defined. If it weren't for the fact that most of the people involved are long dead - and to recreate a Vegas of days gone by would have to be done digitally - you could almost think the film was newly shot using an "old film stock" look.
The audio, which is Dolby Digital mono, is also very good. Naturally, it isn't up to the standards of today's digitally-recorded surround sound mixes, but considering the age and the technology it's very well preserved and presented.
Then there are the extras. The first is a running commentary with Frank Sinatra Jr. and Angie Dickinson and it's full of interesting observations and trivia about the film, its era, and the people in it. Then there's an interactive "Then and Now" feature involving the five casino hotels in the film. This basically consists of people who've lived through the then and now (whether showgirls, hoteliers or whatever) reminiscing about Vegas and pining for the days gone by - and if you watch one of them you've pretty well seen all five.
An interesting inclusion is a clip from the old Johnny Carson Tonight Show, where Ol' Blue Eyes himself is sitting in as the guest host, reminiscing with Angie Dickinson about shooting Ocean's 11. The video quality on this is awful (it appears to be a straight transfer from someone's VHS collection), but it's still interesting to watch.
Other extras include filmographies of some cast members and a couple of trailers.
Ocean's 11, from Warner Home Video
127 min. anamorphic widescreen (2.35:1), 16x9 TV compatible, Dolby Digital mono
Starring Frank Sinatra, Dean Martin, Sammy Davis Jr., Peter Lawford, Richard Conte, Joey Bishop, Henry Silva, Norman Fell, Angie Dickinson. Akim Tamiroff, Cesar Romero
Written by Harry Brown and Charles Lederer, Produced and directed by Lewis Milestone.