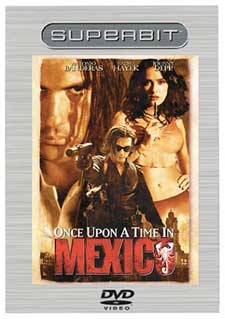 Once Upon a Time in Mexico - The Superbit Edition
After neither El Mariachi nor Desperado garnered any sort of box office success, it probably took (writer/director) Robert Rodriguez some time before he convinced the studio to let him make the third installment of the trilogy.
El Mariachi (Antonio Banderas) is forced back into action when a CIA agent (Johnny Depp) tells him that there are some really bad dudes after him. Remembering the death of his wife (Salma Hayek) and daughter at the hands of some other really bad dudes, El (as he's called these days) brings back his trusty guitar case (which, if you're familiar with the movies, you know does not contain a guitar). He teams up with some mariachi friends, and through a series of very well executed action sequences, kicks the asses of the bad guys.
But the CIA agent is more than a little crooked. He may be a good guy with a bad side, or he may just be a bad guy with a good badge. Who knows for sure? He definitely has another agenda, and finding out whose side he's on is part of the fun.
Once Upon a Time in Mexico is easily the best of the mariachi trilogy. The action scenes are really cool, particularly the one that finds El Mariachi and his wife climbing down the side of a building while chained together at the wrist and surrounded by gunfire. Rodriquez, whom we've always felt was in the "style over substance" category of filmmaking, has impressed us quite a bit with this latest effort. It's a very well made film with style and substance.
It never hurts to have Johnny Depp starring in a movie. He's easily the best actor of our generation, and probably one of the best actors Hollywood has ever seen (so it's nice to see the Academy finally recognize him with a Best Actor nomination for Pirates of the Caribbean). His CIA agent demands your respect and adds a touch of humor to every scene. It's a shame Mr. Depp doesn't have time to be in every movie Hollywood releases.
If you're already a fan of the El Mariachi series, Once Upon a Time in Mexico is definitely a pleaser. If you aren't a fan, you could easily become one from watching this superior third installment.
Once Upon a Time in Mexico is a movie that cries out for a Superbit release. One of the first movies to be shot digitally, the DVD preserves its original aspect ratio of 1.78:1, and it's spectacular. Everything about the transfer is stunning, from the lack of any sort of foreign artifacts, all the way down to the most intricate skin detail (which is all the better when the movie co-stars Salma Hayek). There's not much you can say about such a transfer, except that you can't ask for much better.
And like the original DVD, the only problem with the audio is that it gets overshadowed by the picture. However, both the Dolby Digital and dts audio tracks do an excellent job of bringing you into the action. During the scene in which El Mariachi and his wife are descending down the building, you can hear gunshots coming from every direction and whizzing past your head, and the explosions fill the room nicely. Dialogue is clear, sound effects are separated well, and the score stays effectively in the background without going unnoticed.
As good as this DVD is, the original was pretty darn good, too. If you don't already own a version, this should be the way to go. But it doesn't offer enough to warrant a double dip.
Once Upon a Time in Mexico, from Columbia Tristar Home Entertainment
102 minutes, anamorphic widescreen (1.78:1) 16x9 enhanced, Dolby Digital 5.1 & dts
Starring Antonio Banderas, Salma Hayek, Johnny Depp, Mickey Rourke, Eva Mendes, Danny Trejo, Enrique Iglesias, Cheech Marin with Ruben Blades and Willem Dafoe
Produced by Elizabeth Avellan, Carlos Gallardo, Robert Rodriguez, Written and directed by Robert Rodriguez