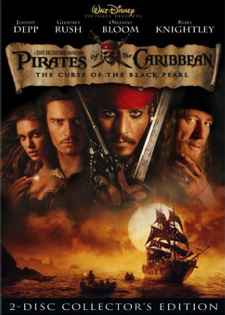 Pirates of the Caribbean - the Curse of the Black Pearl on DVD
Who'd have thunk that you could make a good movie out of a theme park ride?
But Disney did it. Pirates of the Caribbean: The Curse of the Black Pearl is an entertaining and ripping yarn that's suitable for all ages. And as usual, Disney has turned the movie into a very good DVD that not only sports great audio and video, but enough extras to choke the proverbial horse.
Johnny Depp gets top billing as Captain Jack Sparrow, pirate and rogue – but an all 'round nice guy compared with the crew who mutinied against him and left him to die on an isolated island.
But it's really Orlando Bloom who stars, with Keira Knightly. Bloom is Will Turner, a blacksmith with some special DNA even he doesn't realize he has, while Knightley is his love interest – the governor's daughter he's known since he was a nipper.
Depp gets the best lines and nearly steals the show, though his performance isn't quite as delicious as Geoffrey Rush's as Barbossa, the leader of the pirates who done Captain Jack wrong.
Anyway, in his quest for retribution, Captain Jack recruits Bloom and Knightley (well, perhaps recruit isn't the most accurate term) and they sally forth to recapture the infamous Black Pearl – Jack's former ship, now a ghost ship crewed by Barbossa and the rest of the mutineers.
And talk about a skeleton crew: the Black Pearl's men look normal, but are in fact cursed and are now in a state of eternal, undead damnation that reveals their true nature whenever moonlight strikes them. It's a neat concept, and very well executed: as the men are hit by moonlight they turn into skeletons – sometimes in the middle of a shot!
The performances are wonderful, the production values first rate, and the script is that of a terrific popcorn movie. The movie is a tad long, but there's certainly enough going on that you'll never get bored.
Walt Disney would undoubtedly smile upon this production based on one of his earliest Disneyland theme park rides.
The THX-Certified DVD is excellent, though we thought the picture quality was just a tad inferior to many of Disney's other spectacular DVD releases. Not that it's bad, by any means! The colors are deep and rich and the image is very sharp; but there's something missing, something we can't really put our finger on.
Fortunately, it won't spoil your enjoyment of the fun – and our quibble comes more from being spoiled by Disney's high standards with their DVD releases than from this disc actually being substandard.
The picture is presented in anamorphic widescreen, 16x9 TV compatible, which is the way it should be.
Audio is excellent. It's offered in your choice of Dolby Digital EX and dts ES surround and features wonderful use of all the channels, with good fidelity all around.
And as is so often the case with Disney DVD's, there's an abundance of extras, including an entire second disc.
First up is a trio of running commentaries, one by director Gore Verbinski and Star Johnny Depp, one by producer Jerry Bruckheimer and Stars Keira Knightley and Jack Davenport, and one by writers Stuart Beattie, Ted Elliot & Terry Rossio and Jay Wolpert.
You also get a pretty good "Making of" feature called "An Epic At Sea: The Making of "Pirates of the Caribbean: The Curse Of The Black Pearl" as well as 19 (count 'em!) deleted and alternate scenes.
And there's a scene progression of when the bad guys turn from human to skeleton which is kind of neat.
Also up are "Below Deck" - an Interactive History Of Pirates, "Fly on the Set" Featurette, "Diary of a Pirate" (a behind-the-scenes look featuring cast member Lee Arenberg) and a Video Journal "Diary of a Ship."
And of course that isn't all. You get an old TV episode from "Walt Disney's Wonderful World of Color," a "Producer's Diary" Featurette With Jerry Bruckheimer, a gallery of stills, a blooper reel and quite a bit of DVD ROM stuff, though you'll have to install software onto your hard drive.
Pirates of the Caribbean: Curse of the Black Pearl, from Walt Disney Home Entertainment
143 min. anamorphic widescreen (2.35:1, 16x9 TV compatible), Dolby Digital EX and dts ES surround
Starring Johnny Depp, Orlando Bloom, Geoffrey Rush, Keira Knightley
Produced by Jerry Bruckheimer
Written by Ted Elliott & Terry Rossio, directed by Gore Verbinski