Mafia, Slap Shot DVD's Bring Yuks, &"Yucchs?"
Comedy classics, not DVD classics
The gang behind "Airplane!" - or at least part of it - is back again with "Mafia" (or, Jane Austen's Mafia depending upon where you read the title), a send up of Mob movies that has most of the elements for which this type of flick has become famous. Director Jim Abrahams gives us puns, sight gags, bathroom jokes, and sexual innuendo galore in this tale of "disorganized crime" that tells of mob boss Don Vincenzo Cortino (the late Lloyd Bridges) and his"extended family."
Mafia traces Cortino's life back and forth through time, from his days as a young nipper in Sicily to his eventual death in the USA. This jumping around can make the film a tad hard to follow, but who ever said this type of movie is meant to make sense?
The cast also includes Jay Mohr in the starring "Michael Corleone" role as the war hero son who comes home and eventually takes over the family business. Christina Applegate plays his main squeeze, a peacenik who rises to high places before finding her true love. Also along for the ride are Olympia Dukakis and Billy Burke.
Some of the best gags involve Las Vegas gambling, whether it be the types of game people play, how the money comes into the casinos, or where it goes. Lest we spoil the movie for you, let us say that it's best to pay attention or you'll miss a lot of what's going on.
As a DVD, this Touchstone release is of fine quality. Picture and sound are first rate, but the liner notes are virtually nonexistent. You get the blurb on the back of the container, but there's really nothing other than a miniature "one sheet" (movie poster) and a chapter list inside. We've grown to expect more than this from DVD's.
On the upside,though it isn't much of an upside, there's a production featurette included. Unfortunately, the featurette's about the length of a movie trailer and doesn't show much that you wouldn't get in a trailer. There are short comments by a few cast members talking about how great the film is, but that's about it. It's a shame.
Speaking of trailers - there isn't one! The featurette and a couple of screens showing other Touchstone DVD's is all you get for extras (besides subtitle choices and chapter stops, of course).
The movie's also only in widescreen which, as we've said before, is our format of choice. However, as we've said before, there's no reason the pan-and-scan version couldn't have been included as well, like it is on so many other DVD releases.
Still, Mafia's an enjoyable hoot and worth the hour and a half spent. We'd like to encourage Touchstone to be less chintzy with its extras, which add a lot of extra value and enjoyment for DVD movie lovers.
Mafia! 87 minutes
Directed by Jim Abrahams
from Touchstone Home Video
with Dolby Digital Sound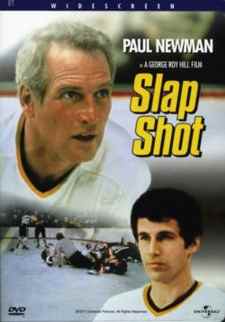 Slap Shot is on the surface a comedy about professional hockey - kind of like M*A*S*H* is about medicine. Below the surface, however, it's much more than that. It's a social commentary made and set in the late-mid 1970's that sets the stage for today's fascination with the Jerry Springer show and what now passes for TV professional wrestling.
Slap Shot stars Paul Newman, who gives his usual terrific performance, as the playing coach of the Charlestown Chiefs, a lousy pro team from an economically down mill town. When word's received that the mill's closing and therefore the team's folding, Newman concocts a scheme to raise awareness and interest in the team, and thereby make it more attractive for potential buyers. There are no potential buyers, of course, but you can't condemn a guy for trying to do his best for himself and his players.
Those players and their wives represent a cross section of this time period. There are the drinkers, the sex maniacs, the losers, the winners, the goons...
But it's the goons who bring Slap Shot - and the Chiefs - their notoriety. The team GM (Strother Martin) hires the Hanson Brothers, a trio of coke-bottle-spectacled goons whose idea of hockey combines the sportsmanship of all out thermonuclear war with the finesse of a dancing elephant. Suffice it to say the team starts winning through intimidation before everything falls apart.
Slap Shot once again teamed Newman with director George Roy Hill, who'd helmed "Butch Cassidy and the Sundance Kid" and "The Sting." It's a very different film, however; smaller, far more controversial (thanks to its extremely accurate depiction of how these people can cuss a blue streak; its hockey violence is more stylized and "Hollywood-ized" than in real life, but perhaps not too much so) and was a lot less successful at the box office in the long run. But one must applaud George Roy Hill, Paul Newman, writer Nancy Dowd, et al, for taking a chance.
Also in the cast are Michael Ontkean, Lindsay Crouse, Jennifer Warren, Jerry Houser, and Strother Martin. If you look closely, you'll also see veteran character actor M. Emmett Walsh and "Close Encounters of the Third Kind's" Melinda Dillon.
DVD transfer is good. The picture is sharp and colourful and the sound is okay for an older, monaural film. There was no attempt to re-mix the sound into something approaching Dolby Digital, and that's okay. As much as we like good surround, the Slap Shot DVD gives us the original movie and as such it works. We're not looking for a Dolby re-mix of Casablanca, either.
Packaging is nearly as sparse as Mafia! - though you get more extras on the disc itself; there's the trailer and some production notes, but the highlight is a quite extensive set of cast/crew bios and filmographies.
Slap Shot is presented only in 1.85:1 widescreen.
Slap Shot - 123 minutes
Directed by George Roy Hill
from Universal Home Video