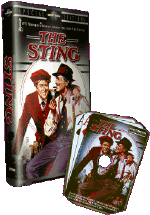 The Sting a DVD disappointment
Classic Film Deserves Classic Treatment
also..."First Blood"
John Carpenter's Village of the Damned
and Good Will Hunting
By Jim Bray
George Roy Hill's 1973 classic con deservedly won its "Best Picture" Oscar (and six more of the little statues, too!). The screenplay, by David S. Ward, is terrific, the reuniting of Paul Newman and Robert Redford was inspired, and the rest of the cast is top notch as well. The direction, the look, the feel of the film, and even the music contribute to a landmark film the type of which only come along occasionally.
Such a classic movie deserves classic treatment when being converted to the DVD format, and while this title indeed offers the usual bios and production notes, the movie itself hasn't been given the loving care it should have received.
Universal Pictures, which in my experience is doing a really good job of releasing its catalogue onto DVD (check out our other reviews!), has unfortunately dropped the ball here. While a visit to the Universal web site touts about how "The Sting" has been given the red carpet, our experience at TechnoFILE is somewhat different.
First, Universal has released "The Sting" in both widescreen and pan-and-scan versions - BUT NOT ON THE SAME DISC! Nope, the disc we received was pure pan-and-scan which, as an avowed video snob, really rubbed me the wrong way. Now, with a running time of 129 minutes, there's plenty of room to have both versions of this film on the same disc, but alas it was not to be.
Universal also claims the soundtrack is remastered in THX sound and, while there's nothing wrong with the movie's sound (after all, it was released in 1973, when most movies were mono anyway) there was a distinct lack of THX logos on the disc or the package - and it seems strange that Lucasfilm would let someone put out a THX movie without that noisy audio/video "mastered for optimal performance" logo at the beginning.
Universals also says the Pan-and-scan version includes extra musical tracks from the film, but if they're there I couldn't find them.
The film also displays the signs of having been mastered to video from an older print of the film. There are occasional pops and other dropouts associated with film flaws, and this made me pine for a digitally remastered version done from the original negatives, as is often done with video reissues. There may not have been a better source from which to master the film, however, so I'll give it the benefit of the doubt.
Also, to be fair, I reviewed the Canadian release and it was the US site of Universal that I checked out, so that could possibly account for the discrepancies between the hype and the reality. I doubt it, though, since Canuck discs are still generally imported from the States.
Despite all this whining, however, I have to say I really enjoyed revisiting Henry Gondorf, Johnny Hooker and the rest of the gang. "The Sting" is a terrific movie and even in this flawed DVD incarnation it's worth seeing - and a flawed DVD still beats the pants off of VHS!
THE STING, directed by George Roy Hill
from Universal Pictures. 129 minutes running time.

Much has been made of Sylvester Stallone's "Rambo" series - much money, much ado about violence, etc. etc. And I have to admit a prejudice going in: until I sat down to review the DVD release of "First Blood," the first in the series, I had carefully avoided all three of these movies. Why? Well, I guess I succumbed to the hype about it being empty-headed mayhem crafted only to appeal to the lowest common denominator - even though I'm about as lowest common denominator as they come.
But a job's a job, so I placed "First Blood" into my DVD player, sat back, and waited for my senses and my sensibilities to be assaulted.
And it didn't happen. Once again, the hype was wrong (perhaps it's closer to home with Rambos II and III, but I still haven't seen them), and First Blood turns out to be quite a good film, and Stallone is quite good as John Rambo, Vietnam war hero, Congressional Medal of Honor winner and all around killing machine, stumbling numbly through his life "back home," haunted by the ghosts of the horror through which he lived "over there."
The film, shot on location in and around beautiful Hope, British Columbia, opens with Rambo arriving at the home of a comrade in arms, only to find out that his buddy was dead - eaten away by cancer that apparently got its foothold in Vietnam. Despondent, Rambo wanders into the small town of Hope looking for a bite to eat, but is picked up - and picked upon - by the local Top Cop (Brian Dennehy), a wildly stereotypical redneck small town lawmaker who thinks he's a law unto himself.
Well, you can figure out the rest. Accused of vagrancy, Rambo's hauled off to jail, humiliated and roughed up, and finally (thanks partially to a well-timed flashback to 'Nam) loses it. He bashes his way out of the police station and hightails it for the abundant wilderness surrounding Hope.
To make a long (well, 96 minute) story short, what follows is a manhunt in which the Establishment tries to hunt down Rambo, only to find that they'd bitten off a lot more than they could chew. It finally takes Rambo's old C.O. Col. Trautman (Richard Crenna), to save the town from Rambo and, in a quite moving scene, Rambo breaks down into Crenna's arms and is finally led away to face his fate - and two sequels.
As a DVD release, First Blood is first rate. Artisan pictures has pulled out all the stops, offering this widescreen picture (only in widescreen, however) in Dolby surround, with a pile of extras, including cast/crew bios and filmographies, a running commentary by the novel's author, production notes, the trailer, a teaser, and even a trivia game. The jacket also boasts of "visually enhanced motion menus," which means there's an endlessly looped audio/video clip onscreen with the menu, and when you make a menu selection you get an animated transition complete with
"whooshing" audio enhancement. I could have done without the audio enhancements, which really get on your nerves if you let the menu remain on screen while you take a bathroom break (or whatever).
One arguably thoughtful feature is the audio on the production notes. Most DVD's I've seen will give you text screens outlining the genesis of the film, but this time a narrator reads the cards along with you. This may be good for the deaf, but I found it annoying - and I was usually finished reading quite a bit ahead of whoever they hired to do this particular voice-over.
But that's a pretty nitpicky point...
There's also a documentary featurette called "First Blood: a Look Back" that is basically a glorified trailer and pretty much a waste of time when compared with the features accompanying such DVD's as "American Graffiti." But the trivia game is humourous: wrong answers bring an "ahhhh!" and an arrow "thunk" while correct responses bring the joyful sound of applause.
Picture and sound quality are fine, the chapter stops are fairly logical, and as mentioned before, the British Columbia scenery looks beautiful and made me pine for the mountains.
In all, however, even with the tepid documentary and annoying audio extras, this is a good example of how to bring a movie to DVD.
First Blood = 96 minutes. From Artisan Entertainment
In his remake of the 1960-ish sci-fi/horror flick, "Village of the Damned," John Carpenter recaptures, for the most part, the mood of his 1982 classic "The Thing."
Based on the original Damned film, as well as John Wyndham's famous novel "The Midwich Cuckoos," "Village" tells a tale that would frighten parents anywhere. Set in the rural California village of idwich, the action begins with a strange, unexplained force descending on the place, knocking out everyone within a certain radius - yet not affecting anyone immediately outside.
What's worse, after the force leaves and everyone returns to normal, apparently, it's discovered that ten of the town's women are suddenly pregnant - some "impossibly so!" This understandably freaks out those involved and their "significant others," who wonder (with, it turns out, a lot of justification!) just what it is they have growing inside them.
Well, we never really find out the "why" of what they have inside them, but we sure as heck get a good look at the "what" and the havoc these "special needs" children cause.
Village of the Damned starts out strong and stays that way throughout most of the film, faltering only a bit towards the end when it seems to be taken over by explosions and violence - though to be fair I have no idea how Carpenter could have done it differently. Overall, however, it's a very satisfying and scary story that's a worthy entry into the John Carpenter filmography.
The casting is great for the most part, with Christopher Reeve turning in an excellent performance as Midwich's resident doctor caught up in the horror of the experience (especially since one of the kids is HIS!). The kids also turn in credible performances, as does Mark Hamill as a local preacher and the lovely Linda Kozlowski as one of the unhappy mothers.
Kirstie Alley seems miscast, however, and seems to be merely walking through this movie.
As often happens with Carpenter films, Carpenter himself was responsible for most of the music, this time in conjunction with ex-Kinks' guitarist Dave Davies. And the music, except unfortunately for some of Davies' solos (which are great, but seem out of place in this movie) builds the suspense and the action extremely well. A nice surround track positively curls the hair on the back of your head when it's used to enhance the antics of these poor, misunderstood kids.
As far as a DVD release goes, Village of the Damned is okay, but nothing spectacular. You get chapter stops, the theatrical trailer, cast/crew bios, production notes, and film highlights, but it's pretty sparse stuff. No running commentaries or interactive games here.
To be fair, I'm not a big fan of the interactive games anyway, so I don't mourn the exclusion of that.
So while this may not be the most spectacular use of DVD technology, it's certainly a worthwhile film for horror fans. John Carpenter has definitely done it again.
John Carpenter's Village of the Damned
99 minutes, From Universal Pictures
Starring Christopher Reeve, Kirstie Alley.
Much ballyhooed at Oscar time (nominated for nine awards), and winner of two statuettes, "Good Will Hunting" is the story of a mathematics genius with a lack of ambition and a lot of inner anger who's taken under the wing of an established math genius who wants to mould him in his image.
Starring Matt Damon and Robin Williams, and written by Damon and his bud Ben Affleck (who also appears as Damon's best friend), this is the sort of "important" movie the Hollywood establishment loves. Part coming of age film, part anti-establishment rant, and part "slice of life," the story revolves around Will Hunting who, despite his rap sheet and tendency to punch people out, really is a "good" boy (hence the title, I suppose). Williams, who won the Best Performance by an actor in a supporting role Oscar, plays a shrink who apparently happily marches to his own tune and is recruited by Will's would-be-mentor to help exorcise his demons and help keep him out of jail. Williams' subdued (for him!) performance is very good and perhaps he did deserve the award.
Along the way, both Damon and Williams come to term with their respective hangups, gain a healthy respect for each other, and by the time the films ends it appears as if everyone is going to live happily ever after, with the possible exception of Will's Mentor (who discovers that despite Damon's genius he doesn't care to spend his life as a human number cruncher). In the end, Will Hunting does what he wants, not what the establishment expects of him, and sallies forth after his true love (Minnie Driver, who is excellent in this role).
The film's other Oscar went to the Best Original Screenplay, and while it has its moments, I thought it paled next to a that of a film like Bob Zemeckis' "Contact," which came out the same year but which seems to have been lost in the Hollywood shuffle. I revisited that film a couple of days before watching "GWH" and enjoyed it far more. Contact was a "big" movie, asking the biggest questions imaginable, while "Hunting" is a "small" movie, asking more personal and internal questions. As such, Hunting is probably a more accurate representation of today's self indulgent generations than is Contact, but I think Contact is a far more important movie because it has the potential to expand ones horizons while Hunting has the potential to make one even more spoiled and inward-looking.
Still, the Hollywood establishment loved it, so it must be good, right? I dunno. The powers that be loved "The English Patient," too, and I found it highly overrated. So either I'm wrong, or out of touch with mainstream Hollywood. Then again, maybe I'm one of the few reviewers capable of independent thought. You'll have to make up your own minds about that...
Good Will Hunting is heavy on cussin' and sexual/bathroom humour (but quite realistic, as the dialogue reflects how many people talk), so if you find such things offensive you may want to give this disc a pass. Characterizations and performances are good and Danny Elfman's score is nice, too, though I wouldn't have recognized it as his work if I hadn't read it in the credits.
As a DVD, Good Will Hunting is a fine example, except that you're only offered the Widescreen version and therefore one whole side of the disc is wasted. Still, at least you're getting the better of the two versions (I hate "pan and scan," but would never deny another the privilege of losing the edges of their picture) and it's easy to find which side of the disc to leave facing up. Picture and sound quality are up to the format's high standards, and there are plenty of extras to keep fans of the movie happy.
Extras include the usual trailer (in English and French), TV commercials, the montage used on Oscar night to present the film, behind the scenes footage, a production "featurette" and audio commentaries by director Gus van Sant and Damon/Affleck. There are also twelve scenes cut from the movie (with accompanying audio commentary), filmography/bios of cast and crew, and the "Miss Misery" Music video from the film's soundtrack.
This Canadian release also comes with a French Dolby Digital 5.1 soundtrack,which is something you don't see every day, as well as French closed captioning.
So while I didn't particularly care for this film, I'm obviously in a minority among the pundits. Regardless of my opinion, however, it's a good example of the DVD's potential and those who like "Good Will Hunting" will find lots to like about the disc release.
Good Will Hunting
126 minutes, 1.85:1 aspect ratio
Directed by Gus van Sant
from Miramax Films