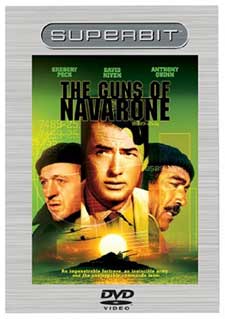 "The Guns of Navarone - The Superbit Edition" on DVD
One of the classic war adventure movies has received a loving transfer onto Columbia Tristar's wonderful Superbit collection of DVD's.
It's better than the special edtion disc released a couple of years ago, but the film's age still manages to show through and that works against the superb quality we're used to seeing from Superbit titles.
Ah, but it's still a terrific flick and now it probably looks and sounds as good as it could without a total restoration similar to what they did with such flicks as the 2004 release of Gone With the Wind.
The Guns of Navarone, based on the novel by Alistair Maclean, is a big budget, all-star tale in the grand Hollywood tradition. It stars Gregory Peck, David Niven, and Anthony Quinn as the central figures in a small group of commandos sent to infiltrate a Nazi fortress on an occupied Greek Island. Their mission is to destroy a pair of huge guns that are wreaking havoc on shipping and keeping His Majesty's navy from rescuing a couple of thousand soldiers hunkered down on a nearby island.
Quayle is the group's leader, but on their initial assault of the island, a harrowing climb up a tall and steep cliff, he's badly injured and spends the rest of the movie being dragged around on a stretcher, putting the rest of his colleagues into constant danger. Talk about your movie role being a drag! Forced to take command, Peck does his best, though it never seems enough - especially when it becomes obvious that someone close to them has been feeding the Nazi troops information about them.
The cast is terrific. Peck is appropriately stoic and paternal as the reluctant leader. David Niven, as an explosive expert who marches to his own drum, and Anthony Quinn as the hot blooded Greek who's death on two legs, are equal to their tasks. The supporting cast, including Quayle, James Darren, Stanley Baker, Irene Papas, and Gia Scala, also turn in believable performances.
Guns of Navarone won an Oscar for its special effects, and the climactic scene of the guns' destruction is indeed "effective." This scene received most of the effects publicity, but the film's full of scenes that require various types of effects - from the climb up the cliff to other scenes best left undescribed lest they spoil your enjoyment.
The Superbit treatment ups the picture ante from the original, restored DVD, and the remixed stereo audio (into Dolby Digital 5.1 and dts) is also very good. There isn't a lot of surround , but what's there is effective, especially during the airplane attack.
The digitally mastered widescreen picture looks great. If the actors weren't all so much older now - or dead - you'd think Guns of Navarone was much newer than it 1961 origin. Well, one way you can tell its vintage is by the fact that the violence is more implied than graphic, and that when there was an opportunity to have a woman strip to the waist they chose only to reveal her back. The film also has that old fashioned color look - but that's not a bad thing.
Ah, the good old days!
The digitally remastered audio, considering the film's age, is very good, and if you're watching the "5.1 channel" versions, you'll be happy to have a subwoofer.
As with most Superbit titles, they eschew extras in favor of the upped audio and video ante.
The Guns of Navarone, Superbit Edition, from Columbia Tristar Home Video
157 minutes, Widescreen (2.35:1), Dolby Digital
Starring Gregory Peck, David Niven, Anthony Quinn, Anthony Quayle, James Darren, Stanley Baker, Irene Papas, Gia Scala.
Written and Produced by Carl Foreman, Directed by J. Lee Thompson