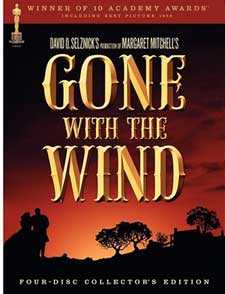 Gone with the Wind on DVD
A gorgeously overblown soap opera, Gone With the Wind isn't nearly as good a movie as history has judged it. But despite that, it's a glorious spectacle that really does belong in every movie collector's library.
Especially this new, four disc DVD that features a beautifully restored version of the movie that looks so good it almost seems as if it were shot yesterday – except that most of the cast members have been dead for years!
GWTW follows spoiled rich girl Scarlett O'Hara, a woman not averse to lying and cheating and manipulating people to get by. She's a rotten, terrible person, who should never be looked upon as a role model, unless you're looking to point out a horrible example of a human being. Everything is all about her – you'd think she was Bill Clinton's inspiration!
Scarlett (Vivien Leigh) is a guy magnet who has to beat the fellahs off with a stick. Despite that, she has her sights and her ego set on a more unattainable target, Ashley Wilkes (Leslie Howard), a neighbor who at the film's opening is about to marry Melanie Hamilton Olivia DeHavilland), a woman who's so nice you sometimes want to slap some sense into her.
But then along comes the US Civil War and the end of the Civilization of the South, which is suddenly gone with the wind (hey, what a great idea for a title!).
We undoubtedly need not dwell on the plot, since by now it is so well known that it barely needs an introduction. Suffice it to say that Gone With the Wind is everything an epic should be, other than widescreen, with production values and performances second to none. The cast is outstanding, the film looks like a million dollars, and who can argue about Max Steiner's score?
What's important is this new DVD release of this classic. And it's a doozie!
The boxed set contains four discs, two of which contain the sprawling movie itself, with some extras, and two of which are full of bonus material. It's one heck of a set.
The restoration of the movie is spectacular, featuring a gorgeous image and better audio quality than we'd expect from a 1939-vintage movie. It's extremely well done.
The movie also has a running commentary by film historian Rudy Behlmer.
Here's what else is on tap in this marvelous set:
Disc 3
* The Making of a Legend: Gone With The Wind - a full length 1989 documentary made by Selznick's sons and narrated by Christopher Plummer
* Restoring a Legend- An in-depth look at the restoration process Warner Bros. used
* Footage from the film's 1939 Atlanta and 1961 Civil War Centennial Atlanta premieres
* The Old South - a Fred Zinnerman-directed 1940 theatrical short shown in theatres prior to the release of Gone With The Wind
Disc 4
* Melanie Remembers: Olivia de Havilland Recalls Gone With The Wind - a new documentary produced especially for this new DVD set, features "Melanie's" personal recollections of the film
* Clark Gable: A King Remembered - A Portrait of the legend's distinguished career as one of Hollywood's most famous stars
* Vivien Leigh: Scarlett and Beyond - hosted by whacko lefty Jessica Lange, this manages to be an insightful look at the star's life
* Mini documentaries covering lives and careers of the most prominent cast members
Gone With the Wind, from Warner Home Entertainment
238 min. Full Frame (not 16x9 TV compatible), Dolby Digital 5.1 surround
Starring Clark Gable, Vivien Leigh, Leslie Howard, Olivia de Havilland
Produced by David O. Selznick
Written by Sidney Howard, Directed by Victor Fleming