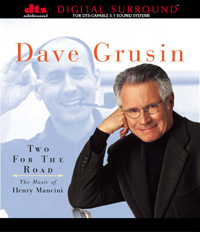 Dave Grusin
Two for the Road, and
West Side Story
Dave Grusin has been around for a while, through his jazz recordings and movie scores (to name just a couple of his talents), and also in the world of "high end" audio, where his selections have regularly appeared as "demo recording material."
dts Entertainment has done their digital magic to a pair of Grusin's titles, "Grusin-ized versions" of the music of Henry Mancini on one hand, and Bernstein/Sondheim's West Side Story. They're both good examples of Grusin, and jazz, though we thought "Two For the Road" worked better than the "West Side Story" disc if only because we liked its mix better than the one give to "Story".
Mancini's music is the stuff that practically defined the 1950's and 60's, so far as orchestral and movie music is concerned, and featured catchy melodies lushly produced. Grusin has shrunk the size of the band, but in the process has upped the heat ante - so where Mancini always sounded kind of laid back, here you get "laid back, with attitude."
The arrangements are great and, as with other jazz titles give the 5.1 surround treatment by dts, they don't usually beat you over the head with instruments whizzing around the room. Rather, for the most part, you get the band across the front of the room with subtle surround that mostly adds a live feel through the use of ambient atmosphere.
What you get, then, is a live feeling, a jazz band putting out the heat, with you front row center.
And how can you argue with that? And we were pleased to hear Diana Krall's smooth voice showing up on a couple of tracks: Dreamsville and Soldier in the Rain.
The audio quality is excellent for the most part, though we found it to be a tad bass heavy. Not as bad as on Diana Krall's "Love Scenes," however. The instruments are beautifully recorded and placed in front of you as if in concert. Nothing really overpowers too much and, unlike at least one other dts disc we reviewed, nothing's deficient, either. In short, a nice mix, nicely presented in the high resolution audio format that's almost always a treat to our ears.
As with most dts-only discs we've seen, there are no extras, though there's a decent liner booklet. And if you aren't using a digital output from your player all you'll get is noise, but as noted in other reviews this will probably only bother people trying to listen on their PC's; we think most people who embrace discs such as these will have the proper hardware configuration, however.

1. Peter Gunn
2. Dreamsville
3. Mr. Lucky
4. Moment To Moment
5. Baby Elephant Walk
6. Two For The Road
7. Days Of Wine And Roses
8. Hatari
9. Whistling Away The Dark
10. Soldier In The Rain
Genre: Jazz Label: DTS Entertainment 5.1 Producer: Tommy LiPuma 5.1 Mixed by: Al Schmitt UPC: 710215104522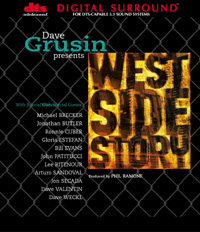 Okay, maybe we got off on the wrong foot with this one because we're big fans of West Side Story, especially the Robert Wise/Jerome Robbins movie version that has been given a terrific DVD treatment. Those arrangements, to us, are the definitive ones, so any messing around with that is, well if not quite sacrilege then something approaching that.
Then again, West Side Story has been adapted a zillion times, so it isn't as if there's something unusual going on here. After all, the tunes have become standards, and deservedly so - so what's wrong with taking them and trying to make them your own?
Which is what Grusin has done here - and over all he's done a fine job, using a pretty substantial band and good arrangements to make this a nice tribute from an obvious fan.
The arrangements are tasteful for the most part, and well balanced, and the performances are all first rate. Guest vocalists Gloria Estefan, Jonathan Butler and Jon Secada are all nicely "cast" for their songs, and we really liked the terrific sax solos spread across the album. There's also some nifty flute work that sounds outstanding.
We were also pleased to see such "less often heard" tunes as "One Hand, One Heart" included.
The sound quality is superb; beautifully recorded and marvelously played back in the dts system. And unlike other jazz discs, dts has mixed this one so that instruments are spread all around the room.
We're torn over this technique, however; it works, it sounds great, and it makes you feel almost as if you're sitting in the middle of the orchestra, but at the expense of feeling as if you're sitting in the audience of a live performance as happens with other discs that keep the instruments up front and surround you with "ambience" - including "Two for the Road." At least they don't whiz instruments around you.
One can argue that either way of mixing is better and we suppose it depends what you like. What isn't really arguable is that in mixes such as this one it really pays to have rear speakers that are up to the task, that are equal to the quality of your front ones; otherwise the instruments that emanate from the surrounds won't sound the same as the ones up front.
dts mentions this on its packaging, too, which gives consumers a good head's up.
And remember, if you don't have a digital output you'll only get noise, so make sure your system is hooked up properly!
Anyway, the bottom line here is that Grusin's West Side Story is a wonderful audio experience featuring terrific musical performances beautifully recorded and presented.
1. Prologue
2. Something's Coming
3. The Jet Song
4. Maria5. Cool
6. Tonight
7. I Feel Pretty
8. One Hand, One Heart
9. Somewhere
10. America
Genre: Jazz Label: DTS Entertainment 5.1 Producer: Phil Ramone 5.1 Mixed by: Frank Fillipetti UPC: 710215101323