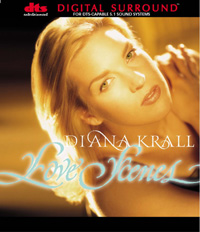 Diana Krall - Love Scenes
dts Entertainment's 5.1 mix of this Canadian crooner's album features a dozen standards delivered in Krall's distinctive style, reproduced 5.1 surround sound.
It's a 20 bit digital transfer, and over all the sound quality is very good. Okay, there isn't a lot of surround, but that isn't necessarily a bad thing. In fact, you do get quite a bit of ambience throughout the room, almost as if you're there in the studio (or, more accurately, a small jazz club) with Diana and her musicians - and that's never a bad thing.
Krall's silky smooth voice likewise leaps into the room, wriggling into your consciousness in a most intimate manner. We did find the sound a tad bassy, which was a bit disconcerting, and though our experience with 5.1 music mixes is understandably limited to date (after all, the new music formats are new and title selection is still quite limited), we've noticed this on a couple of discs from dts. Maybe it's our setup (though we doubt it); guess it's time to do another tweak just to see…
That said, the bass isn't really overpowering, just more up front and louder than we expected, especially from an acoustic bass.
The musical arrangements are pretty straightforward. Krall sings, of course, and tickles the ivories as well. She's joined by Russell Malone on guitar and Christian McBride on bass. The arrangements are tasteful, the overall experience is very pleasant.
Krall's voice is spread across the front three speakers, really dominating the soundstage at the front of the listening room. The guitar and bass also hang out in this general area, making it sound almost as if they're performing for you on a small club's stage, minus the tinkling of glasses and haze of smoke (though Krall's voice has a bit of "smokiness" to it, nicely blended with the silk). As mentioned, most of what comes from the surrounds is reverb, an ambience effect that really opens up the listening room.
Overall sound quality is excellent. Vocals are clean, full, and warm, the piano sounds crisp. It isn't a particularly powerful presentation, but that wouldn't be appropriate for this collection of relatively quiet love songs anyway. Rather, we get an intimate concert-quality performance reproduced to sound like an intimate concert performance.
One thing we appreciated was that there's little "surround for the sake of surround" here. While we're suckers for a good "quadraphonic" mix (read our review of Brain Salad Surgery, for example), we're wary of gimmicks. Fortunately, the re-mix producers have resisted the temptation for the most part.
So if you're looking for a whiz bang surround sound fest, you'd be best served looking elsewhere, but if you're a Krall fan, or just want to experience a beautifully recorded and intimate musical visit to your home theater, you might find this album enjoyable.
As with most "straight dts" discs, there are no extras, which isn't necessarily a bad thing. You do get a pretty substantial liner booklet, however, and it's pretty good.
Alas, as with other "straight dts" discs, if you use the analog outputs of your player (or don't have a digital output from your DVD-ROM drive), you'll just get a whopping big dose of noise rather than the lovely music. This is a drawback to dts discs, though we daresay that most people who'd buy them probably have the proper hardware setup.
1. All Or Nothing At All
2. Peel Me A Grape
3. I Don't Know Enough About You
4. I Miss You So
5. They Can't Take That Away From Me
6. Lost Mind
7. I Don't Stand A Ghost Of A Chance With You
8. You're Getting To Be A Habit With Me
9. Gentle Rain
10. How Deep Is The Ocean (How High Is The Sky)
11. My Love Is
12. Garden In The Rain
Genre: Jazz Label: DTS Entertainment 5.1 Producer: Tommy LiPuma 5.1 Mixed by: Al Schmitt UPC: 710215104423