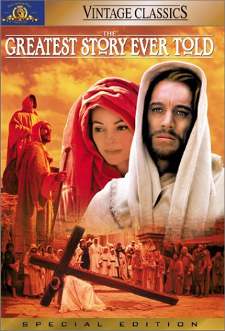 "The Greatest Story Ever Told" on DVD
Well Maybe Not the Greatest...
We're tempted to paraphrase Lionel Hutz from "The Simpsons" (though he was referring to something else) and say that this movie is the greatest case of false advertising since "The Neverending Story."
MGM's Special Edition disc of George Stevens' reverential biography of the life of Jesus Christ really tries its best to be one of the great Biblical epics. It has all the ingredients, too: an all-star cast with plenty of extras, an ultra-widescreen picture and great production values, a timeless story, and an honored producer/director.
The subject matter may, indeed, be "the greatest story ever told," but the movie certainly isn't. It's a well-meaning but ultimately ponderous and lifeless three hours and nineteen minutes that wastes a lot of the great talent that showed up for it.
Filmed in various US locations (which made us feel it should have been shot somewhere more South where the sunlight would come from more overhead), and at a cost of 20 million 1960's dollars, the story follows Jesus from his birth to his ultimate resurrection.
Max von Sydow plays Jesus. He's a great actor, but his Jesus is too intense and needed to have more compassion and love written on his face. His Swedish accent doesn't help, either, in a film populated by Americans and Brits.
The largest supporting roles are John the Baptist (Charlton Heston), Judas Iscariot (David McCallum), Pontius Pilate (Telly Savalas), Caiaphas (Martin Landau), and Herod (Jose Ferrer). Savalas is terrible as the Roman governor, though the rest of them turn in good performances. Also along for the ride, for at least one shot, are John Wayne, Pat Boone, Victor Buono, Michael Anderson, Jr., Carroll Baker, Ina Balin, Richard Conte, Joanna Dunham, Van Heflin, Angela Lansbury, Janet Margolin, Roddy McDowall, Dorothy McGuire, Sal Mineo, Nehemiah Persoff, Donald Pleasence, Sidney Poitier, Claude Rains, Shelley Winters, and Ed Wynn. Many of these stars are wasted in roles that are little more than special business extras.
"Greatest" tries too hard to be an epic, and that's too bad. When watched too soon after William Wyler's "Ben-Hur," George Stevens' film is ultra-pale in comparison. MGM has done a nice job on the DVD, which restores the film to its original "road show" Cinerama release. The widescreen film, like "Ben-Hur," is REALLY widescreen, so you'll want to watch it on the biggest screen possible. Picture quality (which is 16x9 compatible) is excellent, as is the Dolby Digital 5.1 audio.
MGM has also included a second disc of extras, including a couple of reasonably full length documentaries on the making of the film, one of which is brand new. There's also a deleted scene, portions of Handel's Messiah that were cut from the final release, a photo gallery, a "collectible booklet" (which looks suspiciously like a typical liner blurb), and the theatrical trailer.
The Greatest Story Ever Told, from MGM Home Video
199 min, widescreen (2.76:1), 16x9 compatible, Dolby Digital 5.1
Starring Max von Sydow, Telly Savalas, Charlton Heston, and just about everyone else
Written by James Lee Barrett and George Stevens
Produced and Directed by George Stevens