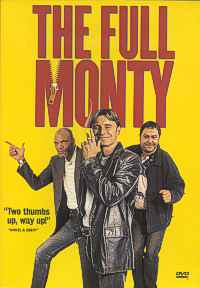 "The Full Monty" on DVD
The Naked Truth
One of the big surprise hits of 1999, 'The Full Monty" is another British comedy that relies on intelligent writing, direction, and performances rather than big name stars and gross-out jokes.
Set in the steeltown of Sheffield, England, the story follows a group of down and out men put "on the dole" when their plant closed down. They're depressed and they're broke - and they all have varying responsibilities and are in danger of losing everything important to them.
What to do? They're trying to find jobs, but there are few jobs to be had, which makes it a buyer's market for the employer.
Desperate, and inspired by the financial success a touring troupe of male strippers, they decide to mount their own strip show - except that being locals and amateurs, they have to offer something extra to compete with the professional peelers. This extra, they decide will be total nudity - "The Full Monty."
The situations in "The Full Monty" are full of laughs and there's very little bathroom humor for bathroom humor's sake - though there's certainly enough bathroom humor. But the film is more than laughs; it's also a study of a dying town and its people and the lengths to which the people will go to protect their way of life and those they love.
Far from being a bunch of caricatures going through zany slapstick antics, the characters in "the Full Monty" are well developed, realistic people about whom you can really care. They're decent folk in a difficult situation and no matter how dire things get they manage to get through it all with humor and a stiff upper lip (among other things).
"The Full Monty" brings to mind "Waking Ned Devine" in its gentle humor and warm characters. In a world dominated by the likes of Adam Sandler (not that there's anything wrong with that) and teen comedies, films like "The Full Monty" are a wonderful breath of fresh air.
The DVD is in widescreen, Dolby Surround (two Dolby Surround versions are offered), and audio/video quality are very good. Extras are limited to the trailer, chapter stops, and a set of cast/crew bios in the liner notes.
The Full Monty, from 20th Century Fox Home Video
approx 95 minutes, Widescreen (1.85:1), Dolby Surround
Starring Robert Carlyle, Tom Wilkinson, Mark Addy
Produced by Uberto Pasolini, Written by Simon Beaufoy
Directed by Peter Cattaneo