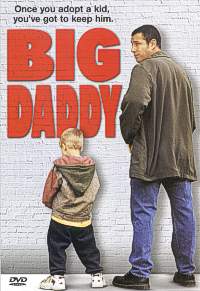 by Jim Bray
Adam Sandler seems to have found his formula - and it works.
The formula has Sandler cast as a social misfit who spends his life at play rather than making anything of his obvious potential. Then, out of left field, comes a "Big Challenge" that causes him to, however reluctantly, examine his life and take steps to change it so as to meet the challenge. As shown in movies like "Happy Gilmore," "Billy Madison," and "The Waterboy," his missteps along the way provide the comedy.
Big Daddy follows this formula, with Sandler playing Sonny Koufax, a lawyer who prefers to work one day a week as a turnpike toll collector. When is girlfriend dumps him for a more "responsible" and older man, he needs to prove his manhood by making a Big Change in his life.
Enter five year old Julian, who he adopts almost by osmosis as a way to impress the girl. It doesn't work, however, and Sonny's stuck with the kid until Social Services can find another home for him.
What follows are the usual Sandler "fish out of water" antics, and they're quite a hoot. Along the way, Sonny realizes he really loves the little bugger and decides to grow up so he can keep him. Then reality hits with an ugly thud and he's forced to fight for what he now believes against apparently insurmountable odds.
The ending isn't quite what you expect, but it's still very satisfying for everyone involved, including the viewer.
The casting is inspired, including the twins who play Julian, and Sandler staple Rob Schneider as Sandler's friend.
I didn't expect much when I saw my first Adam Sandler movie (The Waterboy), but with every subsequent Sandler film I've seen - with the huge exception of "Bulletproof" (see below) - I've been pleasantly surprised. Sure, they have their infantile moments (some of which turn out to be very funny) but they're actually lighthearted "coming of age movies" wherein the lead character displays a lot of personal growth - though never at the expense of the fun. For every cheap laugh, there's a poignant moment, and the movies turn out to be more than merely skin deep.
There's lots to recommend "Big Daddy" as a DVD, too. Audio and video quality are what we've come to love about the DVD format, the disc offers both widescreen and pan and scan versions on opposite sides, and there's a decent selection of supplemental material as well. There are real, albeit short, liner notes, an entertaining "first look" HBO promotional feature on the making of the film, a couple of music videos (from Sheryl Crow and Garbage), trailers (including some for other films), talent files, chapter stops, etc. etc.
Big Daddy, from Columbia Tristar Home Video
approx. 93 min. Widescreen/pan and scan, Dolby Digital
Starring Adam Sandler, Cole Sprouse, Dylan Sprouse, Joey Lauren Adams, Jon Stewart, Rob Schneider and Leslie Mann
Story by Steve Franks, Screenplay by Steve Franks and Tim Herlihy & Adam Sandler, Produced by Sid Ganis, Jack Giarraputo, Directed by Dennis Dugan.

Two out of Three Ain't bad
Universal home video's DVD repackaging of three Adam Sandler titles includes a pair of comedies ("Billy Madison" and "Happy Gilmore") and a buddy movie ("Bulletproof") whose greatest asset is that it's the shortest film of the three.
In "Billy Madison," the ex-Saturday Night Live dude is a rich kid who has problems getting motivated. He has been pampered and never had to face a challenge in his life - until his hotel tycoon father's (Darren McGavin) unscrupulous second-in-command pushes him out of the "line of corporate succession" so that he, instead of Sandler, can take over the family business.
Billy's challenge is to grow up really quickly and seize the opportunity of his lifetime. To do this, he has to go back to school and earn his way through elementary and high school - instead of having his grades purchased for him as happened the first time around.
A surprisingly satisfying move (at least to a reviewer who went into it with very low expectations), Billy Madison is a hopeful tale of the benefits of reaching for the brass ring.
Sandler is likable enough, and he has a good supporting cast around him. McGavin is crusty, but loves his son enough to give him the benefit of the doubt - usually. The charming Bridgette Wilson is a school teacher who initially reads Billy as no more than a spoiled rich kid indulging himself, but who later learns to see beyond that to the real person inside. And Bradley Whitford makes you hate his guts in his role as Billy's unscrupulous nemesis.
The film is widescreen (1.85:1), Dolby Digital, with production notes, cast/filmmakers bios and the trailer.
In all, a lightweight but enjoyable flick.
Written by Tim Herlihy and Adam Sandler, Directed by Tamra Davis
"Happy Gilmore" doesn't chart a lot of new territory, but is an enjoyable 92 minutes nonetheless.
This time around, Sandler is a wannabe hockey player who may have the slapshot, but doesn't have anything else that's required for the job. His challenge comes from the IRS, which seizes his grandmother's house in lieu of back taxes: if Sandler can make enough money quickly, he can save her home and all will be well again.
His slap shot, it turns out, makes him perfect (in skill, if not in attitude) for the long drives of professional golf - and he lucks his way into the pro circuit just in time to become an unconventional "boy wonder/media darling" who also just happens to be the nemesis of "Shooter McGavin" (Christopher McDonald) - an arrogant SOB whose year it is to shine on the pro circuit and who finds Gilmore getting in the way of his moments in the spotlight.
There are some good laughs in this flick - including an unexpected appearance by game show host Bob Barker as Gilmore's partner in a pro-am tournament. Carl Weathers also turns in a good performance as Happy's golf mentor - a role very different from what one expects of Weathers.
One big downside to 'Happy Gilmore" for videophiles is that this DVD release is in - gasp! - PAN and SCAN only! Probably a straight transfer from the videocassette master. Extras include cast/crew BIOS, chapter stops, and the trailer.
Like "The Waterboy," "Billy Madison" and "Happy Gilmore" are formulaic Adam Sandler movies - but the formula works and all three of these films are enjoyable in an "empty-headed but well meaning" way.
Written by Tim Herlihy and Adam Sandler, Directed by Dennis Dugan.
Which leaves "Bulletproof," a simply awful movie that can never decide if it wants to be a buddy movie, action flick, comedy, or blood-and-cussfest.
"Bulletproof" teams Sandler with Damon Wayans, a film comedy star in his own right. But it's as bad a vehicle for Wayans as it is for Sandler - and this boxed set would be a lot better if it merely had the other two discs in it - or replaced "Bulletproof" with "The Waterboy.".
Sandler and Wayans are buddies working the wrong side of the law - until it turns out that Wayans is actually on the right side of the law and is in the process of busting the organization for which Sandler works and which Wayans has infiltrated as a mole.
This, not surprisingly, has a detrimental effect on their friendship.
The two become paired again when Wayans - openly a cop again - is tagged to bring Sandler in before his former boss, drug kingpin James Caan, can put him on ice permanently.
What follows is a series of episodes in which Sandler and Wayans espouse their hate for each other, dodge bullets and other assorted mayhem, and eventually re-bond as friends as they save each others' lives.
Unfortunately, while the formula has been used many, many, many times before, the big problem with "Bulletproof" is in its focus. As mentioned, it can't decide what type of movie it wants to be - and therefore it fails in all of them.
In the end, it's a violent, mean, flick with lots of blood and bullets, plenty of one liners that don't make you laugh, and lead characters you never really get to like.
This movie is mercifully short (85 minutes), but in the end it's still too long. It makes one wonder, however: if all the best footage only makes up 85 minutes, how much even more awful stuff was (wisely, we're sure) left on the cutting room floor.
So while "Bulletproof" won't kill your whole evening - it may put you off movies for a while.
The film is in 2.35:1 widescreen with Dolby Digital audio. Extras include production notes, cast/crew information, and the trailer, which includes all the movie's best lines and shots.
"Bulletproof" is definitely not high caliber entertainment...
Written by Joe Gayton and Lewis Colick, Directed by Robert Simonds