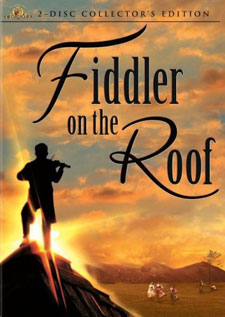 Fiddler on the Roof on DVD
Norman Jewison's production of Fiddler on the Roof received plenty of honors upon its release, and since then has become a legitimate classic. It has plenty to recommend it, though we're not sure it's quite as classic as it's made out to be.
Don't get us wrong; we love this movie and we love the musical play on which it's based. We just have some quibbles with Jewison's interpretation, based on having seen the stage production several times. But they're just that: quibbles.
For example, we wonder about the casting of Topol as Tevye. Topol is a fine actor, and we've enjoyed him in other films, but here he seems to be the only Jewish-sounding character in an American-sounding family (ditto for most of the cast). And we think his portrayal is a little tired. Now, we can understand why Tevye would be a tad world-weary, especially at the end of the movie -- but he's a man who goes through life with good humor; wouldn't that tend to make him a little lighter?
That said, this is a sumptuous production with a wonderful story, fabulous songs, and despite our angst about it, it's a timeless movie.
The story is really about changing traditions and standards, coping with pressures from the outside world, and one man and his family's attempts to keep their heads – and their hearts – during a period of extreme turmoil.
Tevye is a dairyman in a small village in pre-revolutionary Russia. The family patriarch, he tries to maintain order through traditional values. But one by one the first three of his five daughters start bending, then breaking, these traditions. In the end, what with all of this twisting of everything he knows and loves and the loss of two of his beloved daughters, let alone be turfing of his family and their entire Jewish community from their homes, Tevye is left a confused and worn man – though he never loses his sense of humor, or his ability to reason things out through one-sided conversations with God.
Then there are the songs! From the scene setting Tradition to the wistful If I were a Rich Man, and through other great numbers such as Matchmaker, Matchmaker, To Life, Tevye's Dream and others, this tuneful epic is in the grand tradition of great Broadway musicals.
This new two disc collector's edition features anamorphic widescreen video with an aspect ratio of 2.35:1. The picture on the first disc is really good: it's bright and sharp and colorful and looks great. On the second disc, it's almost like they forgot to remaster it, because the picture isn't nearly as good.
Ditto for the audio quality. On disc one, the remixed 5.1 Dolby Digital surround sound is probably as good as you can expect from feature of this age. But on disc two again it seems as if they forgot to pay attention. It isn't unwatchable or unlistenable, but with disc one being so good, it really made us wonder.
Since this is a two disc collector's edition, you can also expect a pile of extras, and there's a lot of good stuff here. Here's a list of what you can expect:
Feature commentary by Director/Producer Norman Jewison and Actor Topol
Deleted Scenes: Deleted Song - "Any Day Now"
Documentary - Norman Jewison, Filmmaker
Interview with John Williams: Creating a Musical Tradition
Interview with Tevye's Daughters actresses
Photo Galleries
Trailer
Featurettes:
Historical Background with Photographs
Norman Jewison Looks Back
Set In Reality
Tevye's Dream in Full Color
The Songs of Fiddler on the Roof
The Songs of Sholam Aleichem
Fiddler on the Roof may not have been his groundbreaking a musical as was Oklahoma!, but it definitely belongs up there in the list of Broadway's great musicals along with such shows as South Pacific, Oliver!, The Music Man, My fair Lady, et al. Jewison's movie version does the Broadway musical justice.
And if you ever wonder why the Jewish people claim to need the State of Israel, this movie may help to explain it.
Fiddler on the Roof, from MGM home entertainment.
181 minutes, anamorphic widescreen (2.35:1), Dolby Digital 5.1 surround.
Starring Paul, Norma Crane, Leonard Frey, Molly Picon, Paul Mann.
Screenplay by Joseph Stein, adapted from the stageplay.
Produced and directed by Norman Jewison